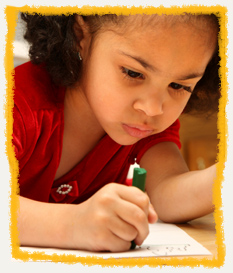 Pre-school starts at approximately three years. Our trained pre-school carer's develop each child's reading, writing and numeracy through our extensive curriculum and development programmes. A copy of the curriculum is available for all parents.
Our aim is to provide the children with a sound educational grounding and to ensure they enter school happy and confident.
We keep progress files on all the children, which are shared with parents.
Giraffe's Reach programme is based on well researched early childhood education and development theory and practice, and is founded on six key areas, Personal Social and Emotional Development, Early Maths, Language, Creative Development, physical development and understanding and appreciation of the world.
Young children learn in a holistic way through play and other key experiences. By planning around a theme we ensure that children have the opportunity to progress in all six areas of learning through purposeful play activities that make sense to them.
"I am me, who are you" – As a child develops positive feelings about themselves and their abilities they become curious and motivated to learn. They develop increased levels of concentration and self-confidence, and developincreased awareness in making and expressing choices, plans and decisions while taking great pleasure in personal achievement.
"One Two Three –maths' easy"- offers programmes that help children gain an understanding of underlying mathematical concepts through concrete, hands on experiences provided through play activities – counting, sorting, recognising pattern and developing an awareness ofnumbers through activities and projects throughout the centre.
"It's Good to talk" – incorporates programmes that encourage development in Speaking, Listening, Reading and Writing skills.
Language is key to effective communication. We encourage each child to talk about their experiences with adults and other children to help expand their vocabulary. As adults read books they begin to make a connection between written and spoken word. This will in turn develop children's pre- writing skills as they make marks on paper using pencils, crayons and paint. Children are provided with the opportunity to browse freely through a range of appealing books, places for them to sit are available so that children can look through books and choose a story for an adult to read to them. Words are on display throughout the centre for labelling toys and areas.
At Giraffe, we aim to give children a solid foundation in each of these areas so that they start primary school confident speakers, able listeners, are familiar with words and books, have pre- writing skills and are familiar with letters.
"Expressive Me" – integrates opportunities for creative development, which is closely linked to emotional development. Allowing children to express their creativity through art, music, and movement enables each child's natural creativity find expression. Opportunities for creativity raises their self-esteem and gives them a great sense of achievement and self worth. The emphasis on placed on the enjoyment of the experience rather than on the end product.
"Watch Me Move" – provides a wide range of activities and equipment to ensure that the children gain control over their bodies and muscles and thus gain confidence in their movements. Our movement and fitness programmes promote emotional as well as physical well-being. Children's physical development is enhanced by their growing confidence and enthusiasm for physical play. "The World & Me" – recognises that children are naturally curious about their immediate environment. Our focus is learning through activities that promote understanding and importance of our environment, bringing children into regular contact with trees, plants, animals and other elements of the natural environment such as sand, soil, rocks and water. The children are encouraged to talk about the weather and the seasons, where they live and some of the people who care for us in the local community, e.g. the postman, doctor, nurse.