10 ways you can reduce your family's spending
---
Friday, October 25th, 2013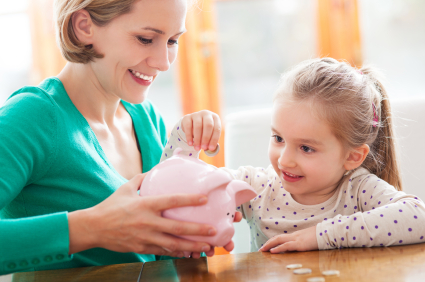 Feeling the pinch? Here are ten easy ways of cutting down your family costs instantly.
1. Cook
Cut out costly takeaways and cook food from scratch. A simple, healthy low-effort meal such as a jacket potato, baked beans, grated cheese and salad costs approximately ג'¬1.20, whereas a takeaway pizza might cost upwards of ג'¬10. Making packed lunches ahead of time also reduces money unnecessarily spent while out and about.
2. Recycle
Don't be too precious when it comes to kids' clothing. Of course they should have some special outfits for important occasions, but for general rough and tumble, and also school uniform, if the budget's tight, then consider good quality hand-me-downs. It's far less upsetting when ink is spilled on a bright white top or a hole appears on a knee!
3. Budget
Get on top of your family's finances, set a realistic budget and stick to it. If you set up a system using a spreadsheet, Internet banking or good old paper and pen, there should be no reason to lose track of your spending. There are plenty of free online budget planners to help you, e.g. www.consumerhelp.ie
4. Set goals
Saving for a much-needed holiday over time rather than spending frivolously on a credit card will not only be good for your financial health but it'll set a good example to your kids too. There's a certain amount of pleasure to be gained by setting a goal and watching yourself achieve it steadily over time.
5. Use cash only
When you can see the physical money in front of you, it's far less likely you'll overspend. It's all too easy to hand over a credit card and not worry about what it actually means until the statement arrives at the end of the month. Take out the exact amount of cash you need and can afford according to your budget, and simply stop spending when the money begins to run out.
6. Buy in bulk
There are some items you're always going to need so providing you have the storage space, buy-one-get-one-free deals can be well worth it for toilet rolls, toothpaste, nappies and baby wipes.
7. Be green
Walking or cycling rather than driving to school is not only good for your family's health and the environment but it saves precious pennies on petrol too. It's a no brainer!
8. Rehouse unwanted gifts
Once your child graduates to the expensive world of birthday parties, you're bound to find that she occasionally receives duplicate gifts. If the gift is truly unwanted, there's nothing to stop you keeping a list of who gave your child which present, then carefully recycling it to another child when her birthday comes around!
9. Wrap up warm
Encourage your children to dress in layers and jumpers rather than shiver in T-shirts at home, and keep your heating bills down accordingly.
10. Review your utility bills
While we're on the subject of keeping warm, there are umpteen free sites on the Internet that will compare various gas and electricity providers. It's worthwhile spending a little time investigating this every now and then to see if you're on the best deals. Try www.uswitch.ie