Mother's Day takes on a whole new meaning when you have children yourself; any cynicism about made-up, commercial occasions is displaced, once you get that first homemade card or toddler-produced breakfast in bed. Even if said toddler usually eats most of it!
So it's not surprising to see such happy smiles in our gorgeous series of photographs below – all taken on Friday March 13th, at our Mother's Day breakfasts.
In Giraffe Lucan, there was a very pretty display of cakes to welcome mothers, and huge smiles from the children who surprised them.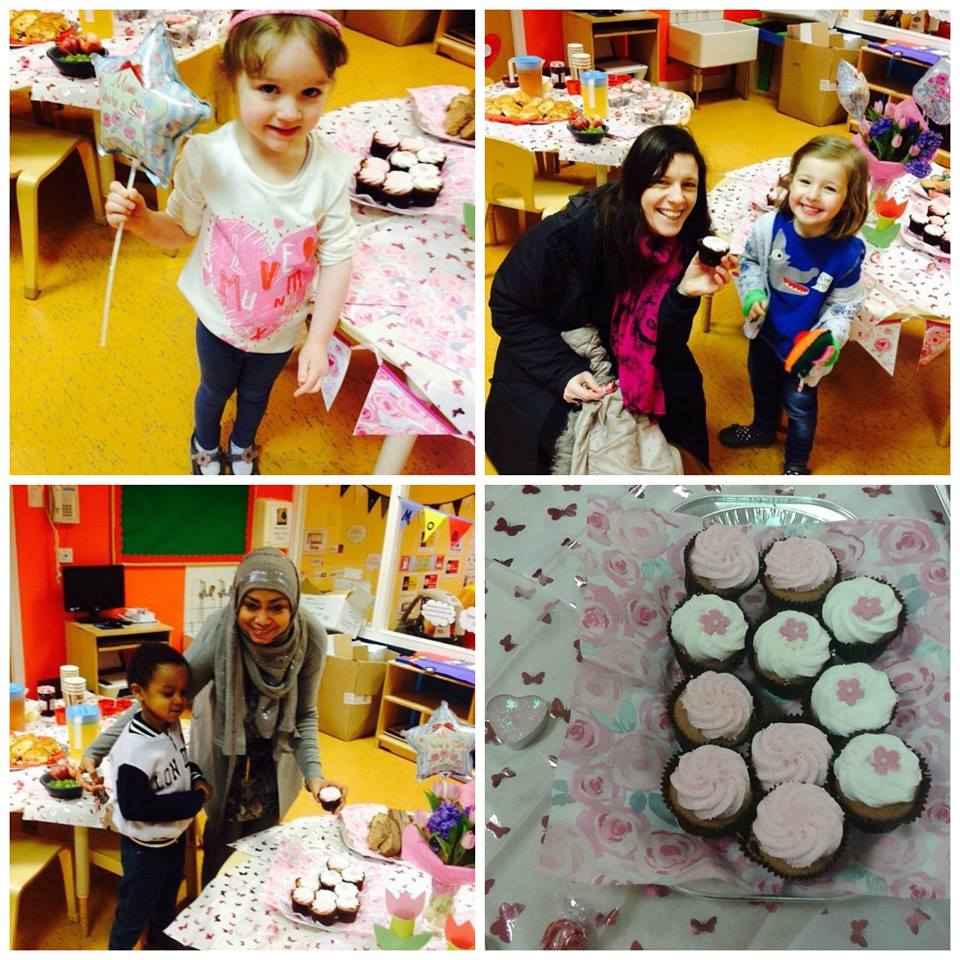 In Giraffe Adamstown, as well as breakfast, there was a lovely heart-shaped display, featuring photos of the children with their mothers.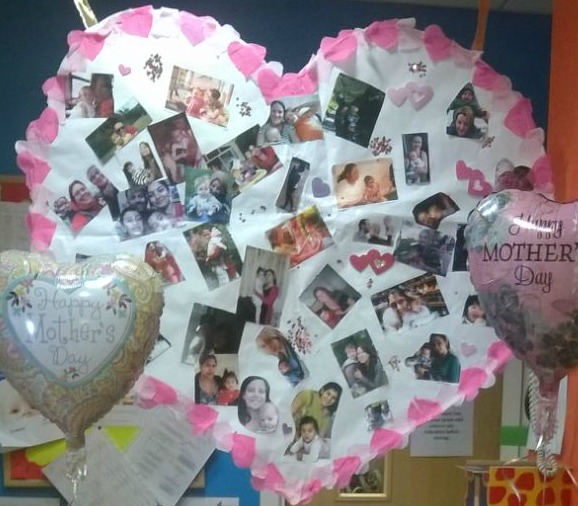 The children loved pointing out their own photos to their mothers, and everyone enjoyed the delicious treats – of course!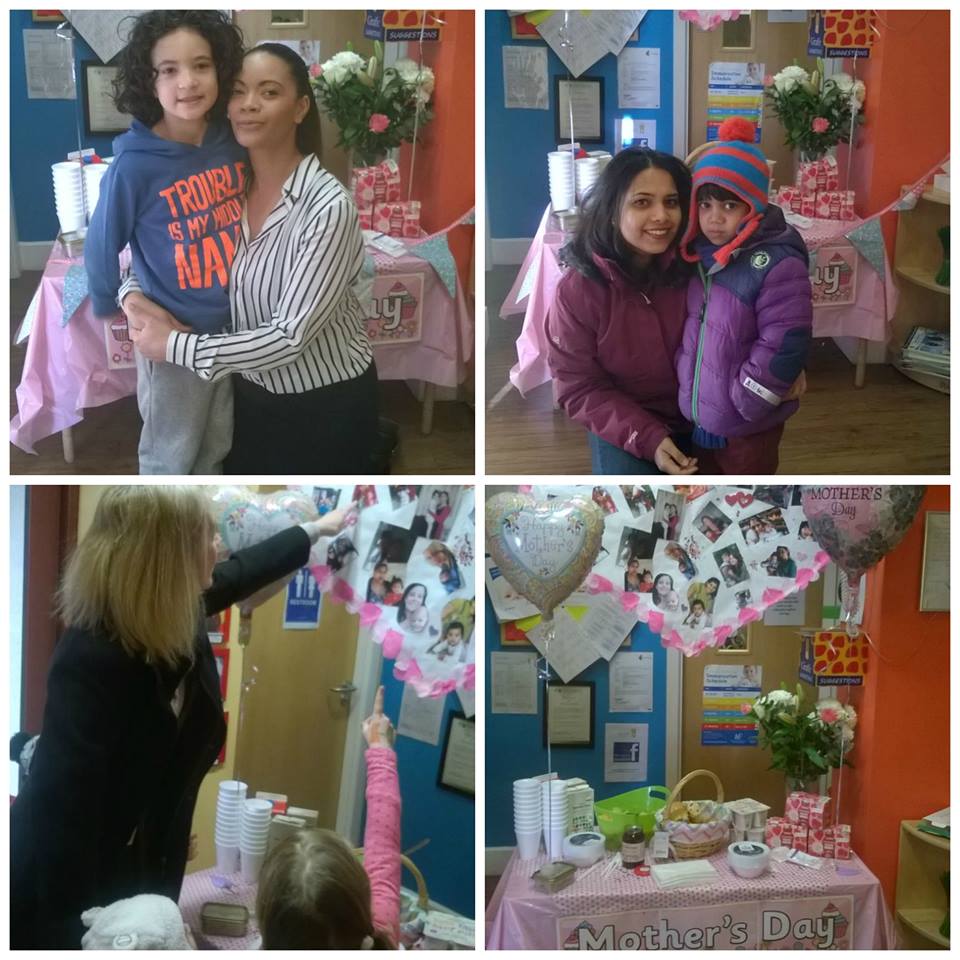 In Giraffe Rathbourne, children surprised their mothers with beautiful, colourful bouquets of flowers that they made themselves:
Here you can see pre-schoolers from the Zambia room in Rathbourne with the finished work, didn't they do well!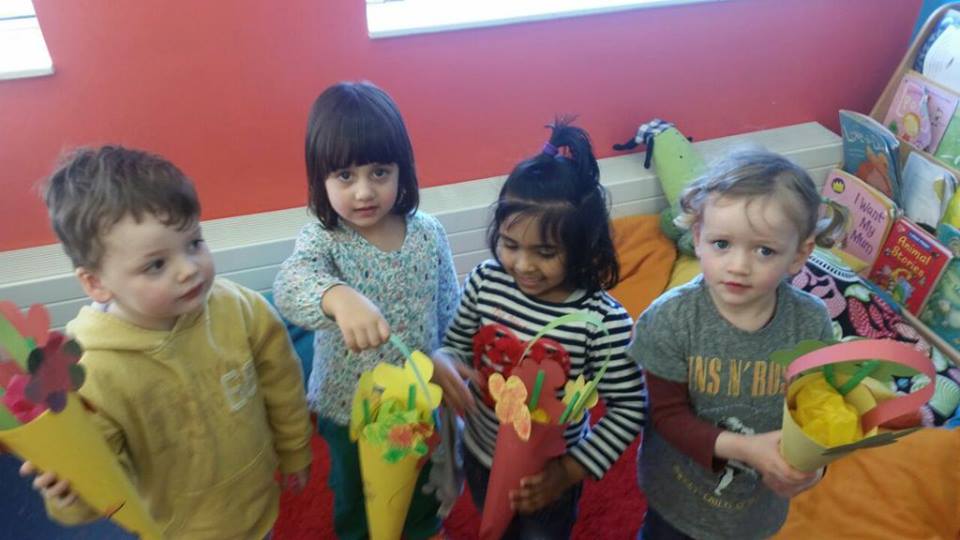 In Giraffe Cherrywood, our carer Emma had a wonderful surprise when her little boy Matthew presented her with gifts he had made for her. Look at the lovely smiles!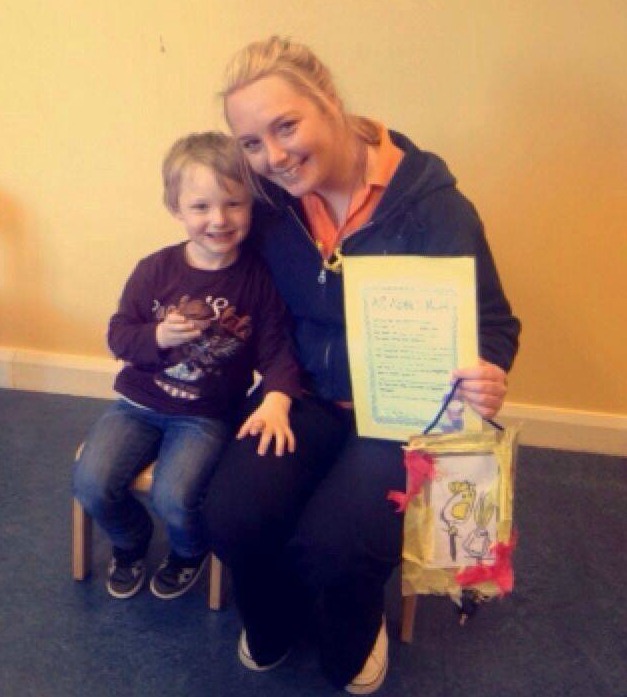 In Giraffe IFSC, we had a beautiful, bright breakfast table with fresh tulips and daffodils, which were then presented to the mums. There were colourful balloons, and a very tempting array of cakes and treats. What a lovely way to start the day – the photos of mums and children below tell it all.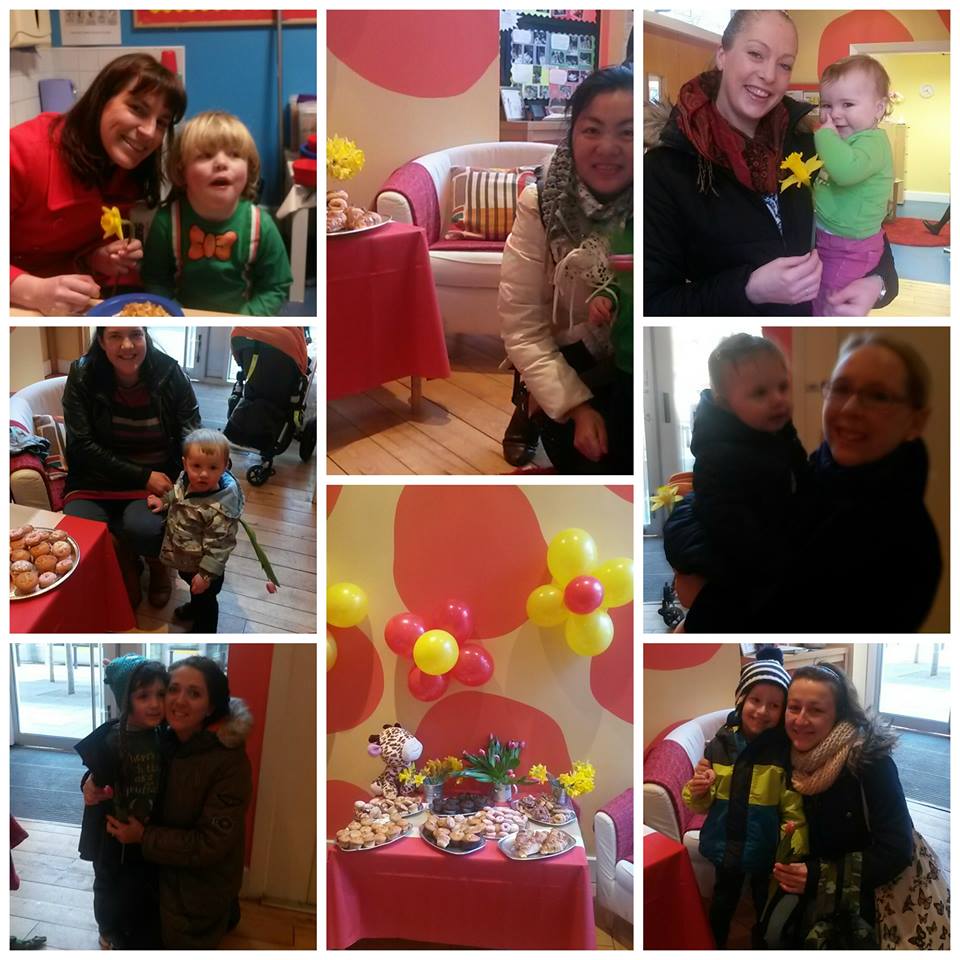 Flowers and cakes from our favourite people – no wonder everyone is smiling!
And all the mums in Giraffe Park West were greeted with breakfast and a flower too – again presented by their children.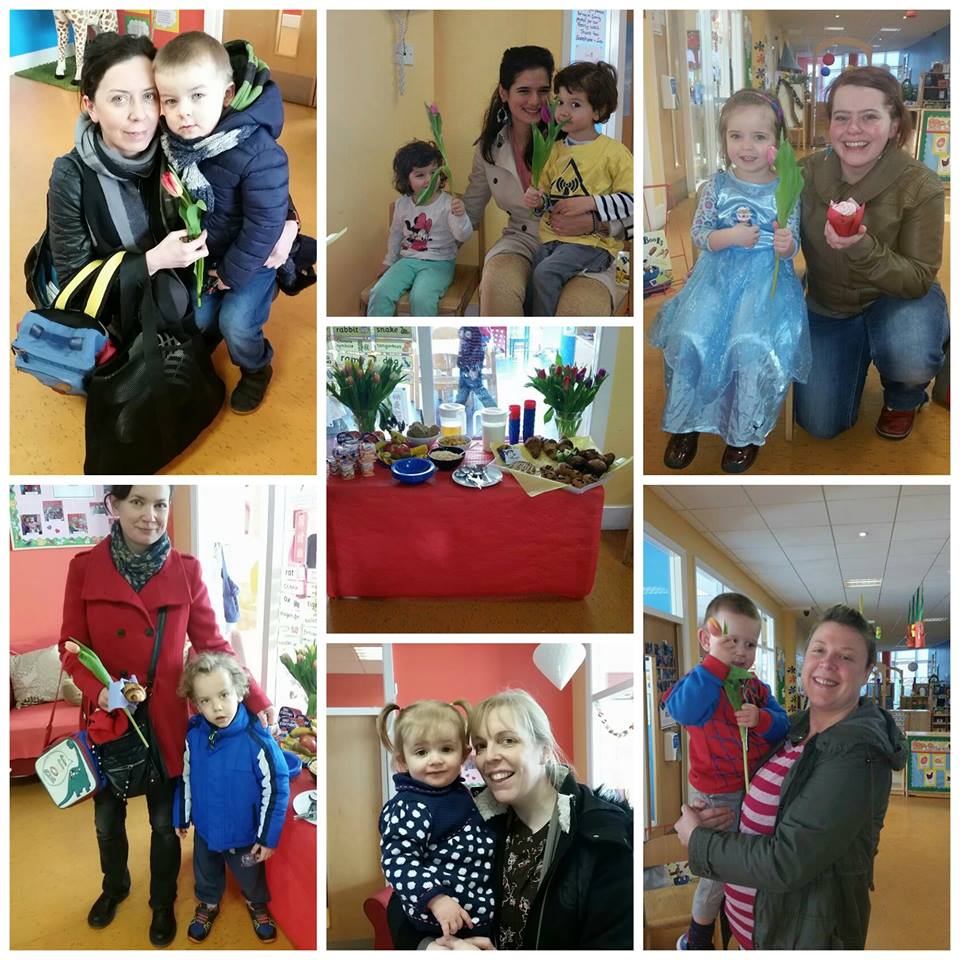 Gorgeous photos of happy mums and delighted children!
Because of course, when you're a parent of a small child, that's what Mother's Day is really about, the excitement on small faces as they present a card or a flower or even just a hug. And actually, that might just be the best gift of all.
Understanding Biting.
Biting is a common behavior among toddlers and can be a real cause of worry for parents. The good news is that theres lots you can do to reduce and eliminate biting. Many toddlers bite their parents, siblings and other children. Usually the parent's or other child's reaction lets them know that biting hurts and after experimenting with a few bites, they'll usually stop. It helps the learning process if adult responds with a clear 'Ouch, please don't bite me, that's wrong, biting hurts!'.
Toddlers will often bite because they're afraid or frustrated and need to express their frustrations, fears and upsets. Young children may also bite as a defence, especially if they can't talk. Sometimes a child may be trying to establish a safety zone around them and know the child that's been bitten normally backs away. Children might also bite from sheer over-excitement or because they know it's a way of getting what they want. Whatever the cause, it's important to remember that your child doesn't necessarily mean any harm, they just can't find the words to express themselves.
Here are our top 6 tips for dealing with biting.
React. Be consistent and don't send out conflicting messages. React swiftly, and keep a cool head. Don't avoid the issue – children need to know immediately that what they've done is wrong. We adopt this approach in our crèches and we're always consistent with our messages to children.
Observe. Watch for body language and get to know the signs and what the triggers are. One of the best ways is to act before your child has a chance to sink their teeth into anyone. Whisk your child away from the person they're about to bite. If you're in a group, remove them from the situation and explain that it hurts others and is not acceptable.
Teach. Help your child express themselves and when things have calmed down and help them find a less dramatic way to express their feelings. This works well with children who are biting as a defense. Talk them through how to tell somebody they don't like something or how to make a stop sign. Ideally you want your child to come and find you if they are angry or frustrated so that they are out of the triggering situation.
Be Firm. When children bite to gain attention, dealing with it is trickier. After the first big talking to, don't try to continue to reason or explain. Give a firm 'no' and position yourself between your child and the child who has been bitten as a barrier and turn sideways to the child who has bitten.
Sympathy. Give the child who has been bitten sympathy and the biter will realise that this is a poor way of getting attention and will let them know that their actions are not appropriate.
Praise. When you observe your child playing well with their siblings and friends, praise their positive behaviour. Be generous with your praise and be specific, praising your child for playing well, try saying 'aren't you kind and gentle to your little sister?' or maybe say 'you are playing really well today'
Our Cooks provide delicious and nutritious freshly cooked meals that encourage your
 child to taste as many new things as possible and help 
introduce them to the wonderful world of food.
Valerie is the cook for all our children in Giraffe Childcare Liffey Valley and it is obvious from talking to her that she just adores her job. She asks "how can it be called work when you enjoy it this much? I know I am here 7 years cooking for the children but I mean I should have been cooking for children years before as I just love it! And they appreciate it more than my own do!"
Mealtimes are an important and fun social time for children and provide 
an opportunity to relax with their friends and catch up on the
day's events. We encourage children to help out at the table, serve
 themselves at snack times and they love experimenting with real
 cutlery.
Our menu has been carefully created in partnership with Cow & Gate and our kitchens use only the freshest meat and seasonable vegetables, we don't add any salt, artificial flavourings or colouring and all our stock is home made. We're happy to cater for vegetarian diets and any other dietary requirements your child may have.
Take a look at some of our menus
Summer Menu Autumn Menu Spring Menu Winter Menu
For babies and younger children, puréed and chopped meals are the dish 
of the days and we'll work closely with Mum and Dad during your child's 
weaning time so we are right in step.
All our cooks are trained and operate in kitchens approved by the HSE 
and are fully compliant with the H.A.C.C.P. (Hazard Analysis &
 Critical Control Points) food management system.
Our menus are compliant with the new legislation requiring that specific allergens such as peanuts, gluten, shellfish and dairy products, are clearly detailed.
Click here for more information on allergens
All our recipes are available to mums and dads as we have had so many requests for their children's favourite dishes.
Our cooks are happy to work with parents whose child may have food intolerance or a food allergy which has been diagnosed by a GP. If your child follows a special diet, we can cater specially made meals and your child will have a red place mat, clearly stating what the food intolerance is along with a red bowl. The cook will have a list in the kitchen of all children with food intolerance and all staff will be made aware of it. We advise that you talk to your child about their food allergy so you can help your child understand what it means and how to stay safe. This is a skill that will serve your child well in the future. Here are a few tips for how to talk to your child about a food allergy:
Start Simple.
For young children, work on introducing a few easy concepts at a time, starting with the most important things they should know to keep them safe.
Explain that there are certain foods that can make them very sick so use simple terms like 'safe food' and 'unsafe food'. Also tell them the names of unsafe foods that they cannot eat and what they look like.
Point out bottles of milk, cartons of eggs, or bags of peanuts in the supermarket. Show them the foods that are unsafe foods and explain that they will be sick if they eat them, you can use pictures as well if that helps.
Make sure that your child knows that they only eat foods that are given to them by their parents or another trusted adult such as a grandparent or their carers at the crèche.
Explain to your child that they should always tell an adult if they feel sick or need help.
Although it is important that your child understand that food allergies and intolerances are serious, it is equally important that you try to remain calm when discussing their allergies so you do not unnecessarily scare him or her.
When you have a positive tone about food allergies, they will also remain positive and they won't be scared.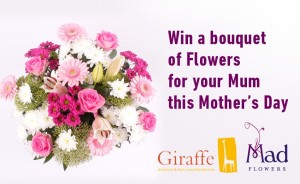 Giraffe Childcare know how very special all Mums are. This Mother's Day we would like to treat your Mum to a bouquet of flowers!
Mad Flowers will deliver a bouquet to three lucky Mums in time for Mother's Day on Sunday March 15th.
To be in with a chance to win, simply share how wonderful your mum is on our Facebook and Twitter pages.
Best of Luck!
If you're a parent, then you know it's a constant challenge to balance keeping the kids both healthy and entertained at the same time! That's why we at Giraffe Childcare have come up with a clever, informative and adorable infographic, titled The A-Z of Getting Fit with Your Children.
From Football to Yoga, Playgrounds to Retro Dancing, the infographic shows that it's fun and easy to maintain a healthy, active lifestyle which includes your kids. The infographic also includes interesting facts on the benefits of exercise and fitness for both children and parents. (more…)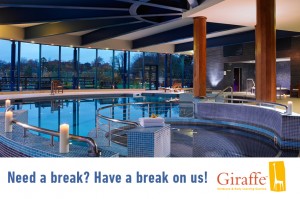 It's that time of the year when we all could do with a night away in a luxury hotel.
Here at Giraffe childcare we have teamed up with the 4 Star Castleknock Hotel & Country club to treat you and your family to a luxury night away!
Baby Sleeping Tips for Parents 
We all need sleep, whether you are a grown adult or a tiny new-born baby. More often than not parents sleeping comes naturally whereas for babies & children it takes time, consistency and perseverance. Although some babies maybe sleeping through the night from 3 months on, others may still be struggling to settle at one years and more. We essentially need to teach our babies to sleep and the good news is that although every child is different there are practical ways to support our children through this.
How Does Sleep Work?
When we fall asleep we drift from light to deep sleep that changes through the night following a particular pattern. Sleep cycles are pretty much the same for every child after about 3 to 4 months of age. New born babies do not know whether it's day or night often sleeping from 16-18 hours a day. Whether your baby is bottle fed or breast fed makes no difference, they will wake 2 to 4 hours each time and will have an appetite for milk!
Consistency is key. Establishing a daily routine from the beginning is a great start. Routines whether it's for feeding, napping & bedtime create security and a great comfort for your baby.
Although it can be a difficult prospect starting a routine it helps parents learn to interpret their baby's different cries. Specifically for bedtimes, follow the same predictable routine with a feed, bath, soft music & lighting, it doesn't have to be complicated. Even when your baby wakes at night maintain that dim lighting and quietness so your baby learns to differentiate between day & night time feeds.
Ideally encourage your baby to self sooth. Once your baby reaches 3-4 months they no longer need night time feeds for nutrition, as they enter into sleep cycles they will naturally wake. To avoid regular night time waking and to encourage them to fall back to sleep by themselves it begins with how your baby falls asleep in the first place. From as young as possible at bedtime, feed your baby until they are sleepy but not asleep, place them into their cot so they drift off unaided – without being rocked or fed to sleep.
Creating positive sleeping habits and associations from when our children are very young will instil sleeping and bedtimes as a normal part of everyday life as they grow. And as we all know… early to bed and early to rise makes a man healthy, wealthy and wise!
– Aoife Lee is Parent coach to Giraffe Childcare. She is a mother of 3 children and the founder of Parent Support.
There was a huge response this year to the St Vincent De Paul 'Giving Tree Appeal' ! in Giraffe Childcare. ! As you can see from the photos we had so many presents to give to SVP for less fortunate children.
We would like to say a huge thank you to all our parents and staff for your enormous generosity.
We would like to wish you all a Happy Christmas and a Happy New Year!
From the Giraffe Team.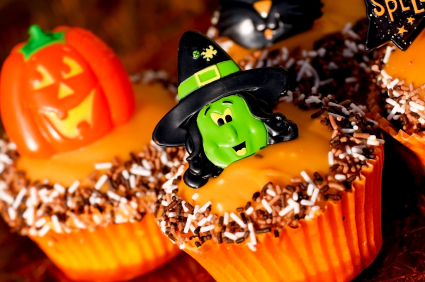 Planning a kids' Halloween party and stuck for ideas? We've compiled a ghoulish list of terrifying treats to whip up a monstrous appetite. Granted, they're not particularly nutritious, but they're loads of fun to both make and eat!
Bloodshot eyeballs (more…)
Today we are smiling from ear to ear after receiving this very special letter to our Pre-school Liffey Valley teachers… so nice to hear, thank you Ewan x
Thanks to Giraffe Childcare.
My name is Ewan and I am nearly seven. I went to Giraffe Childcare. My favourite class was the Pre-school class. I loved going there because the teachers cared for us. I learned new things every day. We did lots of good activities. My favourite song was the continents song. If Liffey Valley Giraffe Childcare didn't exist everything would be boring! My brother Callum is now in the Pre-school class. I love going back to see the teachers!
We all say thanks to the teachers!
Nowadays it's less about putting pen to paper and more about turning on your laptop. But are we losing out by letting the art of penmanship die? Lots of evidence shows handwriting for kids stimulates the brain and offers benefits typing doesn't. Our latest infographic looks at the benefits and more that come with learning the art of handwriting.


Share this Image On Your Site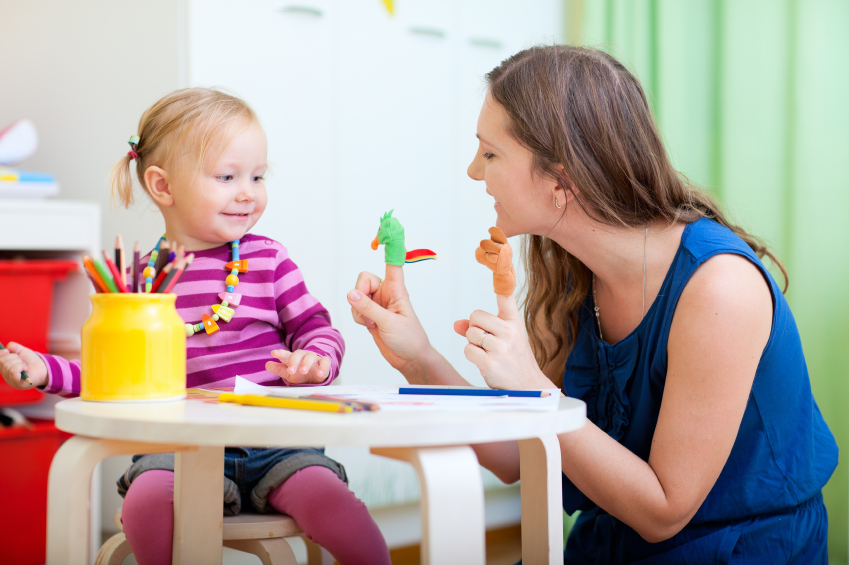 It will soon be your child's first welcome day to the world of créche. This next step will be a new journey for both you and your child, and will make you go through many different emotions. Your baby, whom you've been protecting since birth, will now enter into the r worlaeld. You as a parent will have to put your trust in someone else and try to accept that they are professional and will take really good care of your baby on a daily basis. (more…)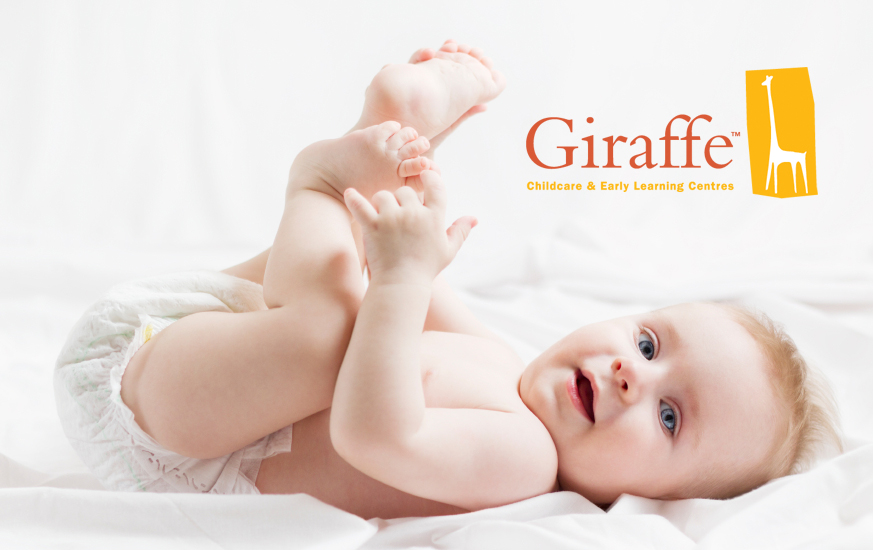 Some babies sail through to toddlerhood with barely a blemish on their bums; some babies seem to be permanently covered in angry red welts. Most babies encounter some degree of irritation, usually between the ages of nine and twelve months, so what can be done to soothe the tenderness and prevent further occurrences?
Causes:
Nappy rash is caused by excess moisture lying enclosed on your baby's skin. Regardless of (more…)

Toddlers need around 2-3 small meals and 2-3 healthy snacks each day to provide a variety of nutrients needed for healthy growth and development.
Foods such as fruit, vegetables, cheese, yogurts, wholemeal bread and unsalted rice cakes are all suitable snacks for toddlers (1-3yrs). However, here are a few additional ideas to make snack time more interesting while still ensuring they are eating healthy foods.
Beetroot & cream cheese dip
Ingredients:
425g can sliced beetroot, well drained (use beetroot that hasn't been preserved in vinegar or salt)
125g cream cheese (or use 1 tin of Cannellini beans)
2 tablespoons shredded mint
1 tablespoon of lemon juice (optional)
Oatcakes, brown toast or vegetable sticks to serve
Method:
Place all the ingredients in a food processor and blend until smooth.
Best served chilled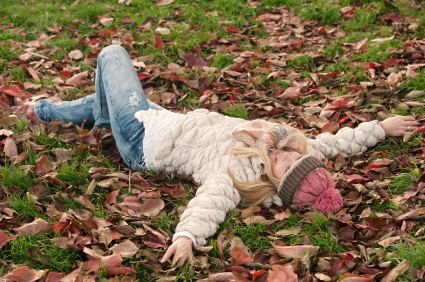 There's no denying the fact that raising young children is all-consuming. Particularly if you're a full-time mum or taking a career break to raise your brood, it's tremendously important to reserve at least a small part of the week that is just for you. Otherwise it's all too easy to lose your very essence under the mountains of laundry, nappies and crusting-over cereal bowls.
Ho-hum, you might say suspiciously, so exactly how is this possible? Well, the answer is that it depends completely on the ages and stages of your child or children.
During pregnancy

You know those all-encompassing waves of tiredness that hit you at various points throughout pregnancy? Well, they're there to teach you something. No matter what kind of superwoman you were before motherhood came along, there's nothing like pregnancy to remind you that your body is a machine: it needs regular care and maintenance. So listen to it.
If you need a nap ג€" sleep. If you suddenly can't cope with the million or more questions flying round your head ג€" make a date with a childfree mate and step away from the whole expectant she-bang for a fun day out. If your hormones are messing with your emotions ג€" indulge them. Cheer yourself up with a rom-com, a long, indulgent bath or a trashy magazine.
The newborn stage
Once your baby actually arrives, the immediate perception is that much of the free time you enjoyed during pregnancy is gone. To a certain degree this is true, but you possibly haven't taken into account the sheer amount of sleep a newborn needs. OK, so it can be unpredictable and not follow a normal adult pattern, but it does provide you with some necessary time alone. Use this time wisely. Don't buzz round the house doing the housework ג€" unless this actually makes you feel happy. Nobody is judging you at this early stage, so let the chores slip and do whatever you feel the need to, whether that's sneaking a few zzz's, zoning out in front of daytime TV, or catching up on the phone with a friend for a rejuvenating gossip.
Older babies, movers and groovers
Around the age of 4-6 months, babies become far more predictable in their sleeping and behaviour patterns and ג€" gasp ג€" may even begin to sleep through the night. As over the next year or so they grow into crawling, bum-shuffling, climbing and eventually toddling miniature humans, your body will respond by feeling a little more capable every day. Now is the time to plan around naptimes and introduce a friend, family member or babysitter to give you a little much needed time out and away from your household every once in a while.
One thing I found particularly helpful at this stage was to join a gym and make good use of the linked cr¨che facilities. This allowed many things: time apart, time spent exercising with friends (vital for both mental and physical health), my little ones made new friends and learned to deal with temporary separation from mum in a warm, caring atmosphere.
Nursery, pre-school and beyond
At last you will arrive at a childrearing stage where the schedule is not set by you, but by your local education authority. It can be very strange at first to have an empty house, and it takes a bit of getting used to, but embrace it if you can. This is your opportunity to catch up with all those friendships that fell slightly by the wayside during the blur of the baby years, your time to explore other avenues within your life (whether they be career-led or otherwise).
Above all else, try to maintain a healthy balance whereby you allocate enough time to yourself. Don't spend your life matching tiny pairs of socks and meal-planning ג€" these things are important, granted, but they're only a minute element of all the amazing things that make you you. And if a little time spent walking in the open air, reading a book or popping over to your mum's makes you happier and healthier, then your family will respond in kind.
Bryony Sutherland

Many of us treat ourselves to a nice bit of chocolate from time to time, but what goes into that bar or Easter egg? How were today's popular chocolate inspired? Did you ever hear of a Chocolate Potato Cake? Would you be surprised if the Irish were involved in such a recipe? (more…)
From a very early age it's important to encourage your child to be creative. It's not so much about discovering the next Matisses and Dalis, but about expression, fun and development. You might learn a thing or two too.
1.Painting –  It's going to get Messy!  Children love nothing more than a selection of brightly coloured paints, a large sheet of blank paper and a selection of brushes or sponges. Put plenty of newspaper down, cover your little one in an old t-shirt or apron, and watch your child's imagine let loose. For a bit of variety, swap traditional brushes for homemade potato prints, or let them experiment with fingers and toes
2.Drawing – this allows your child to hone their fine motor skills. Using felt tips, crayons, coloured pencils or chalk, encourage them to draw the world around them, offering encouragement when they get stuck. Sit down together and spend a happy half-hour drawing a woodland forest full of animals, a snowy mountaintop or a family portrait.
3. Model making – at this age it's less about the Lego and more about the play dough and plasticine. Children just love to feel the texture of this malleable material and squidge it into different shapes. Why not ask your little one to fashion you some fish fingers, chips and peas for a tea party, or create some cute farm animals to play with?
4. Nature – go for a walk with your young artist and see what inspirational treats you can find along the way for a future piece of artwork. Leaves of different shapes and colours work very well with a dab of glue, likewise pebbles can be painted or used in a counting game.
5. Sand – whether you're at the beach or in a sandpit, there's nothing quite like the feel of sand running through tiny fingers and toes. With a bucket, spade and some basic plastic moulds, there's no limit to the castles and other imaginary kingdoms you can build.
6. Water – in a similar way to sand, water can also stimulate children's imagination. Make bath times fun by providing some basic bath toys – even an empty shampoo bottle will do! Children love to pour water from one container into another, and this is the place for it!  Also investigate bath crayons and blowing bubbles – it's just as much fun in the bathroom as outside in the garden.
7. Stories – make storytelling a part of your day, every day. There's no better way to send your child happily into dreamland than with a cuddle from a parent and a bedtime story. It doesn't always have to come from a book – try telling each other stories too. There's no limit to where your imagination might take you.
8. Music – let your child experience and celebrate sound, rhythm and melody by playing music often. Invest in some inexpensive child-friendly instruments, or simply bang along on an upside-down mixing bowl. Make up your own songs and why not dance while you're at it?
9. Trips – family visits to museums, concerts and shows will educate your child about other people's imaginations and how they express their ideas. It's a great way to encourage creativity by showing how society values art, music and literature.
10. Role-play – let your imagination run riot and build a fort, play shops or take a rocket ship to the moon. Pretending games are a vital way to get your child thinking creatively, as well as challenge her to blend her ideas constructively with those of her playmates. Have fun
If you go down to the woods today
You're sure of a big surprise
If you go down to the woods today
You'd better go in disguise.
For every bear that ever there was
Will gather there for certain, because
Today's the day the Teddy Bears have their picnic.
Look at all these happy smiley faces, we had so much fun at our Teddy Bears Picnic, Griffeen, June 2014 x
Our class of 2013 – 2014 Northern Cross had a wonderful graduation, thank you to all involved for making it so special x