Our children in Giraffe Stepaside have been very busy learning Lamh, sign language as part of our inclusion programme. As part of this learning the children learned to sign Perfect Love by Ed Sheeran. Watch the video and see what an amazing job they all did – we are so proud of them.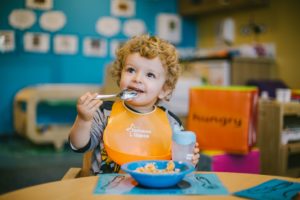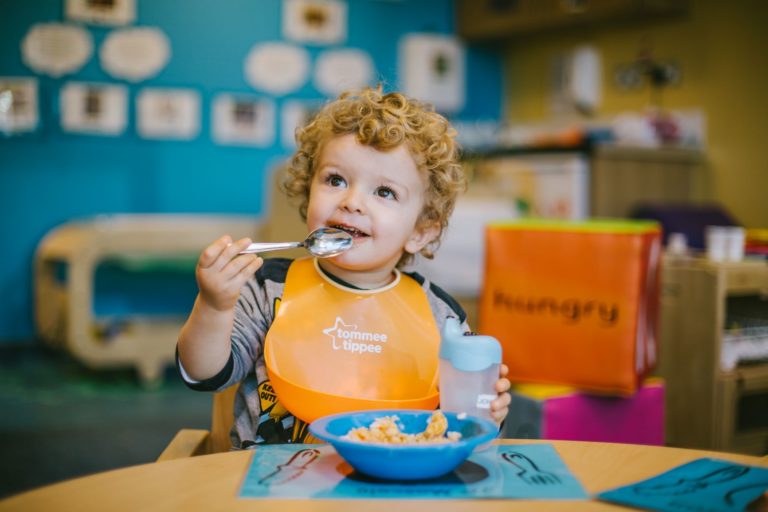 This delicious spring time dinner is a quick and easy dinner for all to enjoy. It is a great way to introduce lots of yummy vegetables. We hope you enjoy this as much as all the children do at our centres.
Ingredients:
Parent Message – Coronavirus Update
Firstly, I would like to thank you for your continued patience, understanding and support since our recent closure announcement. We have received many warm and encouraging e-mails from so many of you which we all appreciate.
As you are aware, we are currently closed until Monday 20th April 2020 on the instruction of An Taoiseach in an effort to reduce the spread of the Coronavirus.   However, this re-opening date now looks extremely unlikely but we are awaiting formal guidance on this from Government officials.
We understand that these are difficult times for us all and that the situation can change almost daily.  We are also acutely aware that many of you also find yourselves in unchartered territory so we would like to reassure you that all childcare fees will be suspended for April 2020, and no direct debits will be called for at the end of this month.   We will of course be in touch with you to advise you of the ongoing position in May and we will keep you informed of sector developments and any guidance that we receive about the opening of creche provision.
With regards to our centre teams, we have requested that all staff stay at home and stay healthy and we have advised those who are able to work from home or remotely to do so as there are ongoing administrative tasks to complete. We are also paying our centre staff in full for this period with fee income for the month of March to ensure that they have some financial security.  We are going to do everything that we can to support and retain our staff and be in a position to re-open when we are advised that it is safe to do so. We are aware that that we are a key service in supporting parents to return to work and to get back to normal life but we must operate in line with Government guidance during this public health crisis.
In the meantime, please keep safe and healthy and again thank you for your continued support. We will be in touch regularly with any further updates.
Kind Regards
Giraffe Management Team
We have installed automated external defibrillators (AEDs) in our 21 centres across Dublin, Meath and Kildare. This is part of our commitment to safeguard children, staff, parents and visitors in the event of a cardiac arrest.
The installations were part of a wider campaign that has seen Busy Bees and Giraffe Childcare fit more than 320 AEDs in its facilities throughout the UK and Ireland. The industry-leading scheme will help boost the survival chances of people who have an out-of-hospital cardiac arrest.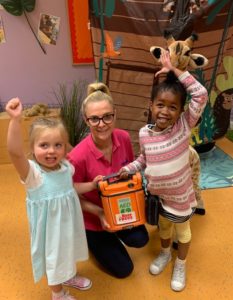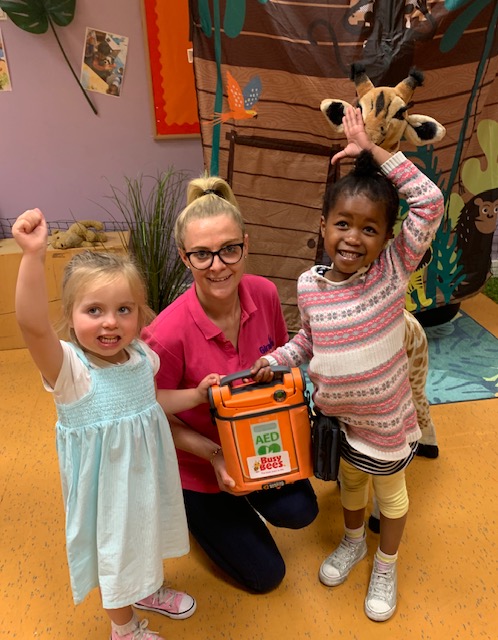 "Every year in Ireland 5,000 lives are lost because of an out-of-hospital cardiac arrest," says Emily Brimson, Head of Compliance at Busy Bees. "Every minute without CPR and defibrillation, your chance of survival decreases by 10%. Installing more AEDs in creches, schools, businesses and public spaces, can only help to save lives and we hope more organisations will follow suit, as every minute counts when someone has a cardiac arrest."
The AED, supplied by Cardiac Science, has both adult and paediatric pads. It was specially chosen as it provides both text and voice prompts to the rescuer to enable them to remain focused during the high-pressure situation. To mark the installation of the AEDs, a variety of activities were held across all 21 Giraffes centres which are located in the Greater Dublin Area. The National Ambulance Service visited Giraffe Griffeen, Lucan, Co. Dublin. The children received a tour of the Ambulance and a demonstration of what to do in the event of an emergency. Other activities included Staff training on how to use a defibrillator. The children received demonstrations from First Responders such as the Gardai, Doctors and Nurses on what to do in the event of an emergency and how a defibrillator works.
Siobhan Moore, CEO at Giraffe said; "Protecting and safeguarding the children in our care is our top priority and that's why we've undertaken this potentially lifesaving initiative. We see it as part of our commitment to best practice and to deliver outstanding care to our children, as well as to protect staff, parents and visitors. Although we hope that our defibrillator never has to be used, it means that if the worst-case scenario happens, we are able to increase the survival chance of anyone who has a cardiac arrest inside or within minutes of our creche. Giraffe Creches are in many residential areas and Business Parks, this life saving equipment is available to the community in the event of an emergency. "
Brigid Sinnott, Resuscitation Manager at the Irish Heart Foundation said: "CPR and defibrillation have both been shown to save lives. By having people trained in CPR, and AEDs available for use in our communities, lives can be saved. AEDs are simple to use, and need to be available, accessible and in working order to make the difference in communities. We are delighted that local people, families and employees will benefit from these AED's and it will improve their chance of surviving an out of hospital cardiac arrest in their community."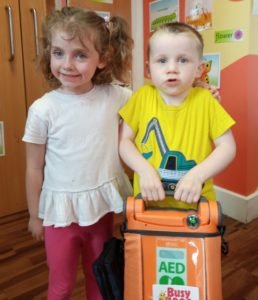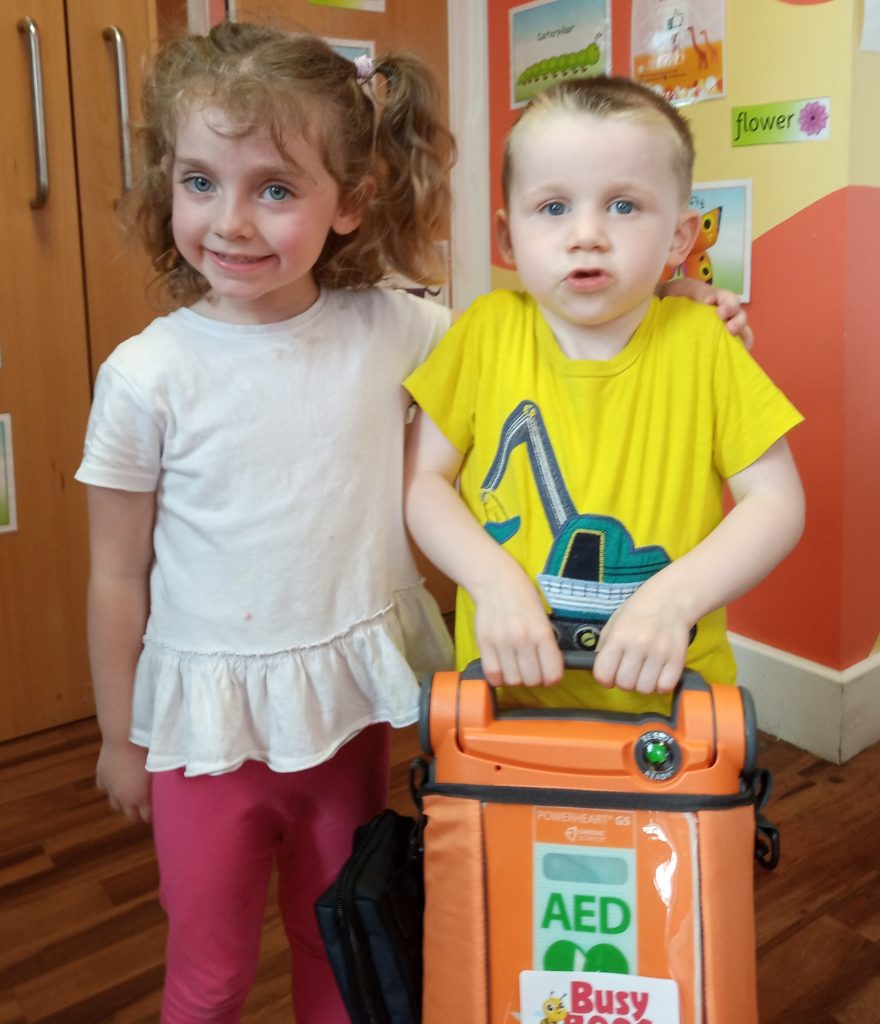 We love Halloween in Giraffe! The children and staff alike love decorating the centres and dressing up and really getting into the spirit of the spooky season!
Each centre held a Halloween party and the children were delighted to dress up and see their carers dress up! For some of the younger children,  it was their first time wearing a costume! Everyone really enjoyed the fun and festivities 🙂
Trick or Treat for Temple Street
Many of our centres participated in Trick or Treat for Temple Street, combining their fancy dress party with a Fundraiser to raise much needed funds for the Children's Hospital at Temple Street. Thank you all the parents and families who generously donated to this worthy cause. The staff in Park West baked cakes for a sale in aid of Temple Street also!
Spooky Staff Members
The children loved seeing their carers all dressed up for the Halloween parties also!
Annual Pumpkin Carving Competition
We held our annual friendly pumpkin carving competition between the centres for the most creative pumpkin carving! 15 Centres took part in the competition and their creations went to a public vote on our Facebook page.  The children helped to come up with the designs, tracing faces, painting the skin and scooping out the insides.
Congratulations!
1st prize went to  Giraffe Celbridge, with this fabulous spooky display.
2nd prize went to our Baby Shark themed Cherrywood entry!
3rd prize went to Giraffe Leopardstown who prided themselves on the pumpkins being entirely created by the children themselves.
A big well done to all the centres for taking part and working so hard to come up with such amazing designs.
Halloween Arts and Crafts
Halloween provided lots of opportunity for sensory play and art activities in the centres also.
Read our instructions for carving pumpkins and our delicious recipe for pumpkin muffins.
Halloween is the time when scary skeletons, spooky ghosts and wicked witches roam the world. All of the Giraffe centres enjoyed the build up to Halloween last week, and the children and staff certainly got into the spirit of the festivities!
The children were delighted to dress up for the whole day for their Halloween parties. For some of the younger children,  it was their first time wearing a costume! They seem to have really enjoyed the fun and festivities 🙂
In NCI, the preschool children put on their own Halloween Concert!
No tricks, just treats please!
Many of our centres participated in Trick or Treat for Temple Street, combining their fancy dress party with a Fundraiser to raise much needed funds for the Children's Hospital at Temple Street. Thank you all the parents and families who generously donated to this worthy cause.
Joining in on the Fun
The children weren't the only ones enjoying dressing up though! Many of the staff turned out in costume for the day and some even ran competitions for best costume.
Pumpkin Carving Competition
One of the highlights of the week was a friendly competition between the centres for the most creative pumpkin carving! 19 Centres took part in the competition and their creations went to a public vote on our Facebook page.  The children were encouraged to help carve their own pumpkins, tracing faces, painting the skin and scooping out the insides to make the pumpkins hollow.
Congratulations!
This year's winners were Giraffe Rathborne, Giraffe Rathfarnham and Giraffe Leopardstown for their incredibly creative pumpkin display! Well done to all the staff and children who helped make the centres spooky and colourful at this exciting time of year.
Here are some of the amazing pumpkin designs from other centres. Thank you to everyone who voted for our creative designs!
Our step-by step pumpkin carving guide!Save
St. Patrick's Day is an exciting time for all children. In the run up to the day, the children in our centres have been busy discussing St. Patrick's Day, learning why we celebrate it and creating decorations, having parades and parties to celebrate. There is a lovely atmosphere in the creches and a real excitement and anticipation of the parades and fun to come! Celebrating our national day makes us all feel proud to be Irish, and it allows the children to gain a better understanding of Irish culture and traditions ( Aistear themes, Identity & Belonging).
Navan
In Navan. the children were busy preparing all week! Here are some of the preschool children painting shamrocks, Lily all dressed up for the St Patrick Day Parade and the Wobbler group having sensory play time with green gloop. .
Lucan
In Lucan, the creativity was flowing and the children made beautiful seasonal art using their hands and fingers to paint some rainbows. The children and staff held their St Patrick's Day Parade in the garden and Sinead taught everyone a bit of Irish dancing! 
Griffeen
In Griffeen the children enjoyed celebrating together with their Siblings too, and all our staff and children dressed in green for our St. Patrick's Day party! Sienna & Phoebe, Max & Isla and Emmett & Charlotte from Griffeen are all set for St. Patrick's Day!  
Rathborne
Here are Oscar, Drew, Kasper, Ethan, Liam and Charlie form Pre-School Zambia with their Leprechaun creations that they made for St. Patricks Day.
IFSC
In IFSC, everyone (young and old!) donned their green clothes for a day of celebration on March 16th. They were lucky enough to be able to watch the Sherrif Street parade which went right by the centre also!
Park West
The children in Park West created decorations for their rooms and the Preschool group showed off their dance moves at our St. Patrick's Day party!
Harcourt Road
Green was the colour on Thursday in Harcourt Road! The preschool children decided to bake St. Patrick's Day Muffins especially for the occasion.
Adamstown
In Adamstown our preschool children attended the Céilí Mór at Adamstown National School in celebration of St Patrick's day!
Liffey Valley
When Irish eyes are smiling….Here are some of the happy faces from the St. Patrick's Day celebrations in Liffey Valley.
Leopardstown
Our Leopardstown team certainly were in the celebratory spirit of thing ahead at their St. Patrick's Day party.
Northern Cross
The children in Northern Cross decide to make Leprechauns using their cutting, sticking and painting skills! They even made green playdough as well, in keeping with the festive themes.
Rathfarnham
There was great excitement in Rathfarnham as we held our very own parade outside in the garden! Thank goodness the weather co-operated for us…..just look at those smiles!
Also in Rathfarnham, the preschool groups baked green cakes and even made orange-coloured and green-coloured milk for snack time!
Lá fhéile Pádraig Sona Daoibh go Léir! ☘️
Pancakes your Children will love!
Pancake Tuesday is otherwise known as Shrove Tuesday, and is celebrated by many Christians around the world. Shove Tuesday is traditionally the day to use up all the rich ingredients – flour, milk and eggs before the fasting period of Lent starts. This year, Pancake Tuesday will be celebrated on Tuesday 28th February .
Planning on making pancakes at home for, or with your little ones? We've pulled together a simple recipe you can make with the children – and they are guaranteed to love it!
Pancake Recipe
This makes 8 – 10 large pancakes, or about 20 "palm-sized" pancakes.
Ingredients:
240g plain flour
2 eggs
1 pint (500ml) milk
Steps:
Sieve the flour and whisk in the eggs and milk until smooth. The children can help with this stage, sieving and mixing.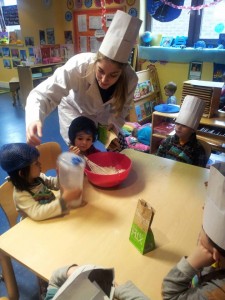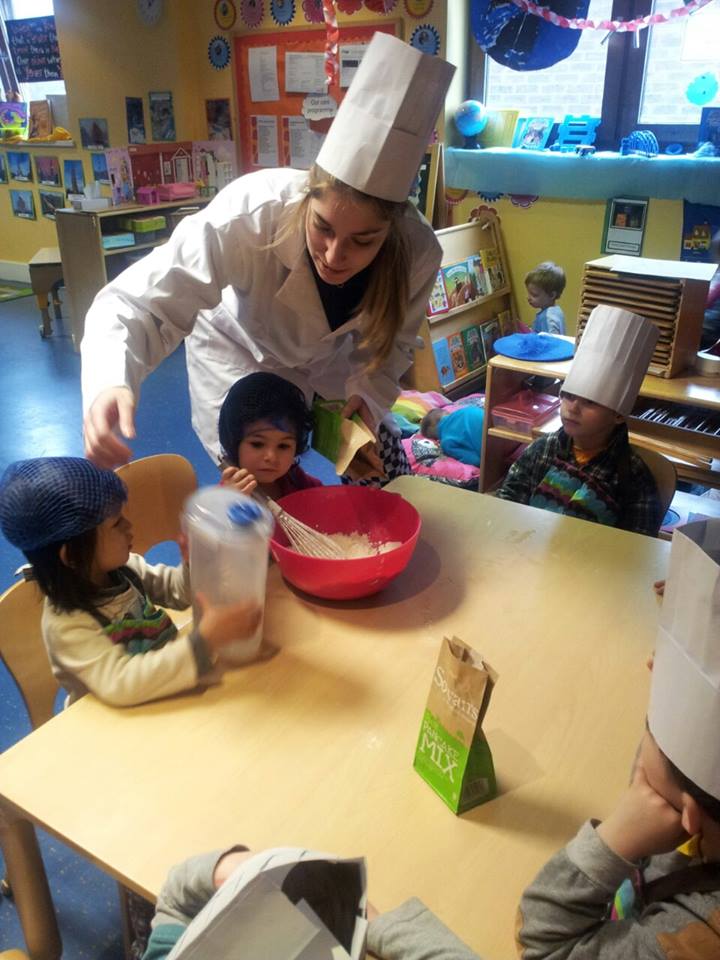 2. At this stage, leave it in the fridge for a few hours if you have the time.
3. Grease the frying pan with sunflower oil.
4. Ensure the pan is very hot. Pour in small amounts of the mixture, enough to thinly cover the base of the pan.
5. As the batter cooks  you will see it start to come away from the edge. At this point toss it or turn it over to cook the other side.
6. Serve with your favourite topping. Here's some of our favourites:
fresh berries
banana
sugar and lemon
maple syrup
chocolate spread
Leave some toppings on the table and let the children choose, this encourages independence as and they love to decorate their pancakes themselves!
As well as making pancakes on Tuesday 28th February, there are so many other activities that young children might enjoy.
Pancake Crafts– using paper plates and any amount of colourful decorations, your child can design their ULTIMATE pancake creation.
Fruit Tasting Experiment – have a selection of fruits and topping in smaller bowls for the children to taste and experience.
Pancake-on -the-head ( Balancing Game): using Paper plate, take turns walking in a straight line with the "Pancake" balanced on your head. Each time you complete a distance, try adding another "Pancake" on top!
"Flip a Pancake" (Memory Game): Cut out a large stack of cardboard pancakes (even number like 18 or 20 will work great!) , and make matching pairs by placing stickers on one side of each pancake. Turn all the pancakes face down and shuffle them around, then take turns "flipping" two pancakes over at a time, trying to find matching pairs.
Spring is just around the corner! Read up on our seasonal menus here. 
Congratulations!
In December 2016, all of the Giraffe team members had the opportunity to vote for the Employee of the Year in their centre. The award recipients were announced at the individual centre Christmas Parties and they were presented with a gift voucher, as well as flowers and bubbly to celebrate their talent and dedication.
This voting is a joint decision between centre team members and management. Everyone is asked to consider the following criteria when nominating their centre's Staff Member of the year:
Professionalism  – warmth, love and care for all the children
Parent partnership
Overall team player in the centre  (enthusiasm, commitment, & attendance)
We know it's our people that make us great, so we make sure we recognise and reward our incredible talent!
Chefs of the Year
At Giraffe, we believe that through a commitment to our role as carers and educators me make a positive difference to the lives of families, a children, our community and each other. We invest in our employee teams' professional development and career and many of our managers and leaders started out with Giraffe as newly-qualified practitioners.
Giraffe Employees of the Year!
Congratulations to all of the team members for your outstanding achievements: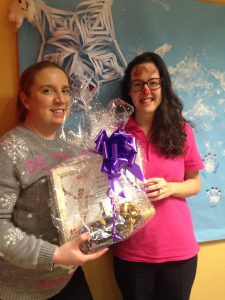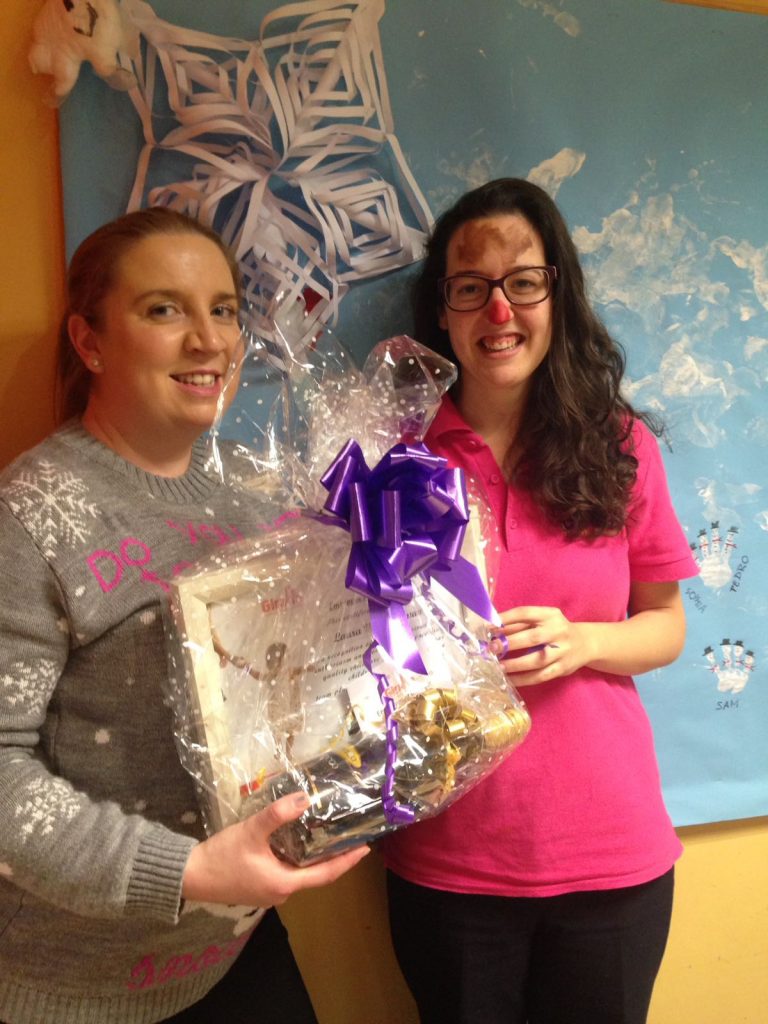 Amanda (Manager) presenting Laura Villa Guzman her award at Central Park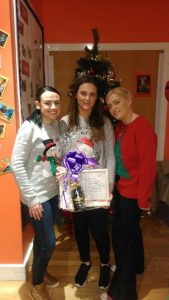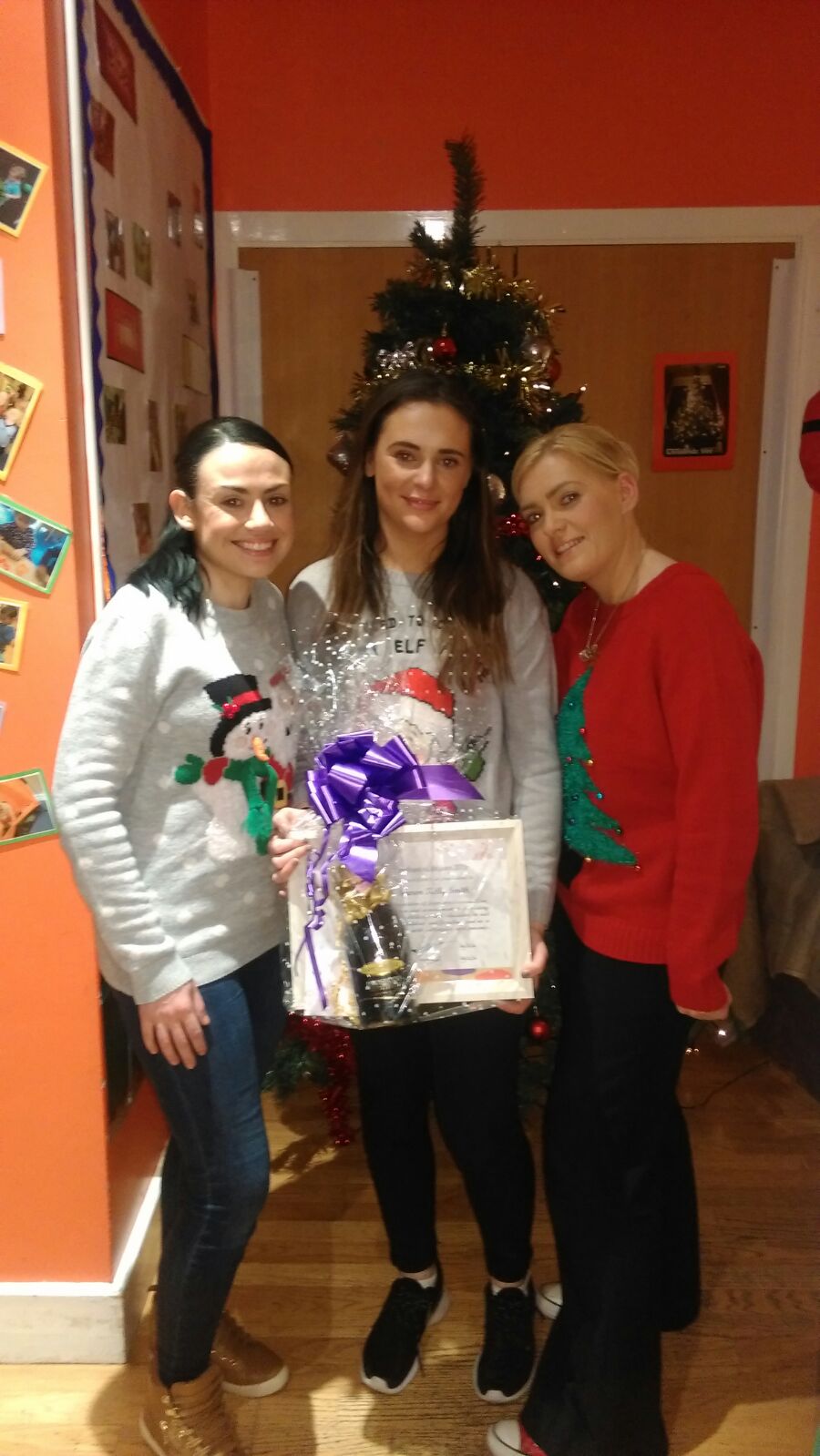 Well done Shannon Kelly Smith from Blanchardstown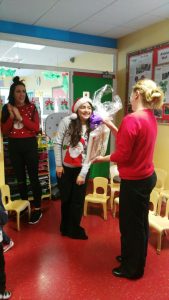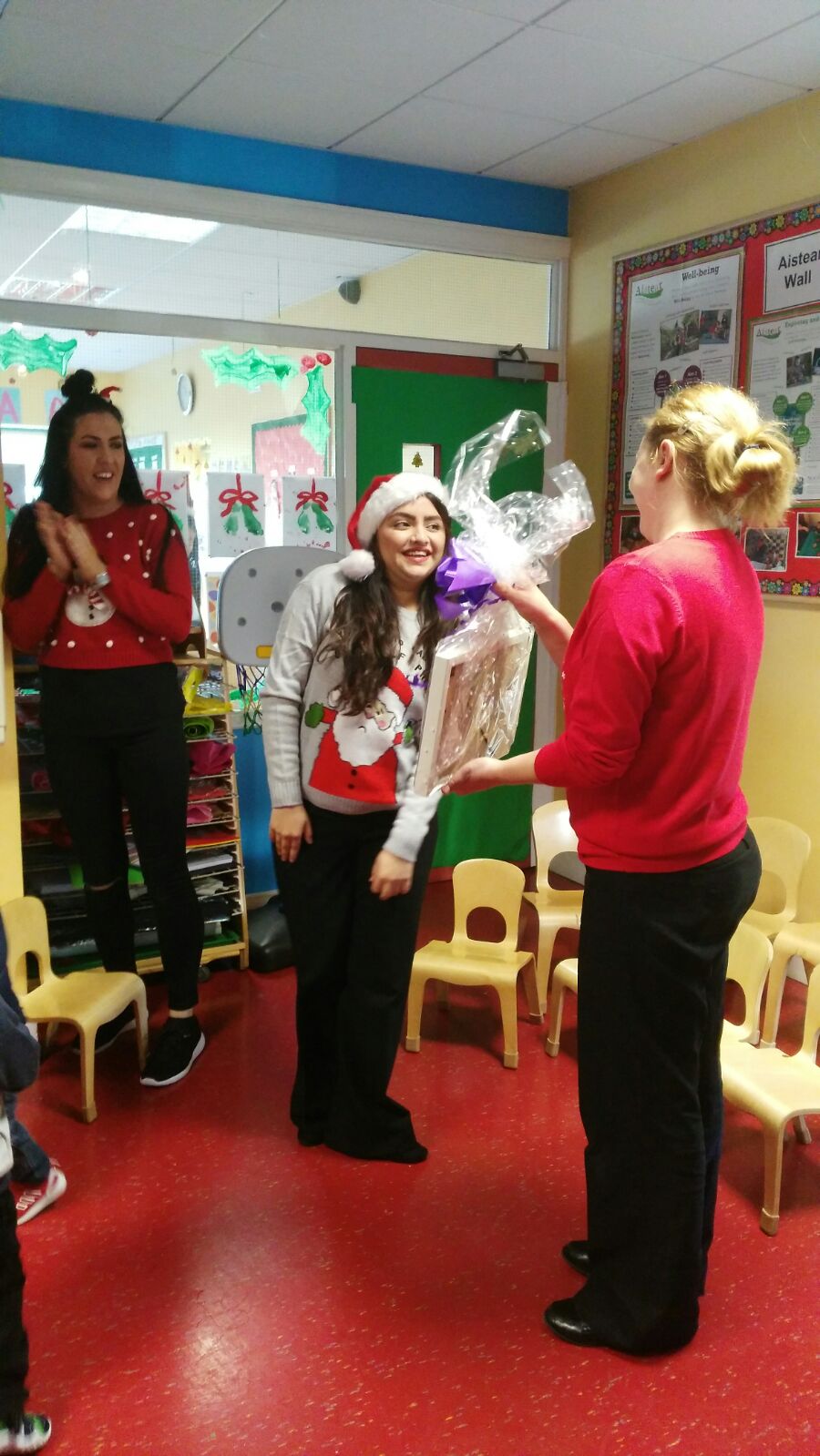 Rabiya Awan from Liffey Valley
Read more about a career with Giraffe Childcare
The pumpkin is a type of squash vegetable and has become one of the most iconic symbols of Hallowe'en.Pumpkin carving wasn't always an Irish tradition but it seems to grow every year. It is a great sensory activity for children with the added bonus of creating a Halloween decoration at the end. You can also use the pumpkin flesh to make healthy treats or soup. Pumpkins are commonly found in Irish supermarkets and farmer's markets this time of year. If you are buying one to carve look out for a nice round shape with a flat base so it will stand. If you can find a tall one these are great for making long faces too!
You will need:
a sharp knife with serrated edge
spoon, ice-cream scoop
battery operated candle
Steps:
Note: The adult should always do the cutting but children can help with the other steps. I like to move the pumpkin to a counter-top when I'm carving and then bring to the table for the parts the children can help with.
Wipe the surface of the pumpkin using a damp cloth.
Using a serrated knife cut off the crown of the pumpkin. Always cut away from yourself.
Scoop out the seeds using a spoon or ice-cream scoop. This is the part the children can help with. Give each a turn scooping out as there is plenty of messy gooey stuff to take out.

Cut away part of the inside flesh, leaving it about 1 inch thick all around. You can use this to make pumpkin muffins later on.
Give the children a marker to draw out their face or design on the pumpkin. Simple works best. The eyes, nose and mouth need to be large enough to be able to cut out. Older children may wish to use stencils which they can tape onto the pumpkin.
Use the knife to cut out around the design. If a part gets cut off by accident you can reattach with a cocktail stick.
Use a battery operated candle for safety and pop it inside the pumpkin.
Place the crown back on top.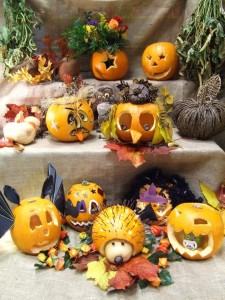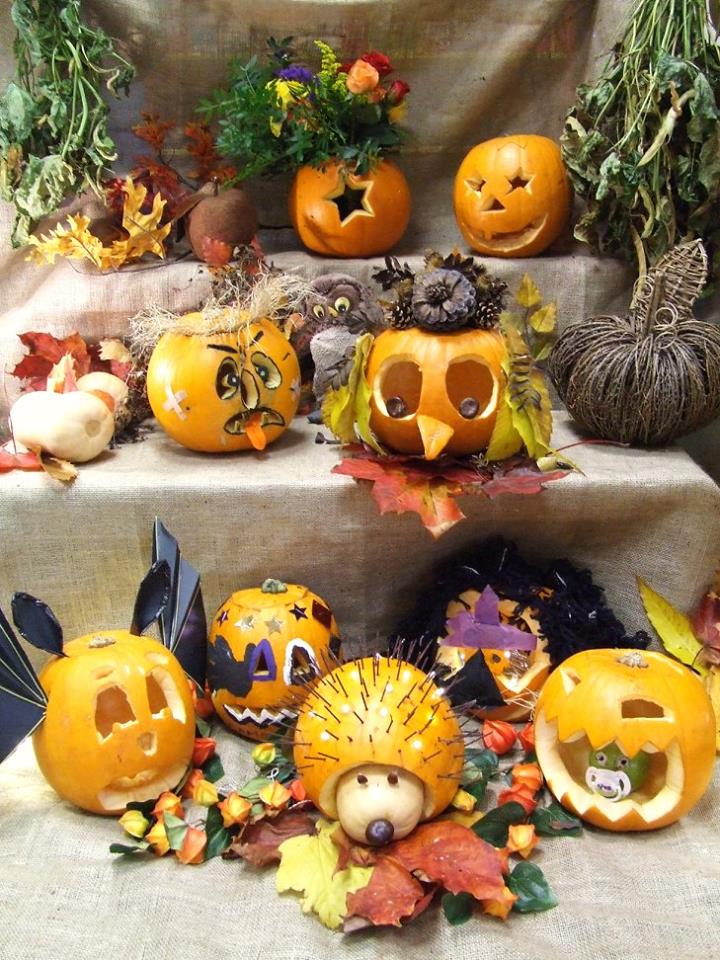 Happy Hallowe'en!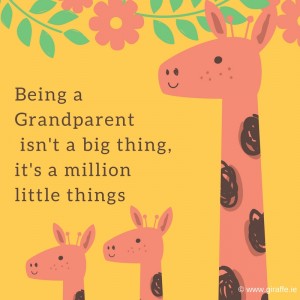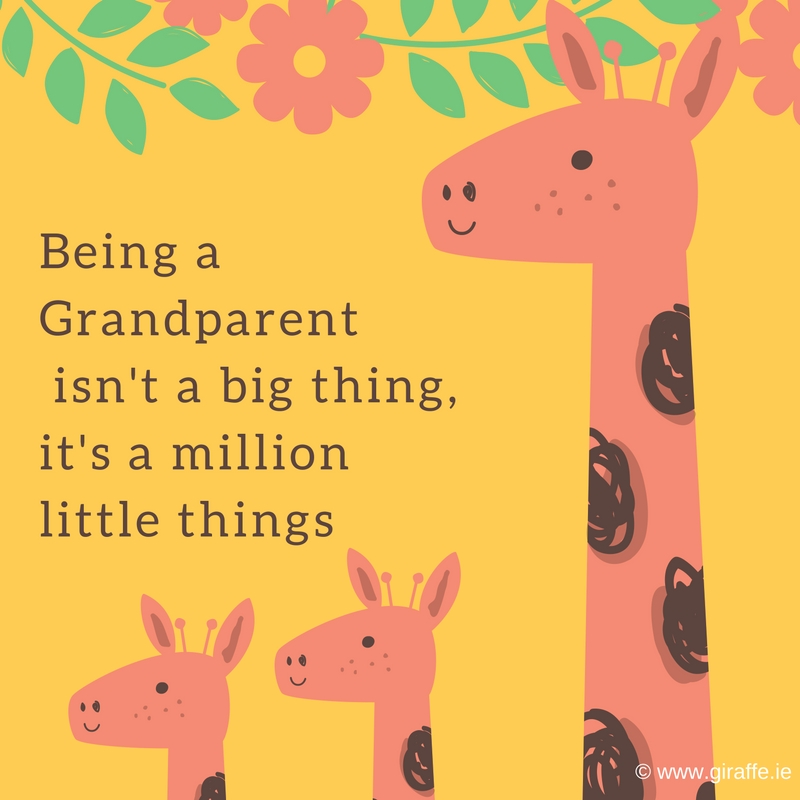 We cherish the importance of family in our creches and during the year we like to celebrate special days with our children and their families. This year we celebrated with Mother's Day Breakfasts for all the wonderful Mummies and Father's Day Breakfasts for all the wonderful Dads. Last week we celebrated some other wonderful people in the children's lives, their grandparents! National Grandparents Day was on Sunday September 11th and here's how we celebrated these important people in our children's lives!
Our Preschoolers in Park West made lovely cards for their Grannies and Grandads!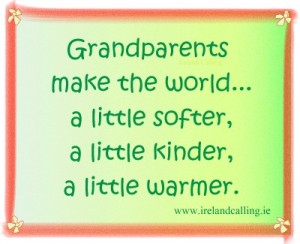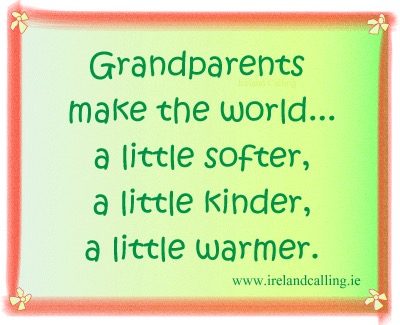 Staff from each of our centres get together once a year to do a 10km mini marathon. This year a record number of our staff – 102 (!) signed up to take part in one of the biggest women's sporting events of the year in Ireland – the VHI Dublin Women's Mini Marathon. Our staff have been training and getting ready for the past few weeks. There has been a great sense of team work, encouraging each other and camraderie among the staff members taking part, with other staff members cheering them on!
Our charity is Laura Lynn Children's Hospice again this year. Laura Lynn is a hospice for children with life-limiting conditions and residential care for young adults with disabilities.They provide respite, home support, crisis and end of life care for sick children. It is a charity close to our hearts here in Giraffe.
Supporting Laura Lynn
Each year on the June Bank Holiday Monday, women of all ages from all around Ireland take part in this amazing event on the streets of Dublin. The Big Day was on Monday the 6th June and the atmosphere as always was wonderful! The ladies from all our creches had a wonderful day and whether walking, running or were super happy and proud to reach the finish line.
Within our staff we gave special prizes for these awards:
***Giraffe centre with the Most Participants:   Giraffe Park West!!!
***1st Giraffe Runner to finish the race: Esther Requena from Elm Park
***1st Giraffe Jogger to cross the line: Cinthia Conboy from Rathborne
***1st and 2nd Giraffe Walkers to cross the line: Gillian Kennedy & Tara Boyle both from Lucan
We are very proud of team Giraffe for their hard work and for the money they all raised for Laura Lynn!
We had a great time celebrating Easter in Giraffe. The centres did fabulous artwork to decorate their centres for Easter, they made wonderful Easter bonnets for an inter-centre competition, the children had Easter egg hunts and a special visitor turned up to make their hunt even more egg-citing!
Easter Arts and Crafts
In Park West the children created plenty of Easter crafts including painting eggs and making Easter bonnets!
In Northern Cross the children created these Easter chicks!
Easter Bonnet Competition
The staff and children in each of our centres created beautiful Easter bonnets for a competition. There was great friendly rivalry between the centres and everybody worked very hard on their entry!
All the centres showed their creative side with these gems:
Our parents and Facebook audience voted for their favourite. The winning centre was Liffey Valley and they have won a staff night out! Here are the winning bonnets modeled by Sadhbh and Tom!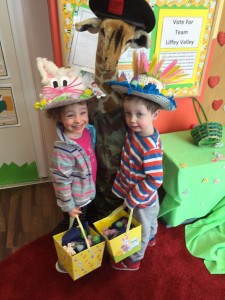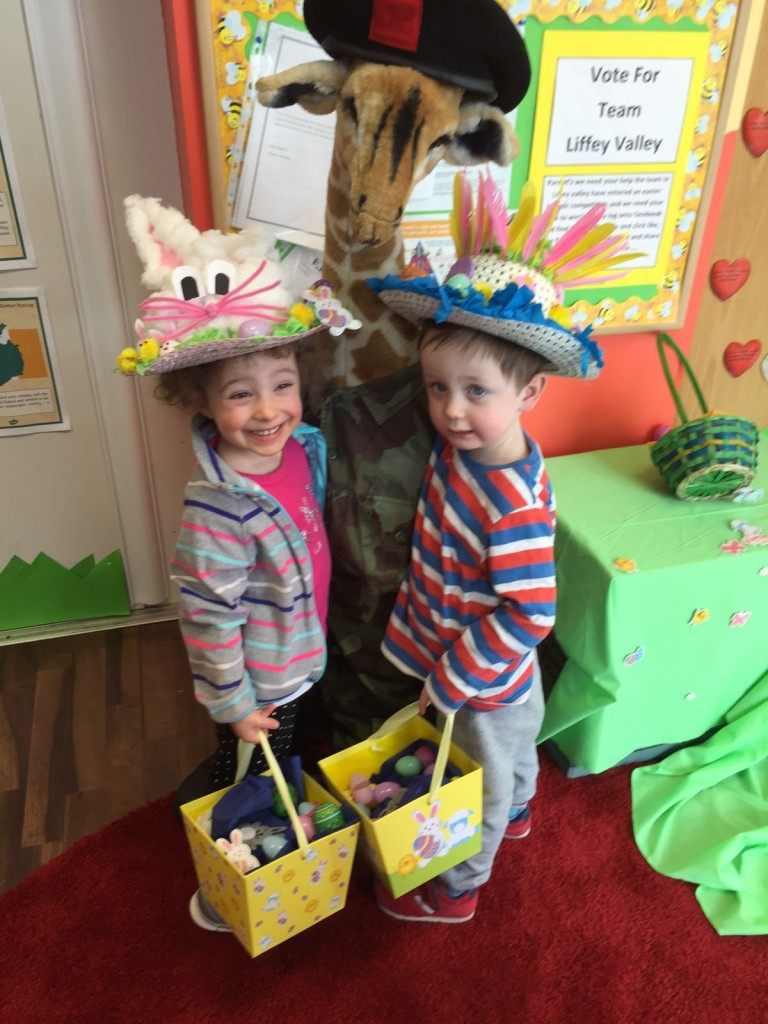 Easter Egg Hunt
The boys and girls in Liffey Valley had an Easter egg hunt! They were delighted to search high and low for the eggs and collected them in little baskets!
Our Special Visitor
On the week leading up to Easter we had a very special visitor in all our centres! Can you guess who it was?!?! 🐰
Mum's are wonderful
We celebrate our wonderful Mums in Giraffe by holding a Mother's Day Breakfast on the last Friday before Mother's Day. The children help to decorate with lovely Mother's Day themed arts and cards and gifts and the Mums are invited to have breakfast with us in the centres, or take one of our 'breakfast to go' packs if they are in a rush. This year it fell on March 4th, which coincided with National Pyjama Day!
Warm and Cosy in our PJ's!
National Pyjama Day is run by Early Childhood Ireland annually. Preschool children are asked to come to their preschool in their pyjamas and make a small donation to a chosen charity. This year the charity is Irish Autism Action who do great work providing information and assistance to autistic children and adults and also support to their families. Giraffe takes part in National Pyjama Day each year.
There was great excitement as the two events both happened on the same day, and the icing on the cake was a sprinkling of snow on the ground that morning.
In Stepaside the children enjoyed playing out in the snow! Here you can see twins Oliwier and Eryk presenting their beautiful Mother's Day cards to their mummy.
In Rathborne the children worked hard creating fabulous Mother's Day cards and they had lots of fun on Pyjama Day!
Look at the happy smiley faces in Griffeen! The children were delighted to do their Fitness Friday in their pjs!!
The NCI boys and girls made these lovely portraits of their Mums! Didn't they do well?!
Some happy pyjama day faces from Harcourt Road, Navan and Celbridge.
The children loved having their Mums with them for Mother's Day Breakfast in Adamstown. Lots of happy faces all around! They loved making footprints in the snow outside too!
In Clonsilla the boys and girls prepared early for pyjama day, creating these beautiful life sized portraits of themselves in their pyjamas!
Here are some fabulous Mother's Day gifts made by the children in Leopardstown and some lovely photos from the Mother's Day Breakfast.
For a parent or child, we all know what it feels like to get that full nights' sleep, we are bright, well rested and full of energy and ready to take on the day, for our children they are content, full of beans and are ready for action!
Often with young children, we can experience nights of broken or interrupted sleep. Whether it's a baby needing a feed, a toddler wanting to sleep in your bed, bad dreams or an early riser – it can be exhausting and difficult trying to function at work the next day!
When we are working we want to be able to give our children what they need to make them happy and comfortable while also keeping it together so we can focus on our day's work.  With a plan of action, consistency and perseverance there is so much that we can do to help both ourselves and our child to settle and sleep more contently.
Encourage Positive Sleep Habits
If we want to encourage sleep in small babies and young children we first need to look for the signals of them feeling tired or sleepy and then acting on it.  For young babies, when tired they often appear agitated, rubbing their eyes, yawning or crying. For the toddler or the older child, it's the same but more so tiredness can be judged on behaviour.  They can be more irritable. Small children are not necessarily good judges of how tired they are so often they will keep going until they hit that wall!  Babies and young children can become over tired where they can have a second wind, as a result they will 'fight' it and have difficulty settling and going to sleep. The recommended time for a child to be asleep in bed is 8pm.
Daytime Routine
Having a good daytime routine, encouraging predictable mealtimes, naps and outside playtime if possible helps children feel more secure and know what to expect.  As night time approaches try and create some sense of calm, avoid busy cartoons, loud music and rough & tumble play.
Bedtime & Daytime Routines
Creating a predictable and consistent bedtime routine from when your child is a small baby is a great way to start; I always encourage a visual picture sequence that we can place up on our wall near to their bedroom to allow your child to see what is happening next, pyjamas, hands, face and teeth, story time, cuddle and time to settle to sleep.  When working often it's bedtime that you have those chats about the day, if you find your child becomes overwhelmed with questions, try and ask them what their favourite part of the day was in crèche or school, they are more likely to share if it's an open question!
 Things That Go Bump in the Night
If you have a tiny visitor during the night, ideally explore during the daytime what it is that's upsetting them most.  Bad dreams are so common for all ages however for our smaller children they can often find it hard to determine between what's real and what's fantasy.  A lot of it is about reassuring your child that they are ok while staying with them as they settle back to sleep.  Likewise if they simple just want to be cosy in beside you however sleep is priority for everyone, returning them to their own bed taking the same approach each time will be a big help.  Some families are more than happy to have extra to cuddle however if it's something you want to change then a plan is necessary.
Early risers
If your child is an early riser a particular challenge with that or night-time waking is pre-schoolers can't tell the time and don't know when it's morning.  Often for the parent it's easier to allow them into their bed if it means two more hours of sleep!  The Gro-Clock is a great way to let your child know when it's time to get up.  How so they know? The sleeping star on the gently lit clock illustrates to "stay in bed until you see the sun!"
The Gro-Clock also comes with a beautifully illustrated book which helps to encourage children to stay in bed longer, which means more sleep for them and more sleep for you!
Whatever the approach you decide to take it's important that you decide on a plan of action, be consistent and persevere!
Aoife Lee, Parent Coach for Giraffe Childcare
As we wind down from the Christmas festivities, encouraging calm after the sugar rush, and as Santa returns to the North Pole, we begin to focus on the widely anticipated return to our normal day-to-day family life, whether that is back to work, school or crèche. Although we may have sustained some form of routine in between family visiting and staying up late, the true testament is putting those daily routines and that structure back. It's very natural and normal for both parents and children to feel tired and irritable after the Christmas break, and that can trigger all kinds of behaviours- big and small. So, how can we help each other out through routines to maintain a calm and happy house?
It's all in the preparation
As we near the first day back to work, crèche and school, it's all about dusting off the lunch boxes and school bags. We know it can often take those initial few days after a busy break to get into the swing of it again, so take your time and allow you and your child that space to readjust. Allow a couple of hours before your first day of work and school to organise lunches and bags, and prep uniforms and outfits – all of this can take huge pressure off the night before.
Reintroducing routines for mornings and night times
If your child has had a lot of late nights and you are lucky enough that they have been sleeping in, they have simply shifted their routine. As we know, this will take a few days to get back on track and it's really no different for adults, either. I would often suggest to families to tweak the times of waking the children up with a purpose to getting out and about in the mornings a few days before returning to school/crèche. It's more likely they will be tired that evening! Remember, though, to catch the signs of tiredness both at naptimes and bedtime for babies and toddlers, so look out for yawning, red or watery eyes, and being cranky or irritable. Often the later we leave bedtime, the more tired our littles ones get; it's so common that they can hit a wall of tiredness and all of a sudden a new lease of life comes over them, ready to take on the night! This is usually the time when they find it really hard to settle to sleep. Keeping a regular bedtime with a story and wind-down can be a great comfort and a happy finish to a busy day.
Recreate habits when saying goodbye
If your toddler or young child is anticipating that moment of saying goodbye to you – whether it is that first morning back in crèche or at the school gates – this is so very natural and normal, particularly if they have had some lovely times with you over the holidays. I often find it helpful to start mentioning crèche or school to the kids again a couple of days before returning: chat about keyworkers, teachers and pals – children love to know what's happening, so the more we bring these little chats into the days running up, the more they take comfort in their return. Even consider packing a little something in their bag, like a picture that's meaningful to them – that way, they can mind it for you until they see you later in the day or that evening. Resettling is just building on old habits and routines – children will embrace them.
Time to connect in our routines
We all know that it's great to connect with our children as much as we can, but when we are focused on getting from A to B we can often miss out on opportunities. If we build little connection rituals into our routine, they become habit. Try a snuggle with each child when you first see them in the morning, or a "recognition" ritual when you're first reunited like 'morning morning' – whatever feels right for you.
A good healthy structure creates predictability and consistency, something our children cope very well with. Routines help children manage change as well as their willingness to cooperate. The more they know what's happening next, the happier they will be. Children really do thrive on routine, and once they are used to a certain way of doing things they will be more likely to slip back into that way – and sooner than we think!
Aoife Lee, Parent Coach, Giraffe Childcare
Preparing mum and baby for the world of work………
After we spend those first six months or more nurturing our tiny babies, it's decision time for many parents as they have to consider their return to work and that very important decision of childcare. For many it can be a roller-coaster of emotions, some finding it hard to even think about being away from their tot for one moment. Regardless of how we're feeling it's a reality for families all over and can be overwhelming. Often it's only when we're back into that working way of life that we feel the benefits of how we can prepare both ourselves and our children through that transition.
Preparing Mum
There's so much we can do to help ourselves as we return to the familiar surroundings of work that existed way before baby arrived! However when it comes to saying goodbye on that first morning, for many it can be a struggle. We have developed an emotional bond with our child that is different for all, handing over responsibility to another to care for our baby like we would is a big step for any parent. To allow yourself feel more assured give that time to get to know the crèche staff, make the most of those initial introductory days so both you and baby can adapt to being away from one another, you feeling reassured and content are a big part of the process. Allow that time during the initial weeks and months to readjust and settle into your new routine and work schedule, for many it takes that time so don't be hard on yourself.
Preparing Baby
Prepare to wean breast to bottle
If you are breastfeeding when you return to work there are a number of ways to make the process easier for mum and baby.
Gradually wean baby – gradually phase feeds from 5 weeks before starting crèche, ideally at the beginning introducing one bottle with expressed or formula milk, the more our babies adapt to the bottled teat the easier of a transition it will be for them to take a bottled feed from the crèche staff.
Expressing & feeding during your working day – In Giraffe we encourage parents to come in and feed their babies when they can, often it is when mum works locally. Under Irish law, breastfeeding mothers are entitled to time off or a reduction in working hours. Speak to your employer about how you can break this time down within your working week to either express milk or feed your child.
Enjoy the morning & evening feeds – There is nothing more special than being able to continue feeding your baby before and after work. Although some mothers may have stopped feeding during the day, her milk supply can be maintained for just those feeds.
Children thrive on routine
As our babies grow and develop they adapt to their surroundings, whatever time of the day it is our children love routine. Creating that consistent 'what happens next' message enhances their sense of security and comfort. Encouraging regular mealtimes, naptimes and playtime maintains that predictability for our children.
When it comes to that busy hour in the evening where we juggle dinner, bath times & bed establishing a routine from very early on is an excellent way of promoting positive sleeping habits. It's not just something that happens naturally, for the parent it does require a plan, adapting it as our children get older. The more we live it the more it becomes part of our everyday habits.
 Ease the load
We can make life easier for ourselves during that working week if we are to consider the following few tips
Cook in batches – if you manage to create some meals that can be frozen, for even 3 evenings out of 5, this can make a big difference in the evenings.
Order your grocery shop on line – one less job to do and it saves time and pressure!
Managing clothes –For our children, at the weekends try and have their outfits set out for the week as this can take the pressure off the morning routine.
Making the most of your time together
Whenever I meet with parents that have just returned to work after their maternity leave, the one thing that jumps out at them is that little time they have in the evenings with their child. No matter how small or big our children are – they love our attention and so it's by creating that one to onetime even for the recommended 20 minutes that makes all the difference. If at that point it still is hard to fit in, always make the most of that cuddle at bedtime. Be present with your child as you help them wind down, whether it's babbling away with your 9 month old or having little chats during bath time with your toddler – it's that quality time with you that they love and hang on to. Weekends are precious too; remember it's the quality of that time and not quantity.
Returning to work after having a baby is a big deal for any parent, preparing for that transition can be a big part of settling back into the workforce while also knowing that your little person is happy. Remember to allow yourself that time and attention – and trust your instincts.
"Every family is different, and we're choosing to do what's best for ours"
Katie, working parent
Aoife Lee, Giraffe Parent Coach
As the excitement of Christmas and Santa letters begin to ripple across homes around the country, both children and parents prepare for the build-up and giddiness that goes with it. Along with Easter and Summer time, the Christmas holidays are one of the longer spells that children are at home from school and crèche, like any break we, as parents, are looking for things to do to keep our children happy and entertained. It is important that we allow our children to entertain themselves, however as we all know, with that can come the squabbling.. 'he's looking at me' 'that's not fair' 'I got that first' – sound familiar? So, how can we help keep the peace over our Christmas holidays?
Keep Calm – Press the pause button
If it's a daily occurrence, there is no doubt it can be hard to stay calm and patient when our children fight with one another, however, the more we can press the pause button and manage our own feelings of upset and frustration the more likely we can deal with the situation and stay focused on supporting the children. Lovely deep breaths can often save the day! Practicing will help, taking a deep inhale of breath right up through your upper body and in through your nose while exhaling right down into your diaphragm – this does work, I promise.
Avoid taking sides
If you can offer a distraction to avoid the disagreement this can be a great way to diffuse matters straight away. Often when children fight it becomes a habit and it gets our attention. Unless you know that one child has clearly provoked the other, It's important to avoid taking sides. The child that shouts the loudest can often get the most attention so keep an eye on who is setting off whom!
Instead, we can support both children, if you hear them fighting, as best you can approach with a calm and warm voice and say, "Let's take it easy now so we can sort this out." It's often good to speak to them together for whatever is going on "In this family we are gentle with one another". If you do use consequences, rather than focusing on one child try to have consequences that affect them both such as "the game is being put aside until everyone calms down". If they need time away from each other, allow this. This might mean opposite sides of the house. Our children often need that space too.
Creating expectations
When our younger children struggle to share, this can be really tough on them, between two and three years of age, they believe the word revolves around them and sharing just doesn't come into it! So when we have two children fighting over the one toy it's important that we don't set our expectations too high on how they cope with that. Empathise with your child while offering distraction or an alternative is often the best possible solution here. When we acknowledge their feelings they do feel appreciated and understood.
Praise them when they are enjoying each other's company
When our children are laughing, giggling, having fun and playing together there is no doubt it's so lovely to see and hear; it's hard not to notice. The next time you pass by and see them enjoying one another's company – let them know! "it's so lovely to see how well you're getting on and being gentle with one another." Children adore being praised, when you show your approval of what your child is doing, they're more likely to continue to do more of the things you want them to do and less of what you don't want them to do.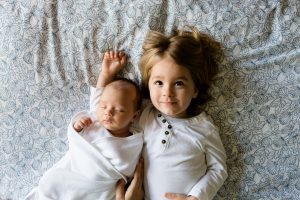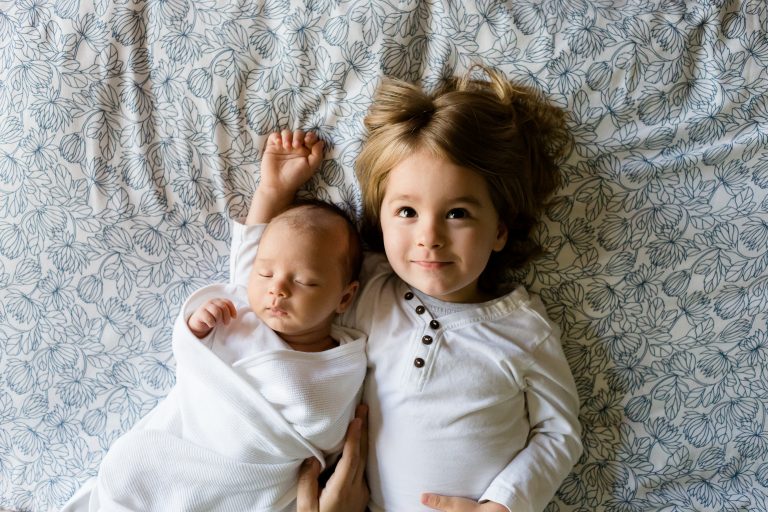 Spending quality time together
The more fun times our children experience with one another the more it builds on their relationships, they become more aware of this as they get older and understand the meaning of friendship. If you really want to break the cycle of clashing with one another, allow the children pick activities that they can do together. One example is swimming; it's fun, active and gets us out of the house during the quieter days of the holidays!
As children get older their relationships with each other change, the unconditional love they have will always be there, in those early years our children are finding their place in the family and their personalities and strengths are very much part of that.
Each year, children of all ages eagerly anticipate the arrival of Christmas Day. The cultural and the commercial aspects of the holiday are marketed very effectively to children and it can be challenging for parents both to prepare for the build-up to Christmas and to manage their children's excitement.
Everything's so commercial now, it's easy to be jaded but to our children it's all new and exciting and sincere. They love the lights, the smells, the songs so you can keep it simple and do some lovely activities at home and start to make your own family Christmas traditions! Get imaginative with your child, maybe release your own inner child and have some fun doing all the Christmas chores.
Try some of these helpful ideas to help you with your Christmas preparations:
Make Christmas Cards together for their friends and siblings. Be prepared for the mess of lots of glitter and glue! Or you can choose to paint on card with your child, there's lots of colourful card available in the shops and you can have great fun together deciding on what to paint.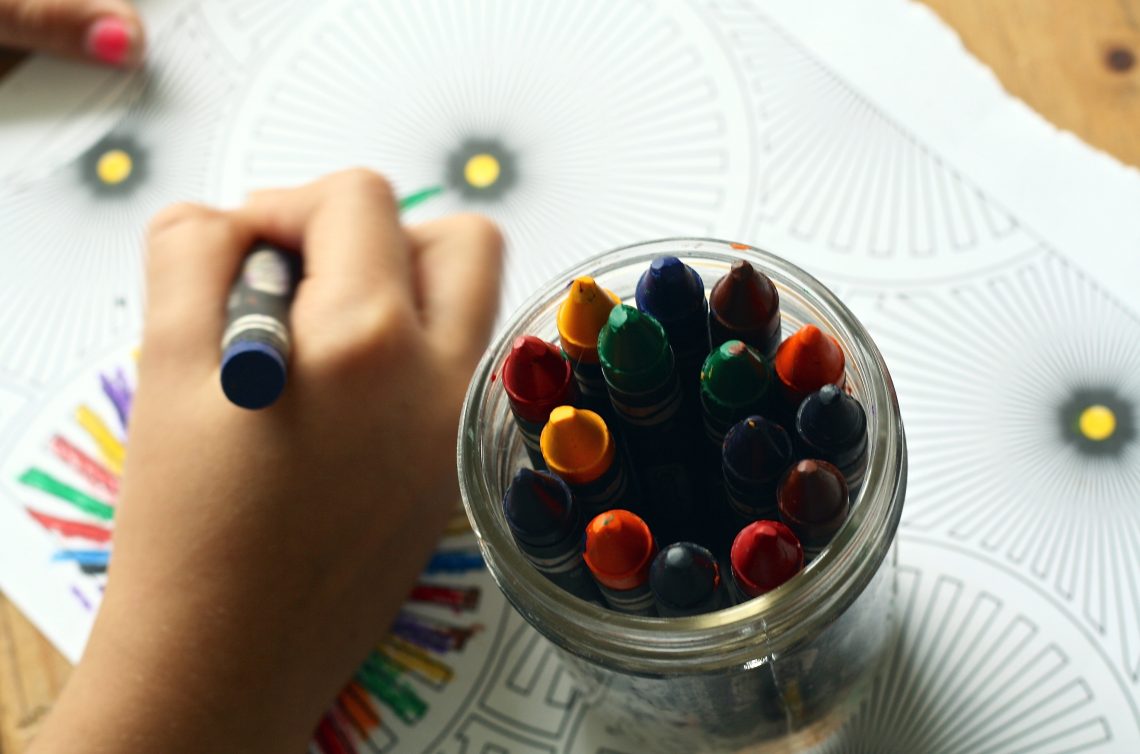 Christmas Baking is always great fun. You can pick up some Christmas tree, angel and snowman cutters (these can also be used for making Christmas decorations!) and use them to cut out the biscuits.   A standard cookie dough recipe will work but you may wish to add some cinnamon or nutmeg to create a delicious, festive aroma.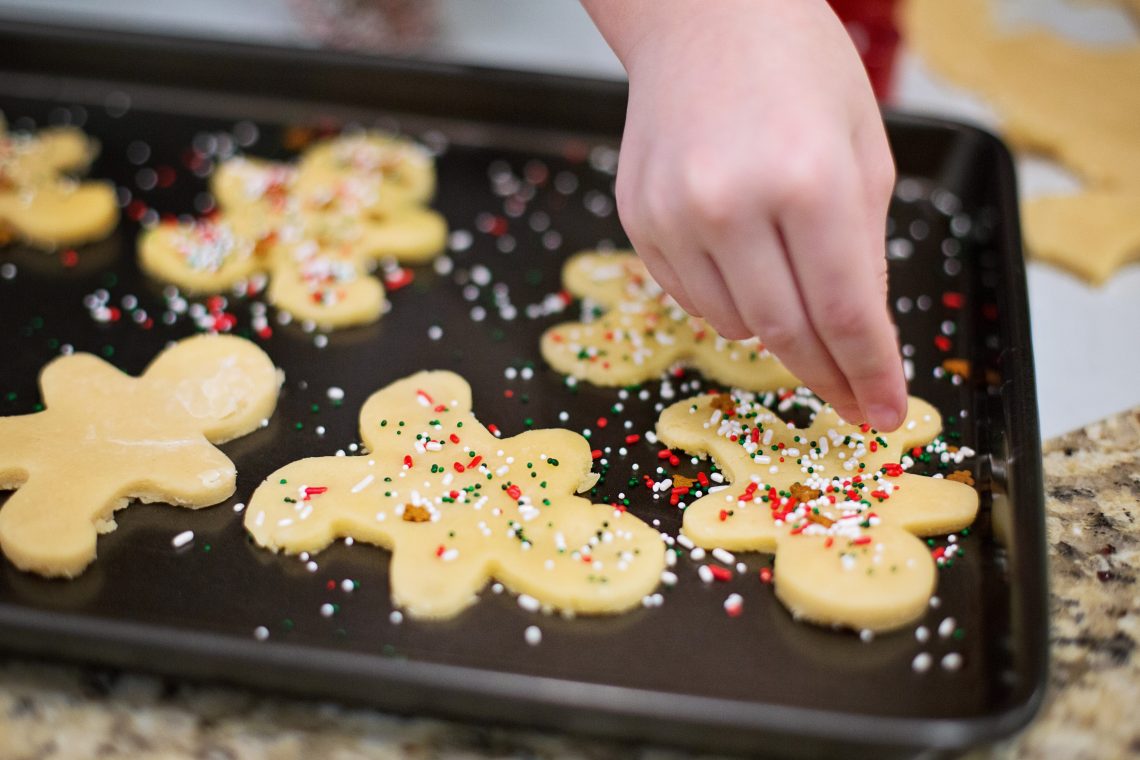 Make some salt dough Christmas Decorations together, please find the recipe here. These look really lovely on the Christmas tree and are very easy to do with your children. You can add colouring or glitter to the salt dough to create a festive look and cut out a range of Christmas shapes. The decorations should be baked for at least 2-3 hours and don't forget to make a small hole at the top of each decoration so that you can thread some ribbon through to tie it on the tree! If your younger children want to get involved, they can make an imprint of their hand in a circular cut out which can then be painted the following day – it makes a lovely memory! (the recipe for salt dough is set out below)
Decorate the Christmas Tree together; use the decorations that your child has made and also give each child their own selection of decorations and tell them that they can put them wherever they want on the tree!
Make Christmas place mats together; give your child and A4 piece of coloured card and a variety of seasonal resources such as Christmas sponges for printing, scraps of Christmas wrapping paper, markers, glue and glitter. Decorate the card and allow it to dry. Laminate the cards to turn them in to Christmas place mats. These can make great gifts too, especially for grandparents!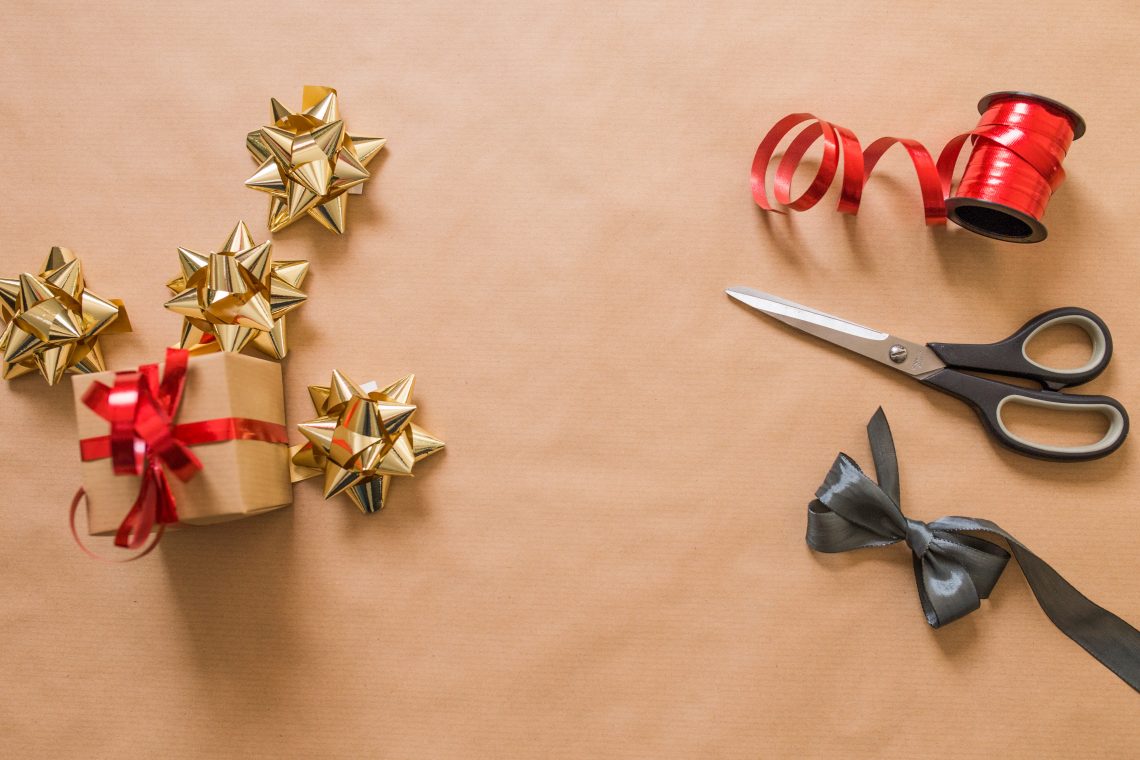 And lastly, remember on Christmas Eve, try to not to give your child too much sugary treats and arrange some fun and relaxing activities for the children while you prepare for the busy day ahead. And don't forget to squeeze in some relaxation time for yourself!
Happy Christmas from everyone at Giraffe Childcare x