As we wind down from the Christmas festivities, encouraging calm after the sugar rush, and as Santa returns to the North Pole, we begin to focus on the widely anticipated return to our normal day-to-day family life, whether that is back to work, school or crèche. Although we may have sustained some form of routine in between family visiting and staying up late, the true testament is putting those daily routines and that structure back. It's very natural and normal for both parents and children to feel tired and irritable after the Christmas break, and that can trigger all kinds of behaviours- big and small. So, how can we help each other out through routines to maintain a calm and happy house?
It's all in the preparation
As we near the first day back to work, crèche and school, it's all about dusting off the lunch boxes and school bags. We know it can often take those initial few days after a busy break to get into the swing of it again, so take your time and allow you and your child that space to readjust. Allow a couple of hours before your first day of work and school to organise lunches and bags, and prep uniforms and outfits – all of this can take huge pressure off the night before.
Reintroducing routines for mornings and night times
If your child has had a lot of late nights and you are lucky enough that they have been sleeping in, they have simply shifted their routine. As we know, this will take a few days to get back on track and it's really no different for adults, either. I would often suggest to families to tweak the times of waking the children up with a purpose to getting out and about in the mornings a few days before returning to school/crèche. It's more likely they will be tired that evening! Remember, though, to catch the signs of tiredness both at naptimes and bedtime for babies and toddlers, so look out for yawning, red or watery eyes, and being cranky or irritable. Often the later we leave bedtime, the more tired our littles ones get; it's so common that they can hit a wall of tiredness and all of a sudden a new lease of life comes over them, ready to take on the night! This is usually the time when they find it really hard to settle to sleep. Keeping a regular bedtime with a story and wind-down can be a great comfort and a happy finish to a busy day.
Recreate habits when saying goodbye
If your toddler or young child is anticipating that moment of saying goodbye to you – whether it is that first morning back in crèche or at the school gates – this is so very natural and normal, particularly if they have had some lovely times with you over the holidays. I often find it helpful to start mentioning crèche or school to the kids again a couple of days before returning: chat about keyworkers, teachers and pals – children love to know what's happening, so the more we bring these little chats into the days running up, the more they take comfort in their return. Even consider packing a little something in their bag, like a picture that's meaningful to them – that way, they can mind it for you until they see you later in the day or that evening. Resettling is just building on old habits and routines – children will embrace them.
Time to connect in our routines
We all know that it's great to connect with our children as much as we can, but when we are focused on getting from A to B we can often miss out on opportunities. If we build little connection rituals into our routine, they become habit. Try a snuggle with each child when you first see them in the morning, or a "recognition" ritual when you're first reunited like 'morning morning' – whatever feels right for you.
A good healthy structure creates predictability and consistency, something our children cope very well with. Routines help children manage change as well as their willingness to cooperate. The more they know what's happening next, the happier they will be. Children really do thrive on routine, and once they are used to a certain way of doing things they will be more likely to slip back into that way – and sooner than we think!
Aoife Lee, Parent Coach, Giraffe Childcare
Preparing mum and baby for the world of work………
After we spend those first six months or more nurturing our tiny babies, it's decision time for many parents as they have to consider their return to work and that very important decision of childcare. For many it can be a roller-coaster of emotions, some finding it hard to even think about being away from their tot for one moment. Regardless of how we're feeling it's a reality for families all over and can be overwhelming. Often it's only when we're back into that working way of life that we feel the benefits of how we can prepare both ourselves and our children through that transition.
Preparing Mum
There's so much we can do to help ourselves as we return to the familiar surroundings of work that existed way before baby arrived! However when it comes to saying goodbye on that first morning, for many it can be a struggle. We have developed an emotional bond with our child that is different for all, handing over responsibility to another to care for our baby like we would is a big step for any parent. To allow yourself feel more assured give that time to get to know the crèche staff, make the most of those initial introductory days so both you and baby can adapt to being away from one another, you feeling reassured and content are a big part of the process. Allow that time during the initial weeks and months to readjust and settle into your new routine and work schedule, for many it takes that time so don't be hard on yourself.
Preparing Baby
Prepare to wean breast to bottle
If you are breastfeeding when you return to work there are a number of ways to make the process easier for mum and baby.
Gradually wean baby – gradually phase feeds from 5 weeks before starting crèche, ideally at the beginning introducing one bottle with expressed or formula milk, the more our babies adapt to the bottled teat the easier of a transition it will be for them to take a bottled feed from the crèche staff.
Expressing & feeding during your working day – In Giraffe we encourage parents to come in and feed their babies when they can, often it is when mum works locally. Under Irish law, breastfeeding mothers are entitled to time off or a reduction in working hours. Speak to your employer about how you can break this time down within your working week to either express milk or feed your child.
Enjoy the morning & evening feeds – There is nothing more special than being able to continue feeding your baby before and after work. Although some mothers may have stopped feeding during the day, her milk supply can be maintained for just those feeds.
Children thrive on routine
As our babies grow and develop they adapt to their surroundings, whatever time of the day it is our children love routine. Creating that consistent 'what happens next' message enhances their sense of security and comfort. Encouraging regular mealtimes, naptimes and playtime maintains that predictability for our children.
When it comes to that busy hour in the evening where we juggle dinner, bath times & bed establishing a routine from very early on is an excellent way of promoting positive sleeping habits. It's not just something that happens naturally, for the parent it does require a plan, adapting it as our children get older. The more we live it the more it becomes part of our everyday habits.
 Ease the load
We can make life easier for ourselves during that working week if we are to consider the following few tips
Cook in batches – if you manage to create some meals that can be frozen, for even 3 evenings out of 5, this can make a big difference in the evenings.
Order your grocery shop on line – one less job to do and it saves time and pressure!
Managing clothes –For our children, at the weekends try and have their outfits set out for the week as this can take the pressure off the morning routine.
Making the most of your time together
Whenever I meet with parents that have just returned to work after their maternity leave, the one thing that jumps out at them is that little time they have in the evenings with their child. No matter how small or big our children are – they love our attention and so it's by creating that one to onetime even for the recommended 20 minutes that makes all the difference. If at that point it still is hard to fit in, always make the most of that cuddle at bedtime. Be present with your child as you help them wind down, whether it's babbling away with your 9 month old or having little chats during bath time with your toddler – it's that quality time with you that they love and hang on to. Weekends are precious too; remember it's the quality of that time and not quantity.
Returning to work after having a baby is a big deal for any parent, preparing for that transition can be a big part of settling back into the workforce while also knowing that your little person is happy. Remember to allow yourself that time and attention – and trust your instincts.
"Every family is different, and we're choosing to do what's best for ours"
Katie, working parent
Aoife Lee, Giraffe Parent Coach
As the excitement of Christmas and Santa letters begin to ripple across homes around the country, both children and parents prepare for the build-up and giddiness that goes with it. Along with Easter and Summer time, the Christmas holidays are one of the longer spells that children are at home from school and crèche, like any break we, as parents, are looking for things to do to keep our children happy and entertained. It is important that we allow our children to entertain themselves, however as we all know, with that can come the squabbling.. 'he's looking at me' 'that's not fair' 'I got that first' – sound familiar? So, how can we help keep the peace over our Christmas holidays?
Keep Calm – Press the pause button
If it's a daily occurrence, there is no doubt it can be hard to stay calm and patient when our children fight with one another, however, the more we can press the pause button and manage our own feelings of upset and frustration the more likely we can deal with the situation and stay focused on supporting the children. Lovely deep breaths can often save the day! Practicing will help, taking a deep inhale of breath right up through your upper body and in through your nose while exhaling right down into your diaphragm – this does work, I promise.
Avoid taking sides
If you can offer a distraction to avoid the disagreement this can be a great way to diffuse matters straight away. Often when children fight it becomes a habit and it gets our attention. Unless you know that one child has clearly provoked the other, It's important to avoid taking sides. The child that shouts the loudest can often get the most attention so keep an eye on who is setting off whom!
Instead, we can support both children, if you hear them fighting, as best you can approach with a calm and warm voice and say, "Let's take it easy now so we can sort this out." It's often good to speak to them together for whatever is going on "In this family we are gentle with one another". If you do use consequences, rather than focusing on one child try to have consequences that affect them both such as "the game is being put aside until everyone calms down". If they need time away from each other, allow this. This might mean opposite sides of the house. Our children often need that space too.
Creating expectations
When our younger children struggle to share, this can be really tough on them, between two and three years of age, they believe the word revolves around them and sharing just doesn't come into it! So when we have two children fighting over the one toy it's important that we don't set our expectations too high on how they cope with that. Empathise with your child while offering distraction or an alternative is often the best possible solution here. When we acknowledge their feelings they do feel appreciated and understood.
Praise them when they are enjoying each other's company
When our children are laughing, giggling, having fun and playing together there is no doubt it's so lovely to see and hear; it's hard not to notice. The next time you pass by and see them enjoying one another's company – let them know! "it's so lovely to see how well you're getting on and being gentle with one another." Children adore being praised, when you show your approval of what your child is doing, they're more likely to continue to do more of the things you want them to do and less of what you don't want them to do.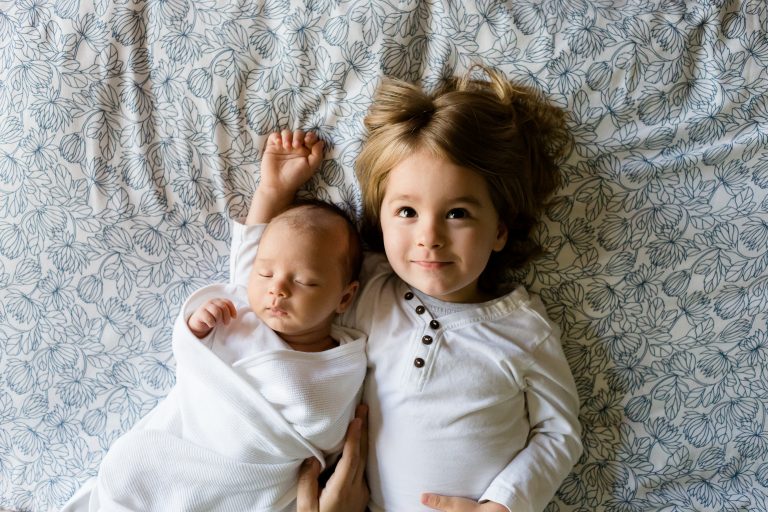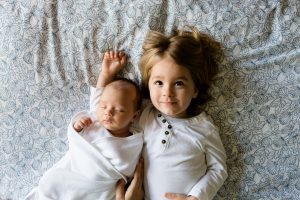 Spending quality time together
The more fun times our children experience with one another the more it builds on their relationships, they become more aware of this as they get older and understand the meaning of friendship. If you really want to break the cycle of clashing with one another, allow the children pick activities that they can do together. One example is swimming; it's fun, active and gets us out of the house during the quieter days of the holidays!
As children get older their relationships with each other change, the unconditional love they have will always be there, in those early years our children are finding their place in the family and their personalities and strengths are very much part of that.
Each year, children of all ages eagerly anticipate the arrival of Christmas Day. The cultural and the commercial aspects of the holiday are marketed very effectively to children and it can be challenging for parents both to prepare for the build-up to Christmas and to manage their children's excitement.
Everything's so commercial now, it's easy to be jaded but to our children it's all new and exciting and sincere. They love the lights, the smells, the songs so you can keep it simple and do some lovely activities at home and start to make your own family Christmas traditions! Get imaginative with your child, maybe release your own inner child and have some fun doing all the Christmas chores.
Try some of these helpful ideas to help you with your Christmas preparations:
Make Christmas Cards together for their friends and siblings. Be prepared for the mess of lots of glitter and glue! Or you can choose to paint on card with your child, there's lots of colourful card available in the shops and you can have great fun together deciding on what to paint.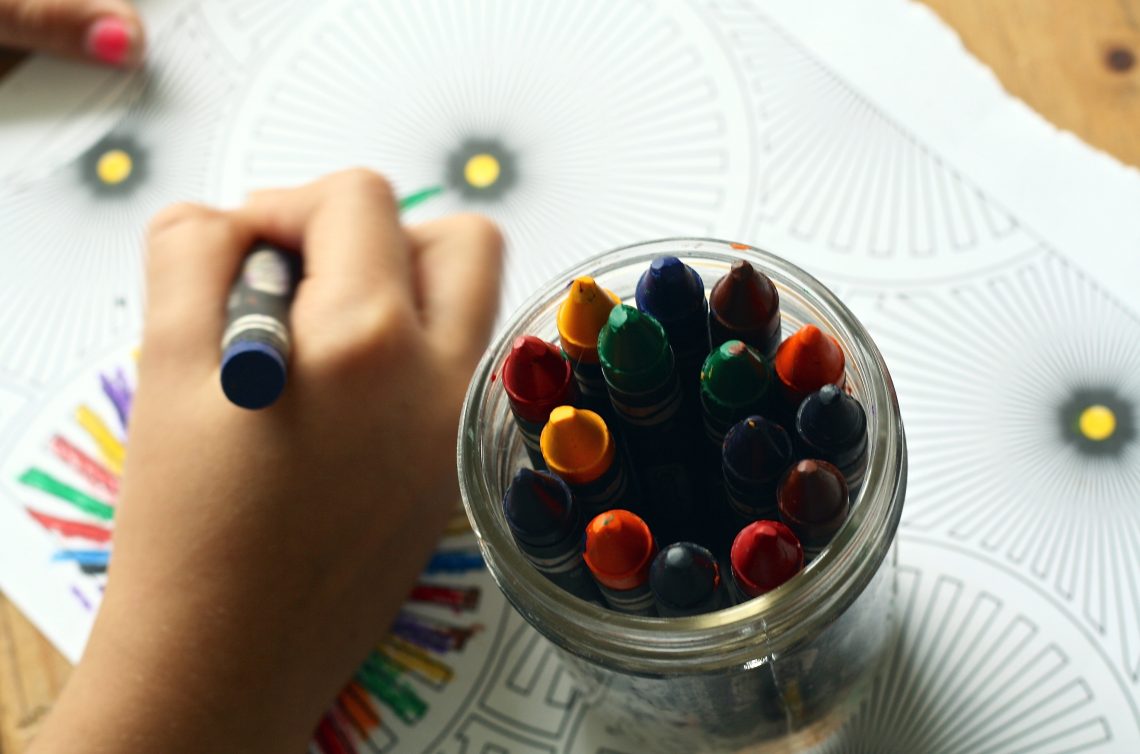 Christmas Baking is always great fun. You can pick up some Christmas tree, angel and snowman cutters (these can also be used for making Christmas decorations!) and use them to cut out the biscuits.   A standard cookie dough recipe will work but you may wish to add some cinnamon or nutmeg to create a delicious, festive aroma.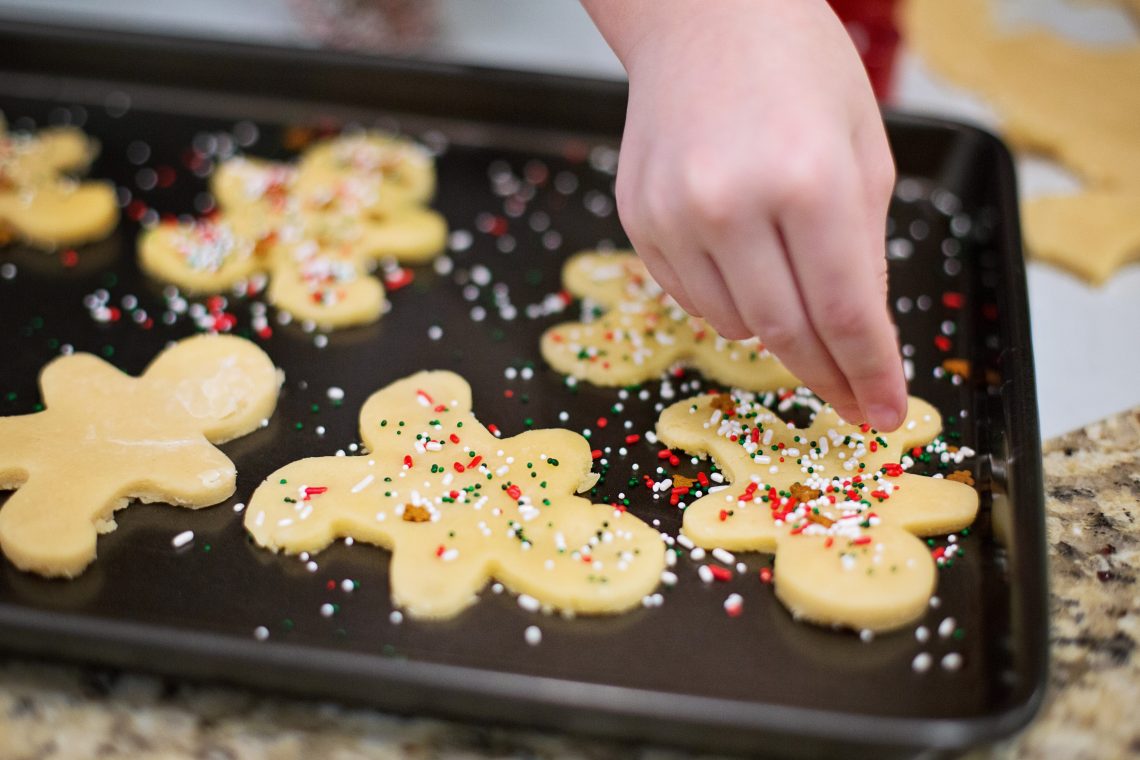 Make some salt dough Christmas Decorations together, please find the recipe here. These look really lovely on the Christmas tree and are very easy to do with your children. You can add colouring or glitter to the salt dough to create a festive look and cut out a range of Christmas shapes. The decorations should be baked for at least 2-3 hours and don't forget to make a small hole at the top of each decoration so that you can thread some ribbon through to tie it on the tree! If your younger children want to get involved, they can make an imprint of their hand in a circular cut out which can then be painted the following day – it makes a lovely memory! (the recipe for salt dough is set out below)
Decorate the Christmas Tree together; use the decorations that your child has made and also give each child their own selection of decorations and tell them that they can put them wherever they want on the tree!
Make Christmas place mats together; give your child and A4 piece of coloured card and a variety of seasonal resources such as Christmas sponges for printing, scraps of Christmas wrapping paper, markers, glue and glitter. Decorate the card and allow it to dry. Laminate the cards to turn them in to Christmas place mats. These can make great gifts too, especially for grandparents!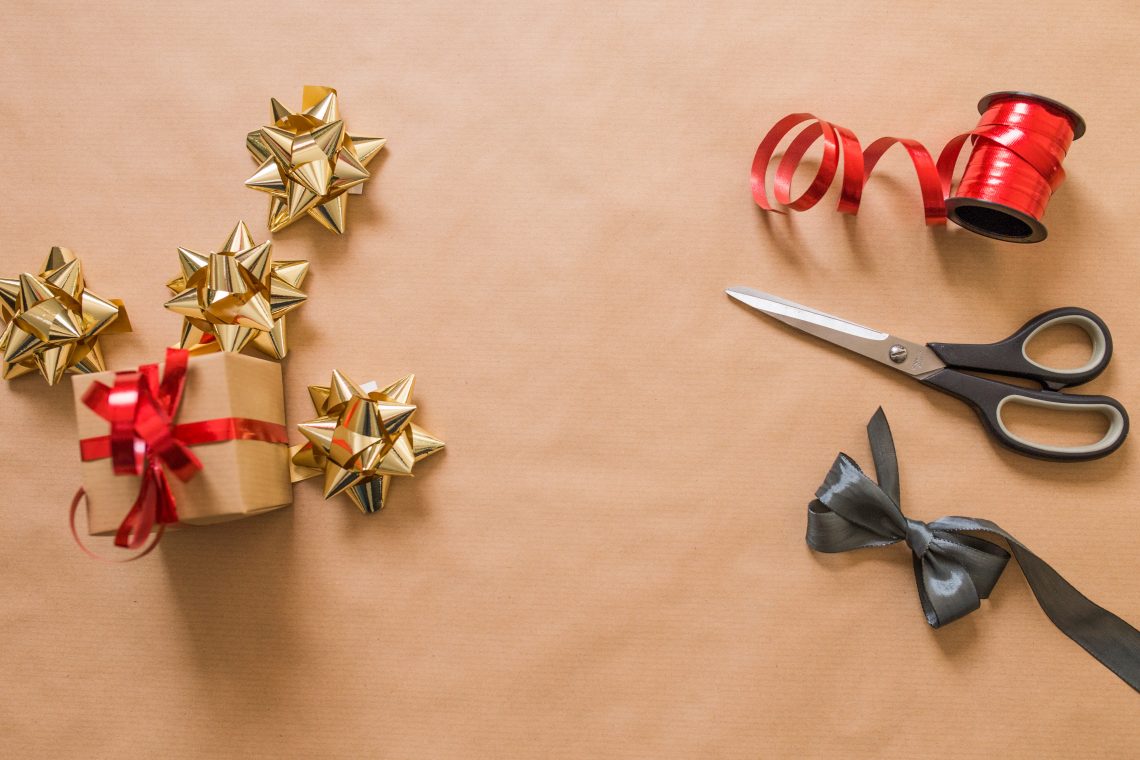 And lastly, remember on Christmas Eve, try to not to give your child too much sugary treats and arrange some fun and relaxing activities for the children while you prepare for the busy day ahead. And don't forget to squeeze in some relaxation time for yourself!
Happy Christmas from everyone at Giraffe Childcare x
Making your own salt dough at home couldn't be easier and it's a fun activity for children of all ages.
Recipe for salt dough
1 cup of salt
2 cups of plain flour (don't use self-raising as it raises when cooked)
1 cup of lukewarm water
Add food colouring or glitter for a festive look.
You will also need:
Baking tray, Rolling pin, Drinking straw, Christmas shaped cookie cutters Paintbrush, Glitter, Ribbon.
Method
Step 1: Preheat oven to120 Celsius
Step 2: Measure flour and salt, then add them to a medium mixing bowl and stir. Add water
Step 3: Mix thoroughly. Sprinkle parchment paper with flour and knead dough until it's soft and pliable. Add more flour if it's very sticky
Step 4: Using a lightly floured rolling pin, roll out the dough to 1/4 inch thickness
Step 5: Cut out ornaments using cookie cutters
Step 6: Place shape on an ungreased cookie sheet
Step 7: Using a straw, create a hole for the ribbon that will hang the ornament
Step 8: Place ornaments in the oven and bake for two to three hours, or until completely dry. Turn once while baking, then remove and allow them to cool completely
Step 9: When the ornaments have cooled, decorate them with paints and/or glitter if desired
Optional step: If you want your ornaments to last for years and years, seal them with three to four thin coats of non-toxic acrylic varnish after the decorative paint has fully dried. Make sure to coat the entire surface to prevent moisture from getting in.
(Helpful hint – if you don't have acrylic glue, add a couple of squirts of PVA glue to regular child-safe paint)
The lucky children in Preschool Kenya, Celbridge had a very special and interesting visitor last week during Science Week! David, one of our parents, is a scientist who collaborates with the Science Foundation Ireland and he took time out to visit us in Preschool Kenya.
As our theme of the month is Space, we asked him if he could do a little experiment with the older children. We were delighted when he decided to make rockets with them!

He brought Space stickers for the children and they all decorated their rockets with the stickers and made them different colours. They then had a chance to fly them! David brought some "rocket fuel" and a "rocket launcher" and the children had to wear safety goggles and a helmet to launch their own rocket.
David brought along wonderful pictures and videos of different rockets and space and taught the children all about the International Space station and different trips to space. David was really impressed with the amount of knowledge our preschoolers already had about space and gave them a model of the International Space Station as a present to add to their Space Display Board.
We cannot thank David enough for giving us his time and knowledge and making last Friday such a special day for the children in Preschool Kenya. They are still talking about it a week later!
Heuristic play and creating treasure baskets are a great way for babies and toddlers to learn about the world, writes our Director of Childcare, Dearbhala, in today's Irish Independent.
What is Heuristic Play?
New mums often encounter the term Heuristic Play for the first time at a mother and toddlers group or when their child starts crèche. Heuristic Play actually sounds much grander than it really is but do not underestimate its value: it is a term coined by child psychologist (Elinor Goldschmeid) who developed treasure baskets for babies and the heuristic play approach for toddlers which describes the activity of babies and young children as they explore objects from the real world.
The thinking behind it is not new and is something that we are all familiar with. Give a young child a present and more than likely, he or she wants to spend time scrunching the wrapping paper or eating it instead of playing with the toy itself. Our parents and grandparents already knew about this without even realising it. We played with saucepans and wooden spoons in the kitchen which we banged together, we stirred and poured rice with a jug and a funnel and a highlight was to have a basin of water!
Heuristic is defined as enabling a person to discover or learn something for themselves. It is rooted in young children's natural curiosity. As babies grow, they move beyond being content to simply feel and ponder objects to wanting to find out what can be done with them. By using a treasure basket with children at this age you are providing them with rich mental stimulation, which not only activates the growth of the brain but also provides highly satisfying learning experiences. Household or kitchen utensils offer these opportunities and can occupy a child for surprising stretches of time as they concentrate on stacking pots, exploring the objects or sometimes just enjoying the new and interesting banging noise of a wooden spoon on a saucepan!
We live in a world where plastic toys dominate the shelves of toy shops, but plastic is dull and disappointing for babies, and whilst each rattle may look different each one smells, tastes and feels the same – it is unstimulating to their senses. Using heuristic play with babies stimulates all the senses, creating a rich learning experience as during this stage, a baby's primal instinct is to explore objects by handling and sucking on them in order to find out about their physical characteristics.
Parents love watching their children discover and explore which is inherently what treasure baskets and heuristic play encourages. It is not a novel idea as children have been fascinated with exploring household items for generations. Nothing delights more than a child's sense of wonder when they make a discovery and in turn it appeals to our sense of wonderment and delights as we observe children developing wonderment of their own! When a child makes a discovery or an interesting sound is produced, they often repeat the action again and again, to test the result which strengthens cognitive development as well as muscle control and hand/eye co-ordination.
What should go into the basket?
There should be a wide range of objects both natural and man-made that will stimulate all of the senses and that can be used as open-ended tools for exploration and imagination.
Include a good range of textures, shapes and materials and all should be non-toxic with no tiny pieces. Consider some of the following……an old CD, a sparkly glitter ball, keys, hand bells, a bracelet, a serving spoon, saucepan and a lid, various sizes and shaped wooden spoons and implements, homemade shakers (plastic bottles containing coloured rice), castanets or wooden object to tap together, felt, silky ribbon, shiny fabric, a lemon, bag of lavender (safely tied!) and other objects of wonder which are found in the home.
Don't forget it is an approach, not a prescription so the content of the baskets is up to you but will probably discover that your child will favour a particular item such as silky piece of fabric or a bell which they will always seek out first.
Rotate the content of the basket regularly so that your child's interest is sustained and remember, do not leave it out all day as it will no longer be exciting and interesting.(You need to use your own common sense about what may be dangerous and never leave your child unattended or with another child while playing with the basket).
Here's a great idea to make use of the pumpkin flesh after carving your pumpkin. These are a lovely treat for a Halloween party too.
You will need:
Pumpkin puree (from one large pumpkin)
250g Self Raising Flour
150g Caster Sugar
2 tsp baking powder
1 tsp cinnamon
1/2 tsp ginger
1/2 tsp all spice
100g raisins
80ml sunflower/rape seed oil
2 large eggs
To Make the pumpkin puree
Scoop out enough flesh so the pumpkin will still stay standing as a Jack O'Lantern.
Put the roughly chopped pumpkin flesh into a saucepan, cover with water, bring to the boil and simmer for 20 minutes. Drain.
Blend with hand blender or mash with potato masher.
Put aside to cool.
To make the Muffins
Preheat the oven to 180C / 350F / Gas 4.
Sieve the flour and baking powder into  a bowl. Add sugar, raisins and spices.
Into another bowl, beat the two eggs and mix in the oil and pumpkin puree.
Pumpkin carving can be a fun activity for you and your child to enjoy. Here we tell you how to do it safely, with your child's help.

At this time of year, pumpkins are easily sourced in most supermarkets and farmers' markets. Choose a small to medium-sized sturdy pumpkin by knocking on the skin (as you would a melon). If it sounds hollow, then it is ripe and ready for the carving!
Let your child design the pumpkin face by drawing on the skin in biro or felt tip pen. Don't be overly ambitious; especially if this is the first time you have attempted this together. For younger children, two circular eyes, a triangle for a nose and a semi circle for a mouth should be sufficient, although you might want to experiment with teeth, eyebrows, star shapes and other designs for older, more experienced carvers.
The next step is to carve a lid'. Draw a circle around the pumpkin about 5cm below the stalk, and then cut carefully round it and through the flesh, using a large serrated bread sharp. A really clever idea at this point is to carve a very small corresponding notch on both the base and the lid, which will help you to remember where the two best fit together.
After this you must scoop out the innards, which is a messy, squidgy, fragrant business that your little one is bound to enjoy. Use spoons, fingers and whatever tools you deem necessary to remove all the seeds and flesh, and scrape the skin clean until the pumpkin is thin enough to effectively shine a torch through. If you're careful, seeds can be saved for toasting and/or planting out next year to grow more pumpkins, and the flesh can be saved for pumpkin pie (if it's removed hygienically of course!).
The next step is to start carefully carving out your design. For younger children it's safest if you do this with a small, sharp knife while they watch; older children might be able to use some of the specialist pumpkin carving tool kits that are readily available online and in larger supermarkets around this time of year. If you're using a knife, use a gentle sawing motion and take your time, as any slip-ups might necessitate a swift change of design.
Now it's time to choose the source of light for your Pumpkin. Traditionally candles are used, and tea lights are well suited to this purpose, providing you have scraped out a relatively flat base for them to sit on. A candle will need enough oxygen to stay alight, so if you intend to put the lid back on top of the pumpkin, make sure enough large holes have been incorporated into the design to provide sufficient ventilation.
If safety is a concern, many people nowadays choose to use small torches and battery operated flashing LED lights; the latter creates a particularly striking effect.
Finally place your pumpkin on a heat proof plate and display it somewhere safe, where it can't be easily knocked over, and well away from any flammable items.
Happy Halloween!
The children and staff at Giraffe Leopardstown host a rugby day in honour and support of the Irish Rugby team.
Our Giraffe Leopardstown pre-schoolers had so much fun showing their support by preparing rugby related artwork and learning 'Irelands Call' assisted by their teachers, Ciara O'Reilly and Ivonne Gonzalez.
Our deputy manager, Roisin Byrne, accompanied the children on the bodhrán and her rugby coach father and brother (Dave & Seán Byrne) travelled up from Gorey to coach our little rugby fans. You never know, you could be looking at rugby stars of the future!
The very best of luck to the Irish team on Sunday, from all the children and staff at Giraffe Childcare.

There's great news for parents of pre-school children with the announcement of the extension of the free pre-school year in the budget yesterday.
From September 2016, every child will be eligible at the age of three until they start primary school which has greatly increased access; and pre-school aged children will be able to enrol in the ECCE scheme at the start of each term in September, January and April which makes it much more flexible for parents.
This will be really positive for young children as they will have a longer time in pre-school and will be ready to start school. Currently children are entitled to 38 weeks of free early education but under the new arrangements, many children could benefit from up to 23 additional weeks depending on when their birthday falls.
The ECCE pre-school scheme will also be funded at a higher level of €2,450 per annum which works out as €204 per month (it is currently €2,375 per annum).
The examples below may assist you with in ascertaining when your child will be eligible:
| | |
| --- | --- |
| If born within these dates below: | Your child can join the ECCE scheme at the entry point below: |
| July 2012 to August 2013 | September 2016 |
| September 2013 to December   2013 | January 2017 |
| January 2014 to March 2014 | April 2017 |
| April 2014 to August 2014 | September 2017 |
| September 2014 to December 2014 | January 2018 |
| January 2015 to March 2015 | April 2018 |

We'll be able to help you with all the ECCE details once your child turns three. For more information, call us on (01) 2450935
Giraffe Training Academy had a wonderful training day on baby and infant care  
Giraffe Childcare's Training Academy hosted a training day for over 60 practitioners on Saturday with Lilian Joyce from Early Childhood Ireland, delivering a session on ''How Babies Learn, A Curriculum for Infants'' and a follow-up session by Aoife Lee, parent coach for Giraffe,  who covered ''Supporting Babies Sleep''.  There were also a range of demonstration and skills modules delivered by some of Giraffe's experienced crèche managers to promote best practice in baby care.
Lilian started the day with an engaging session on capturing magical moments and  emphasising that every moment we share with babies is a learning opportunity. 
Five of our Giraffe managers then delivered some basic (and not so basic!) skills demonstrations in small focus groups.  The detail covered feeding and weaning, relaxation techniques, nappy care and personal hygiene and first aid and healthcare. The sessions were both interactive and interesting and the team all had an opportunity to be hands on!
Following on from a busy morning we had  a presentation from Aoife Lee who covered supporting babies with their sleep routines, promoting restful sleep environments and the science behind sleep.   This was a very interesting session and we hope to roll this out to our parents as well in the Autumn. 
It was great day and we all enjoyed refreshing and developing our skills.  We have had some wonderful feedback from our practitioners and Giraffe Training Academy will host further workshops for all of our care groups.
A big thank you to Lilian, Aoife, our crèche managers, the central support team and all the practitioners who made the day such a success!
Click here to read more about Giraffe Training Academy
Summer is festival time in Giraffe! We have as many fun outdoor activities as possible during the summer months to make the most of the fresh air and sunshine! ☀️☀️☀️
Each centre has its own calendar of events from Family BBQs to Sports Days to Beach parties. We encourage the children to take an active part in keeping our gardens beautiful by planting flowers, herbs and even their own fruit and vegetables. They love watching the process from seed to food they can pick and eat! We love outdoor play and painting too. Everyone enjoys being out in the fresh air and we grab the novelty of a sunny day with both hands!
Here are the highlights from summer 2015!
Parent BBQ Fun!
Grow It Yourself
We love to encourage gardening in our centres. In Giraffe Blanchardstown, the children took part in greenhouse planting and harvested a great yield of plants – strawberries, blackcurrants, courgettes, cucumbers, potatoes, tomatoes and lots of herbs! The children loved being part of the growing process, and we loved the expressions on their faces as they discovered and tried the produce they grew themselves! 🙂
In Leopardstown Toddler Safari got in on the gardening action too!
Sports Day
Sports Day is a wonderful opportunity to teach the children from a young age about getting active and staying healthy! Whether it's the sack race, a ball game or an obstacle course, the children are encouraged to take part, to learn to work as a team and most of all to enjoy themselves!
Teddy Bears Picnic
Other Activities
Here is a selection of photos of many of the other summer activites we did this summer.
Graduations
Summertime is when we bid a fond farewell to our pre-schoolers as they enter Junior Infants! We know they will all do great!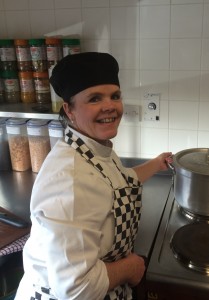 Giraffe Childcare Cook in Liffey Valley,Valerie Kavanagh tells us why….
"I should have done this years ago!"
I know I am here 7 years cooking for the children but I mean I should have been cooking for children years before as I just love it! And they appreciate it more than my own do!
Valerie Kavanagh is the cook for all our children in Giraffe Childcare Liffey Valley and it is obvious from talking to her that she just adores her job. She asks "how can it be called work when you enjoy it this much?"
Valerie starts each day by preparing the first snack of the day which is always fruit, delivered fresh each day. There is always a large variation of all types of fruit such as melons, apples, oranges, grapes, pears, mango pineapple,blueberries and raspberries. "They love their fruit" explains Valerie and "it's so good for them!"
Valerie then starts on the dinner of the day which can range from Sweet and Sour chicken, fish pie, cottage pie or Spaghetti Bolognese. The menu is different every day of each month so variety is something the children here are used to. The favourite dishes she tells me at the moment are macaroni cheese and anything with potato. Everything is made from scratch in the kitchen including Valerie's own stock and is very low in salt and sugar content.
Valerie mentioned that one of the best feelings for her as the cook is when a child asks for more! She roars laughing after she mentions this and it is hard not to laugh with her, she has the most infectious laugh and it is easy to see why our children here just adore this lovely lady!
Valerie mentioned that when she goes on annual leave and comes back the welcome she gets is tremendous, she makes the comment that "food is very important to the children!"
Valerie cooks for over 60 children each day, they range from fussy eaters to children with allergies and they are all catered for. "Sometimes in the beginning when a child starts they are unsure of what they want to eat but it doesn't take them long to get settled in and they are soon eating like all the rest of the children." Parents often come into the kitchen to me to ask me for my recipes for certain dishes mentioning that their child loves a particular dish and that when they make it at home the response is that it is not like Valerie makes it! I often write down recipes for parents and tell them that if they need anything else they know where to find me!
Before I left Valerie I had to pose the question "are you ever in bad form?" to which the reply was "sure if I was it only takes one child to give you that big smile to lift you out of it! My job is so rewarding and I am so thankful to have it!"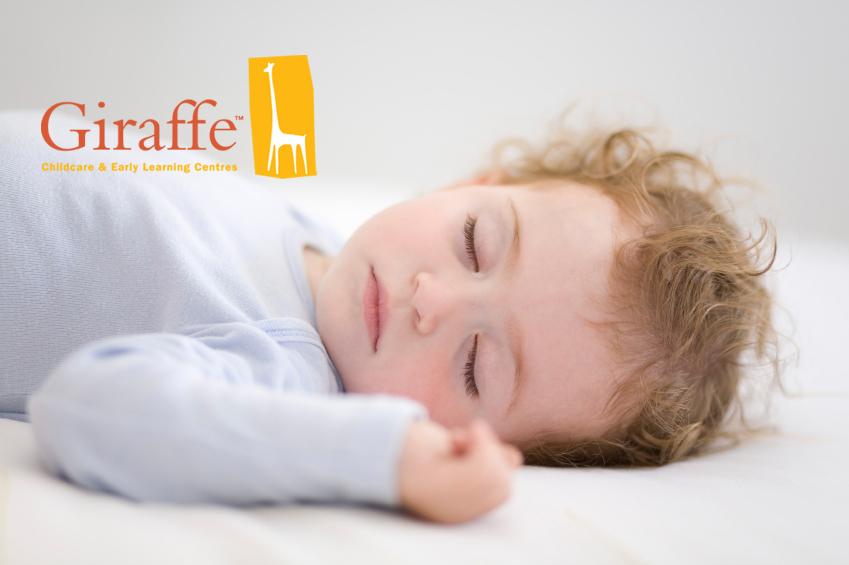 Whether or not to use sleep routines for your baby is always a hot topic at mother-and-baby groups. Some believe wholeheartedly that your baby should lead her own development, much like on-demand breastfeeding, while others swear by enforced routines outlined by the many books available to buy on the subject. (more…)


The aim of National Play Day is to help increase public awareness of the importance of play in supporting children's physical and social development. The focus for National Play Day in 2014 is on 'going out to play' and a variety of projects have been funded that create opportunities for outdoor play at street, neighbourhood and community level. National Play Day provides the opportunity for Local Authorities to encourage children and their families to experience play in their own locality. (DCYA) (more…)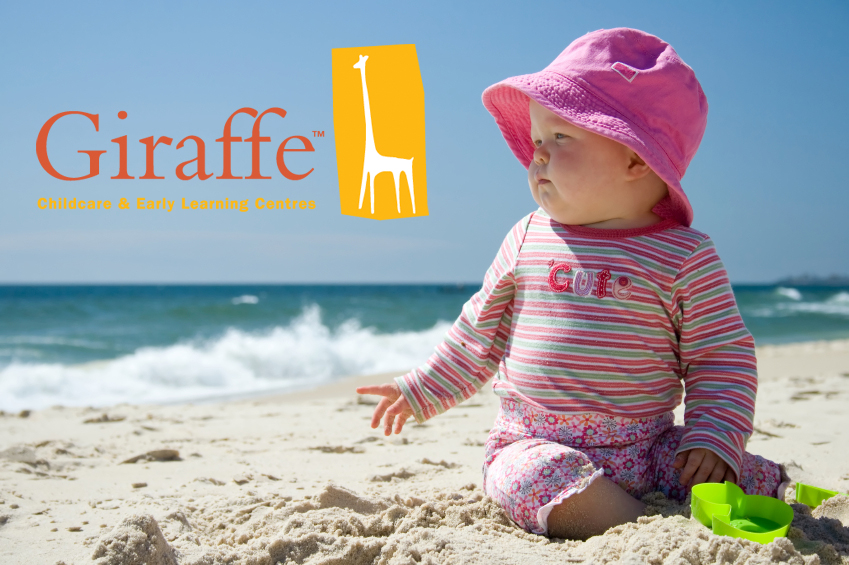 So summer's here, and the only predictable thing about the Irish weather is that it's going to be … unpredictable. That said, there will undoubtedly be a few sunny days to go round, and many families will be jetting off on their summer holidays abroad, so how can we best keep our little ones safe in the sun?
Apply sunscreen
These days it almost goes without saying that it is vital to apply a high-quality, high-protection sunscreen to your children's skin around thirty minutes before venturing out in the sun's rays. Easier said than done, we know, when dealing with wriggling, giggling little octopuses, so thankfully there are a few products on the market developed specifically to make life easier for parents. Specially formulated coloured creams can both provide protection against harmful UVA and UVB rays, and the temporary green or blue colour will help show you which areas you've covered, and, more importantly, which you've missed. Water resistant lotions are always a good bet when heading to the beach or pool.
Choose a high factor, reapply regularly (especially after swimming or sweating) and limit your children's exposure to the sun. Just like yours, their skin will be dehydrated after a day in the heat, so select a product (after sun or moisturising lotion) that's suitable for children and apply in the evening after bathing.
Wear a hat
We're all at risk of developing heatstroke if our heads are uncovered. Children are no different, particularly those with very fair or fine hair, and especially babies with no hair at all! A hat is vital in the sun, so find ones that don't fall or blow off easily in the wind (elasticated straps or safe ties for babies can help with exploring hands) and teach your older children always to wear them.
Wear protective clothing
Light coloured, loose clothing is best in the heat. Keep little shoulders covered if your child is likely to burn and take a cover-up to the beach for unexpected breezes. There are many ranges of approved children's sun protective clothing available, including T-shirts, wetsuits and swimwear. These offer waterproof UV protection of the equivalent of a 50+ sunblock and can offer peace of mind to parents worried about sun cream rubbing off as their children roll happily in the sand.
Provide plenty of shade and drinks
Often families invest in little UV protected tents for beach holidays, which can offer youngsters a welcome retreat from the sun's rays and help prevent burning skin and heat exhaustion. Water is just important, so take along several bottles and make sure the children keep topped up, as they'll need to drink more than usual in the heat.
Have provisions for just in case
Many parents pack a first aid kit to deal with life's little bumps and bruises, and for sunny days this should include infant paracetamol in case of headache and calamine lotion to calm mild cases of heat rash. For more severe heat rashes, speak to a doctor or pharmacist, who may prescribe hydrocortisone cream. If you are concerned your child may be suffering from heatstroke, seek immediate medical advice.
With all the above in mind, it can be daunting for new parents to prepare for hot weather, but it's important to remember that a controlled amount of exposure to the sun is good for us, as it helps us absorb Vitamin D – essential for strong bones and many other health benefits. Above all, stay safe and have fun!