Virtual Interview Day
---

Giraffe is holding Virtual Interview Day!
When: Tuesday 24th November 2020
Book your Childcare Assistant Virtual Interview on Thursday 19th November 2020 and meet with our team and learn more about the careers opportunities available at Giraffe.
We are currently hiring Early Years practitioners for roles in our centres located in Dublin, Kildare and Meath. If you have just started a FETAC course and are looking for work placement, we would like to hear from you too!
We are currently recruiting for the following positions:
·         Childcare Assistants (Part time & Full Time)
·         Crèche Supervisors (Part Time & Full time)
·         Centre Managers and Deputy Managers
Students who are currently completing their qualifications in FETAC 5 / 6 / 7 are welcome to come to the open day to discuss career options as well. We will be also conducting interviews on the day so please contact us on (01) 440 4850 and we can arrange a time that will suit you.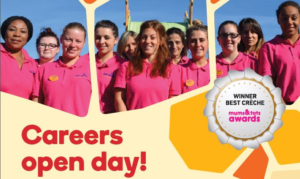 ---