Caring for children when they are sick
---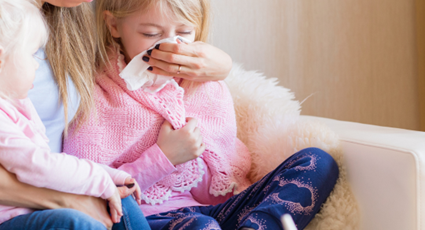 We are often asked by parents when is it appropriate for their children to return to creche after an illness. There are many guidelines from the HSE and other agencies to support parents and creche teams along with advice from GPs so creche management teams work within these guidelines and in partnership with their parents, to support the well-being of all the children attending creche.
Young children are often susceptible to picking up the odd cold, other childhood illnesses and viruses and these are to be expected as your child's immune system is developing! It is, however, difficult to see a young child struggling with temperatures, tiredness and not being their usual energetic and happy selves. Some young children may be unfortunate and catch several colds in a year, particularly over the winter months, often resulting in a constant runny nose but there will be light at the end of the tunnel once the warmer summer months arrive.
As a parent, the three main considerations when deciding if your child is well enough to attend crèche:
We appreciate for parents that it can be difficult to know when it is right to send your child to creche as children are fantastic at bouncing back from sickness, they can be in high spirits and then in 30 minutes they hit a slump again.
Does your child have a temperature, how are they feeling – general mood and temperament.
Are they seeking additional comfort and support and seem lethargic or are there eyes glassy?
Do they require medication such as Paracetamol or Ibuprofen?
Guidelines are provided to childcare facilities by Tusla and the HSE. These guidelines provide guidance, support and knowledge to both parents and childcare care teams of when it is appropriate for their child to return to creche as sometimes it can be a tough call to make. However, the overall aim is to keep everyone well and reduce the spread of sickness.
Colds: A mild cold can often appear with coloured nasal discharge. If your child is mainly well with a minor cough and sneezing – it is ok for your child to come to creche. However, it is important to monitor and consider consulting with your doctor should the situation worsen.
Temperatures: Temperatures are often a signal that there may be other illnesses at play. If your child has a reoccurring temperature, this is something that requires additional attention. A child presenting with continuous temperatures require regular monitoring and should remain at home for 24 hours or until the temperature reverts to normal levels. If concerned, parents should contact their doctor for further advise.
Tummy upsets: Tummy upsets are never pleasant and can be particularly unpleasant for young children. Thankfully, they often pass quite quickly and once the bug has passed through a child's system, they bounce back quickly. Under the Tusla and HSE guidelines, children who have a tummy bug – this means if your child has vomited more than twice in 12 hours or had three or more episodes of loose stools or they persist for more than 12 hours, it is recommended that you consult with your GP. Also, your child must stay at home for 48 hours before returning to creche.
Childcare care teams do their best to mitigate the spread of sickness. Outside of the daily cleaning and sanitisation of all equipment they teach young children how to correctly wash their hands, wipe their nose and eventually as they are a little older cough into their sleeves.
Children are so well rehearsed on this these they very often hold us grown-ups to account!
---