A Parent evening with Aoife Lee
---

We recently held some special informational evenings with our Parent Coach, Aoife Lee of Parent Support. The parent discussions covered a wide range of topics, including "Managing Change Together", "Encouraging positive Sleep patterns" and "Biting – how to stop it".
Our parents from across our centres had provided feedback on what they found were some of the more challenging aspects of parenting. These areas included:
How to build relationships with our babies & children
Childhood development – setting reasonable expectations for our children
Supporting a child settling into creche, moving rooms & preparing for school.
In Stepaside, Aoife covered some important tips on encouraging routines for young children, around getting ready in the mornings, meal times, and in particular, around bedtimes.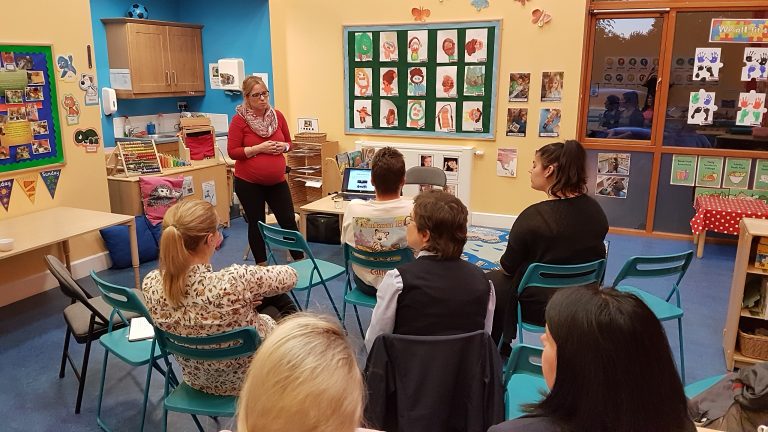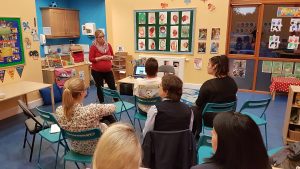 Some tips included:
Prepare your child for any changes to routine
Acknowledge your child's feelings
Be confident in their ability to cope
Create  open communication between you & key worker/childcare staff – let the creche know when your child is struggle with a new routine.
In Milltown, the parent discussion focused on understanding our young children's behaviours, as a result of what's going on in their lives.
Children can sometimes act out….
In response to certain triggers
As attention seeking behaviour
Wanting to be in control
If they are feeling frustrated & upset
Knowing no other way to communicate
Aoife joined us in Blanchardstown to chat about supporting young children with big transitions such as moving house, getting used to a new sibling or settling into new care rooms in creche.
From our parents feedback, the evenings were very informative and they enjoyed the opportunity to speak with Aoife one-on-one about their parenting stories as well.
A special thank you our Chefs who prepared some delicious snacks for the hungry parents who came straight from work! We look forward to hosting more parent evenings in the next few months.
Read more about Aoife Lee, our Parent Coach.
---