Making memories at Christmas in Giraffe
---
Friday, January 6th, 2017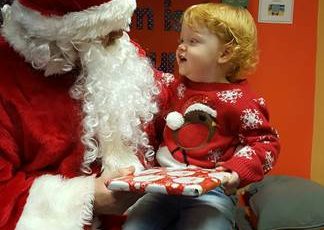 Christmas waves a magic wand over this world, and behold,
everything is softer and more beautiful. –Norman Vincent Peale
The spirit of Christmas
From early December the boys and girls in all of our centres had a chance to experience many Christmas traditions and customs. Each and every one helped to decorate the centres and spread Christmas cheer through out the hallways. In the lead up to December 25th, the children's excitement and enthusiasm was contagious! The children put on concerts for their parents, had Christmas parties to celebrate the season and even had a visit from the man in red – Santa Claus!
Christmas Concerts
Each of the centres held a Christmas concert and the parents were invited to hear the songs and poems from their little ones. There was great excitement and the children did wonderfully! Listen to the children's fantastic Christmas songs from the Liffey Valley Family party:
Decorating
The children made lots of different types of artwork to decorate their centres, and many were involved in doing fabulous decorations on each of the internal doors.
Charity
All of our centres contributed to a local charity during the month of December. The staff team in each centre recognise how important it is to help families and parents in their communities.
In Navan, Griffeen, Elm Park and Clonsilla, the centre staff organised a "Giving Tree" appeal through the St. Vincent de Paul. Parents and families were encouraged to take a tag from the tree and buy a new gift for the child or adult on their tag, and then we popped the unwrapped gifts back under the Giving Tree in our centre. These gifts were then distributed by SVP to families in the local communities, just in time for Christmas.
In Central Park, the children prepared special Christmas boxes for Team Hope. Each family brought in gifts and school supplies for the ShoeBox appeal, and the boxes were then sent to Africa to very deserving children.
The staff at Blanchardstown held a fundraising day for the Peter McVerry Trust, and veryone in the centre wore their festive Chrsitmas Jumpers too.
The team in Griffeen held a Christmas Jumper day and collected donations for the families and children using the services of Laura Lynn Children's Hospice. Congratulations to Barbara, mum in ElmPark who won the Hamper from our the charity raffle, also in aid of LauraLynn.
Santa's Grotto
Here's a look inside the magical grotto in Stepaside!
Santa Visits
There was so much excitement when Santa came to visit each of the centres. The excitement on the children's little faces was just magical!
Everyone of our team members was presented with a gift this Christmas to thank them for all their hard work and achievements in 2016 – thank you to all our carers, chefs and managers for your amazing work!
We'd like to wish you and your family a very Happy new year, on behalf of everyone at Giraffe!
---