Flowers for Mum!
---
Monday, March 2nd, 2015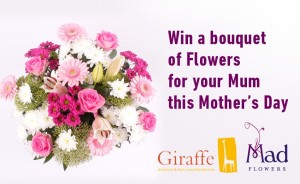 Giraffe Childcare know how very special all Mums are. This Mother's Day we would like to treat your Mum to a bouquet of flowers!
Mad Flowers will deliver a bouquet to three lucky Mums in time for Mother's Day on Sunday March 15th.
To be in with a chance to win, simply share how wonderful your mum is on our Facebook and Twitter pages.
Best of Luck!
---
It's that time of the year when we all could do with a night away in a luxury hotel. Here at Giraffe childcare we have teamed up with the 4 Star Castleknock Hotel & Country club to treat you and your family to a luxury night away!
Friday, January 23rd, 2015
Read More