Giraffe Childcare Celbridge goes totally Green !
---
Wednesday, December 3rd, 2014
By Manager Karina Retief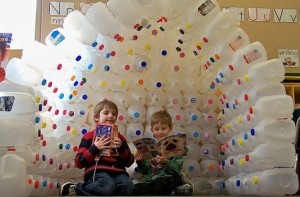 We are always looking at new and exciting ways to engage the children and introduce them to recycling.
In Giraffe Celbridge we are hoping to become completely environmentally friendly!  We have given ourselves a challenge to try and use recyclables and natural materials as much as possible.
At the moment we are collecting empty milk bottles from staff and parents so that we can build an indoor igloo with and for the children.
Our target is to collect 400 bottles and at the moment we have 145!  We are collecting them in our centre and have our local Starbucks collecting their empty bottles for us too!!  Once the igloo is finished it will! be big enough to fit 10 children!!  (We hope!)
We are planning on having every single child to "lay a brick bottle" so that everybody is involved in this project.
We haven't started building yet, but it will commence this week!  Giraffe staff were so excited about the project that they have promised to sponsor 1 each for a carton!!  How wonderful! We have decided to donate the money we raise building the igloo to the LauraLynn foundation who carry out amazing work with sick children.
The learning opportunities for the children as a direct result of this! project to mention a few areas are geography, looking after our environment, design and technology, architecture and maths, and teamwork.
We will be keeping you updated on our progress here on the blog and also on our facebook page.
---