Halloween Fun at Giraffe!
---
Friday, November 6th, 2015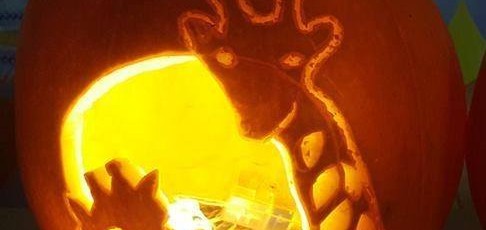 There was great excitement in the week leading up to Halloween throughout our centres. The children and staff got involved in preparing artwork and decorating the centres and everyone got into the spirit and the fun of the celebration.
In Giraffe Milltown there was a very spooky room!
Clonsilla had a very weird and wonderful Halloween room also!
Many centres had stunning Halloween and autumnal displays.
The children were delighted to dress up for the whole day for their Halloween parties. Witches, superheroes, princesses and animals were the favourites, with a few more unusual ones thrown in for good measure.
The children weren't the only ones enjoying dressing up though! Many of the staff turned out in costume for the day and some even ran competitions for best costume. These two lovely ladies won best costume in Griffeen for their excellent effort at making the costumes themselves!
In Giraffe Blanchardstown the children enjoyed getting stuck in to scooping out the inside of the pumpkins. This is a great seasonal sensory activity!
One of the highlights of the week was a competition between the centres for the most creative pumpkin carving! There was great fun and rivalry between the centres. 4 finalists were chosen and then it went to a public vote on our Facebook page. Northern Cross were the lucky winners.
Here are some of the amazing entries from other centres.
---