I Love My Job!
---
Friday, November 14th, 2014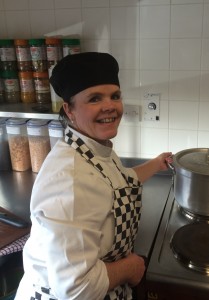 Giraffe Childcare Cook in Liffey Valley,Valerie Kavanagh tells us why….
"I should have done this years ago!"
I know I am here 7 years cooking for the children but I mean I should have been cooking for children years before as I just love it! And they appreciate it more than my own do!
Valerie Kavanagh is the cook for all our children in Giraffe Childcare Liffey Valley and it is obvious from talking to her that she just adores her job. She asks "how can it be called work when you enjoy it this much?"
Valerie starts each day by preparing the first snack of the day which is always fruit, delivered fresh each day. There is always a large variation of all types of fruit such as melons, apples, oranges, grapes, pears, mango pineapple,blueberries and raspberries. "They love their fruit" explains Valerie and "it's so good for them!"
Valerie then starts on the dinner of the day which can range from Sweet and Sour chicken, fish pie, cottage pie or Spaghetti Bolognese. The menu is different every day of each month so variety is something the children here are used to. The favourite dishes she tells me at the moment are macaroni cheese and anything with potato. Everything is made from scratch in the kitchen including Valerie's own stock and is very low in salt and sugar content.
Valerie mentioned that one of the best feelings for her as the cook is when a child asks for more! She roars laughing after she mentions this and it is hard not to laugh with her, she has the most infectious laugh and it is easy to see why our children here just adore this lovely lady!
Valerie mentioned that when she goes on annual leave and comes back the welcome she gets is tremendous, she makes the comment that "food is very important to the children!"
Valerie cooks for over 60 children each day, they range from fussy eaters to children with allergies and they are all catered for. "Sometimes in the beginning when a child starts they are unsure of what they want to eat but it doesn't take them long to get settled in and they are soon eating like all the rest of the children." Parents often come into the kitchen to me to ask me for my recipes for certain dishes mentioning that their child loves a particular dish and that when they make it at home the response is that it is not like Valerie makes it! I often write down recipes for parents and tell them that if they need anything else they know where to find me!
Before I left Valerie I had to pose the question "are you ever in bad form?" to which the reply was "sure if I was it only takes one child to give you that big smile to lift you out of it! My job is so rewarding and I am so thankful to have it!"
---