Ready! Get Set! Glitter!" Christmas craft ideas for children
---
Friday, December 6th, 2013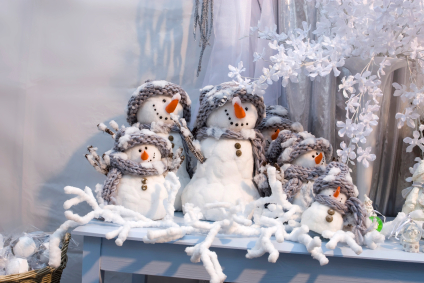 It's time to roll up your sleeves and get messy. After all, why spend a fortune on Christmas decorations when you can have a lovely time making them with your little one? Here are a few ideas of easy craft activities you can both get stuck intoג€¦
ג€¢ Pine cones come in wonderfully festive shapes and the fun starts as soon as you leave the house on a mission to find them! Collect and bring back the spoils from your chilly treasure hunt in your child's bucket, then get your craft box at the ready. Pine cones can be painted, dipped in glitter, glued together to make an alternative wreath or table decoration, or attached to a ribbon and hung on your Christmas tree. And the best bit is they don't cost a thing!
ג€¢ Cotton wool balls can form the basis to cute little snowmen ג€" simply glue two balls together to form a body and head, then stick on googly eyes, an orange felt carrot for a nose, real black buttons and a toothpaste lid hat. Easy!
ג€¢ Handmade Christmas cards mean so much more than shop bought versions, so get busy with your little one during the early weeks of December. Even very young children can have a whale of a time finger painting Santa and his reindeer, or alternatively using hands prints to form an authentic-looking Christmas tree or snowflake.
ג€¢ Save yourself a fortune on expensive wrapping paper this season by providing your child with a roll of brown paper, some glue, some glitter or maybe some star stickers (if you're not a glitter fanג€¦). Hours of fun can be passed designing individual present coverings for favourite friends and family members.
ג€¢ Make homemade banners by cutting out letters on coloured card to spell a seasonal message (ג€˜Merry Christmas!' or ג€˜Happy Holidays!' etc.). You and your child can decorate each letter individually before punching a hole in the top of the letter and threading a long ribbon through, ready for hanging up. A nice alternative version of this activity is to recycle old wrapping paper and cut out the letters from that, alternating colours and patterns for a visual feast!
ג€¢ Make a Christmas collage on a large piece of coloured paper by helping your child carefully cut out pictures of wise men, stars, animals, Santas or whatever takes their fancy from last year's Christmas cards, catalogues or magazines. Let your little one take charge as she creates the festive scene of her dreams using craft glue and her imagination.
ג€¢ Decorate plain rich tea or digestive biscuits with writing icing and dot on jelly tots, mini marshmallows or silver balls to make snowflakes or Santa faces. Chocolate Krispie cakes can be fashioned into mini reindeer with a little care, and while you're in the kitchen, why not bake gingerbread stars, snowmen or Christmas trees to give as a present to a relative or teacher?