Share? No Way!
---
Friday, November 8th, 2013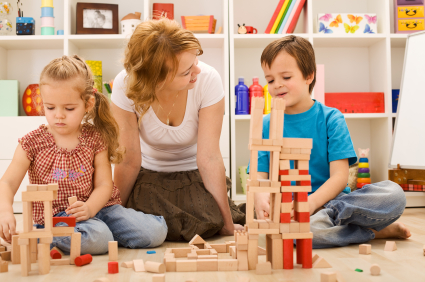 It's a scene most parents recognise. You arrive at playgroup, looking forward to a cuppa and a catch-up with a group of adults who inherently understand the trials and tribulations you suffer on a weekly basis. You're anticipating comparing notes on your daughter's positive progress in potty training while also hoping to pick up a few tips in getting her to stay in bed after 4am. In fact, you've endured one of those foggy 4am starts just this morning, and are in striking distance of that caffeine hit and friendly sympathy when suddenly you hear:
No! That's Mine!
ג€˜Owwww! Stop it! Mummy, Kayleigh HIT meג€¦'
Particularly problematic for firstborns or only children, sharing is one of those life skills that only really come naturally to parents. After all, if cavewoman hadn't looked after her progeny first and foremost, then the survival of the species wouldn't have happened. But at playgroup ג€" and beyond ג€" it's all about the survival of the fittest.
There are a number of ways you can introduce your child to sharing at home, alone. Firstly she can learn by example ג€" you can demonstrate to her how you share as you divide up an apple pie fairly, or pass Daddy the TV remote when you're feeling especially generous. Then there are many excellent toddler books available ג€" stories with lessons in them and a little gentle discussion afterwards are worth their weight in gold for this age group. Board games introduce turn taking and the concept of losing. Finally you can indulge in a little spot of make believe featuring a number of favourite dolls, debating among themselves who should wear the miniature purple jumper knitted lovingly by Nana last Christmas.
However, your child will only truly learn to share in a social situation, such as playgroup, or a playdate at home. Both of these examples are important, for very different reasons.
Playgroup
At playgroup each week your child encounters a group of semi strangers, each with his or her own agenda and tolerance level. The toys do not belong to anyone; therefore they're fair game. Especially if your child is new or awkward when it comes to sharing, it's best to forego the friendly cuppa in favour of hovering nearby to smooth out incendiary situations and encourage your little one to be generous with that manky old stuffed caterpillar to which she's become worryingly attached. Equally, don't be afraid to gently but firmly step in with another child who isn't playing by the rules.
Most children respond well to an unbiased adult monitoring the turn taking, and praising them for good sharing.
Playdates
Playdates can be interminably more difficult but they are still crucial when it comes to learning how to share. Dates at your own home can be challenging, especially when suddenly your child is forced to part with any of her toys to which her friend takes a fancy.
The best way to handle these occasions is to chat about it beforehand, covering what it will feel like to share and why it is good. Then identify any treasures that your child simply can't bear to see in another's sticky fingers, and safely remove them from the equation. Thereafter, stay close to monitor the situation, stepping in as and when necessary. Reciprocal playdates then teach your child how her pal reacts in kind, and how sharing can help deepen a friendship.
Above all, keep a sense of humour about the issue and be prepared to remove your child from any situation that is spiralling dangerously out of control. Sharing doesn't come naturally, but it is a skill that can be learned over time, assisted by the right combination of patience, understanding and persistence from you.
Bryony Sutherland is a mum of three who finds it particularly difficult to share Thai sweet chilli crisps, Ferrero Rocher and the TV remote during Strictly Come Dancing.