Defibrilliators Installed in Each of our Centres
---
Friday, September 13th, 2019

We have installed automated external defibrillators (AEDs) in our 21 centres across Dublin, Meath and Kildare. This is part of our commitment to safeguard children, staff, parents and visitors in the event of a cardiac arrest.
The installations were part of a wider campaign that has seen Busy Bees and Giraffe Childcare fit more than 320 AEDs in its facilities throughout the UK and Ireland. The industry-leading scheme will help boost the survival chances of people who have an out-of-hospital cardiac arrest.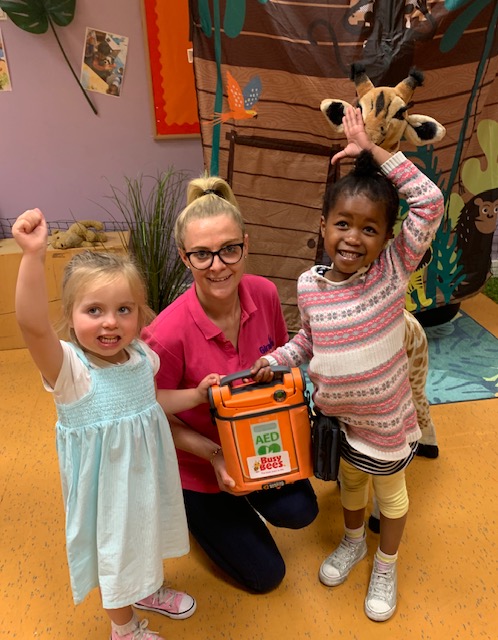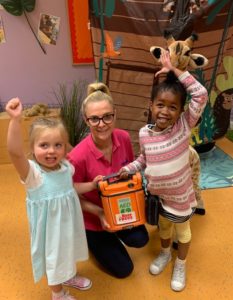 "Every year in Ireland 5,000 lives are lost because of an out-of-hospital cardiac arrest," says Emily Brimson, Head of Compliance at Busy Bees. "Every minute without CPR and defibrillation, your chance of survival decreases by 10%. Installing more AEDs in creches, schools, businesses and public spaces, can only help to save lives and we hope more organisations will follow suit, as every minute counts when someone has a cardiac arrest."
The AED, supplied by Cardiac Science, has both adult and paediatric pads. It was specially chosen as it provides both text and voice prompts to the rescuer to enable them to remain focused during the high-pressure situation. To mark the installation of the AEDs, a variety of activities were held across all 21 Giraffes centres which are located in the Greater Dublin Area. The National Ambulance Service visited Giraffe Griffeen, Lucan, Co. Dublin. The children received a tour of the Ambulance and a demonstration of what to do in the event of an emergency. Other activities included Staff training on how to use a defibrillator. The children received demonstrations from First Responders such as the Gardai, Doctors and Nurses on what to do in the event of an emergency and how a defibrillator works.
Siobhan Moore, CEO at Giraffe said; "Protecting and safeguarding the children in our care is our top priority and that's why we've undertaken this potentially lifesaving initiative. We see it as part of our commitment to best practice and to deliver outstanding care to our children, as well as to protect staff, parents and visitors. Although we hope that our defibrillator never has to be used, it means that if the worst-case scenario happens, we are able to increase the survival chance of anyone who has a cardiac arrest inside or within minutes of our creche. Giraffe Creches are in many residential areas and Business Parks, this life saving equipment is available to the community in the event of an emergency. "
Brigid Sinnott, Resuscitation Manager at the Irish Heart Foundation said: "CPR and defibrillation have both been shown to save lives. By having people trained in CPR, and AEDs available for use in our communities, lives can be saved. AEDs are simple to use, and need to be available, accessible and in working order to make the difference in communities. We are delighted that local people, families and employees will benefit from these AED's and it will improve their chance of surviving an out of hospital cardiac arrest in their community."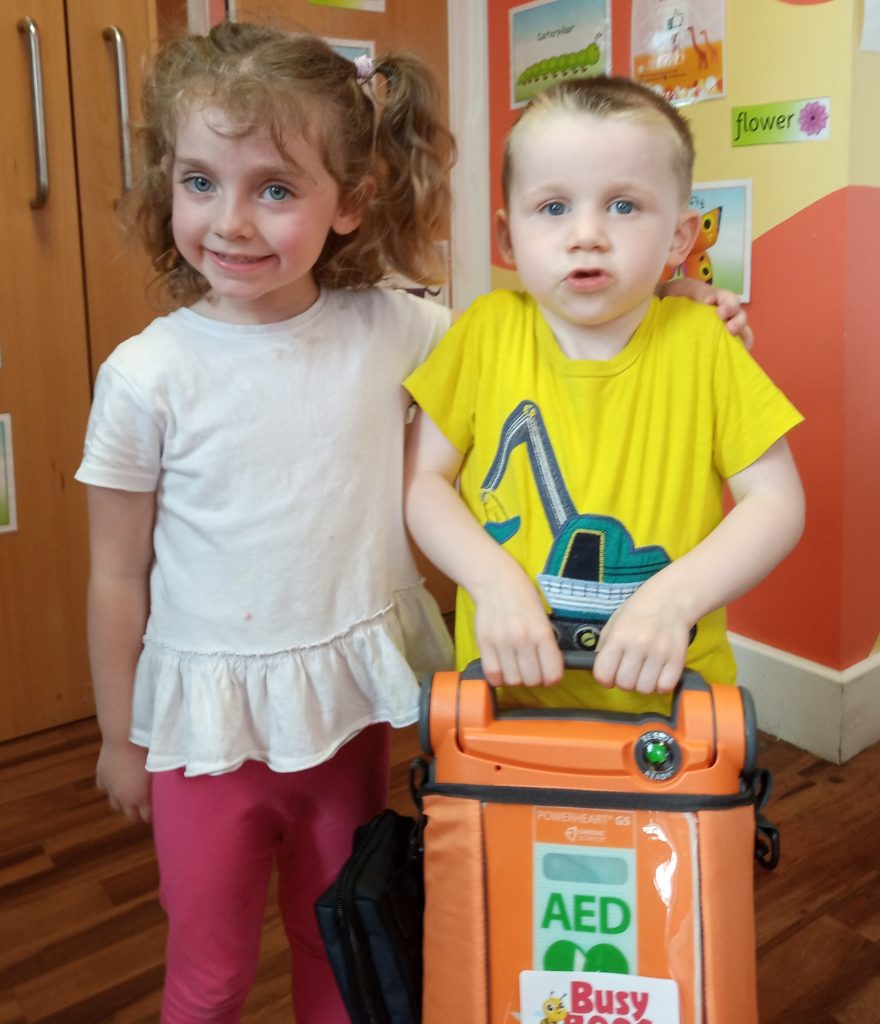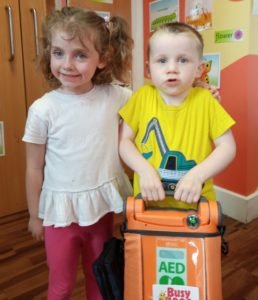 ---