Career in Childcare
A career in Childcare is unique. No two days or even hours are the same. It requires energy, creativity, and a willingness to follow a child's mind.  A Childcare career in Giraffe offers Childcare Practitioners the opportunity to develop and enhance their own career. You will experience best in practice approach, have access to the highest quality resources and supports that allow you to run a wide variety of activities, enhance curriculum activities through our online and practical resources which are available to our teams. We believe our children flourish and reach their potential through your dedication, nurturing, passion and support. Read about Workplace Wellbeing at Giraffe.
As Irelands largest childcare employer, Giraffe Childcare offer Childcare Practitioners at all levels career opportunities to develop and enhance their childcare career to the next level and to become their best.
We are currently seeking candidates with qualifications in childcare for our childcare centres across Dublin, Meath and Kildare: see our current jobs postings here.
Our centre management team offer you
on the job training,
mentoring and personal development
extensive experience in childcare and early years education
supports to assist you expanding your knowledge
online training programmes delivered through our virtual training learning support,
supervisor training and trainee management programmes for those who wish to develop their career into centre managers.
What we offer you:
At Giraffe, we value each member of our team and hold them with the highest esteem. We believe now more than ever that job security is important for our teams.
Competitive Salary
34 days annual leave including bank holidays
Career development and promotional opportunities across our 21 centres
Access to leading developments in child development, behaviour management, resources and curriculum
Enhanced trainee management programme
Bike to work scheme
Travelsaver scheme
Discounted partners with third level education providers
Employee Rewards and gifts
Discounted Employee Health Cover
Employee Pension
Employee recognition programme
Staff Appreciation
Staff Wellbeing programme
Travel Opportunities within our Global Group
Part of an award-winning team (Named Best Creche 5 years in a row)
Work with our Siolta Award Winning team.
Bilingual support team available
Apply now to begin your childcare career with Giraffe Childcare today!
We Care
Your health and wellbeing is important to us. We have embedded our employees' health and wellbeing into our culture. Regularly, we host a number of events throughout the year to celebrate our staff's wellbeing. We also, show gratitude to each team member highlighting their role and the significant part they play on a daily basis.
Acknowledgement & Reward
Each member of our team has the opportunity to develop and grow with us. Each Childcare Practitioner brings their own unique value to our team. We love to reward our team and acknowledge their wonderful achievements. We do this through our employee of the quarter, Employee of the year and Centre of the year. These achievements highlight the wonderful work that is carried out at centre level on a daily basis.
Opportunity to grow
Mentoring, training and development of our teams is key to our success. Over 97% of our centre managers begun their childcare career with Giraffe in our base rooms as carers. Their knowledge, training and mentorship has provided us with an outstanding level of care and ensures our teams continue to develop and grow with us not only through our continuous training programmes, our team mentorship programme, being my best and our work experience programme. Giraffe Childcare is an equal opportunity employer
Giraffe Training Academy
At Giraffe childcare you'll discover a team of carers that are really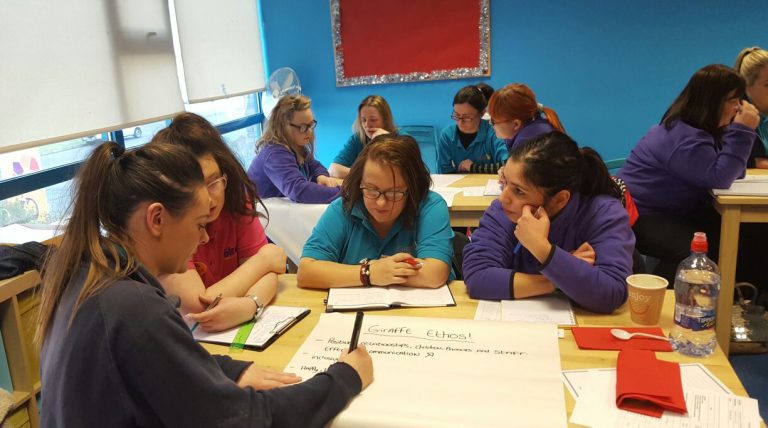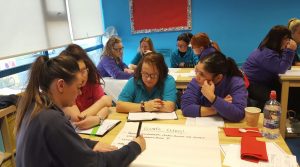 passionate about childcare and early education. We expect a high standard from all our people, and in return we offer meaningful opportunities to develop professionally and fulfill their potential. We know that having a happy team not only helps us provide the very best childcare but it also guarantees that our team stay with us and we can offer the consistency and continuity of care that's so important to children. Read about our Infant Care workshops here.
Case Study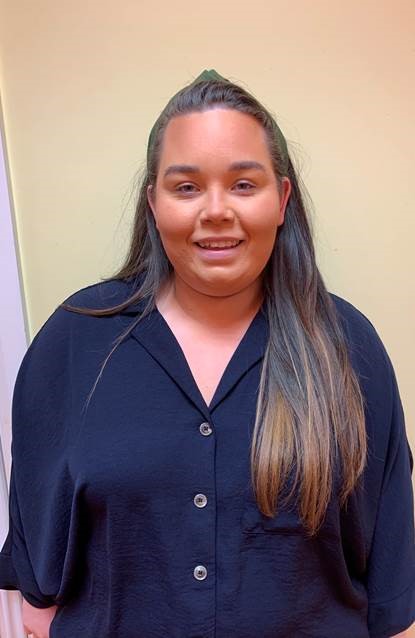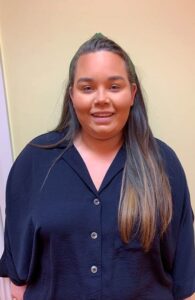 My Giraffe Journey – Ellen Smyth
My Giraffe journey began in Giraffe IFSC, in 2017 where I started out as a work experience student while studying.  Upon completion of my FETEC Level 5 in Childcare, I was given the opportunity to gain full time employment with Giraffe Childcare as a Childcare Practitioner.
I began my professional childcare career in Giraffe Elm Park in one of the base rooms. Everyone was so welcoming and helpful from day one. From my initial day I focused on getting to know all parents and children. I was also given the opportunity to continue my professional development with further courses through the suite of training course provided by the Giraffe Training Academy. This was a fantastic support as it included curriculum development and included keeping my first aid training up to date.
After 18 months, I was promoted to centre supervisor. This was a fantastic opportunity. Once I expressed my interest in progressing my childcare career, the centre management team mentored me, providing me with further training and development opportunities.
In 2020, I was promoted to the role of Deputy Manager. With the help of the centre management team, additional training and development from Giraffe's Training Academy. In 2023, I was recently promoted to the role of Centre Manager. I am very excited by this new adventure.  Everyone has really supported me and assisted me to succeed in my new role.
I have now been with Giraffe just over 3 years and I am looking forward to progress more with the help of the giraffe team. It is a great work environment to be in with many opportunities to progress on to. I would highly recommend everyone to consider joining Giraffe Childcare. It has opened up my professional world.
Begin your Childcare Career at Giraffe Childcare today – Apply Now