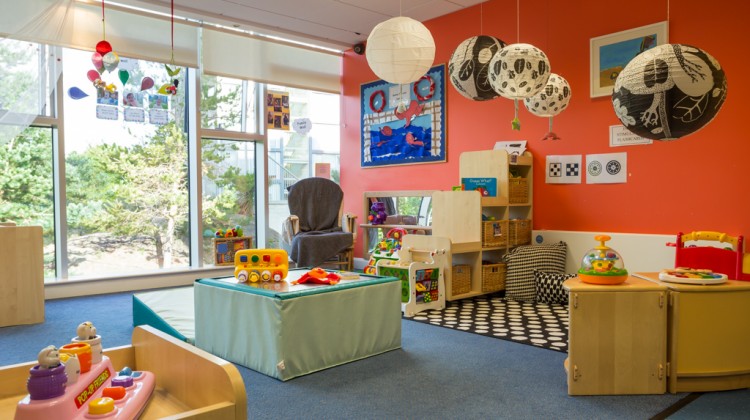 Giraffe Elm Park
Childcare Elm Park
Elm Court, Merrion Road, Dublin 4, Ireland.
IE
info@giraffe.ie
Phone: (01)2452196
Our Elm Park crèche is located in Elm Park business park in the heart of a large residential area just off the Merrion Road with excellent transport links to the city. The centres is en route from Blackrock, Booterstown and en route to Donnybrook and Ballsbridge, as well as the city centre.  Purpose built in 2011, with 7 spacious rooms, all brightly decorated and arranged to offer each child the chance to explore and investigate their environment, to enable them to learn the skills that they need to develop to become confident, happy children.
There is a warm, happy and positive environment in the crèche and we all work together to plan our child curriculum to support each individual's child development. Our planning reflects the children's interests so we are all experts in dinosaurs and all sorts of exotic topics! We have a lovely secure outdoor play area for the children to enjoy all year. There is a planting and digging area in our garden where the children enjoy searching for worms and bugs!
We are open all year round, Monday to Friday except for public holidays. We offer part-time and full-time places for children aged 12 months up to 5 years old and we also deliver the free pre-school year (ECCE scheme – subject to availability). Why not give us a call on (01) 2452196 and we will be happy to answer any questions you may have.
Working with the Department of Youth and Children's Affairs on the Better Start Quality Programme.
Supported by the South Dublin Childcare Committee and is also a member of Early Childhood Ireland.
Creche Address:
Giraffe Childcare Elm Park
Elm Court
Merrion Road
Dublin 4
Co.Dublin
D04 XP26
Ph: (01) 245 2196
FAQs
I'd like to take this opportunity to thank all the staff at Elm Park for taking such good care of our daughter. She loved gong to Giraffe and has become very fond of everyone there and I have been really happy with the high standards of care she has received.
Karen
Mother of Freya - Giraffe Elm Park