---
It has been a great first week in creche for everyone and we are delighted that the children have settled back so well with their friends and carers.  There were a few little tears but we were able to give them a cuddle and ease them back in to their routine.  We have made some small changes to their room environments as we have reduced the number of soft toys but they can all still enjoy water play, messy play, building blocks, books, dolls, painting and of course lots of time in the garden!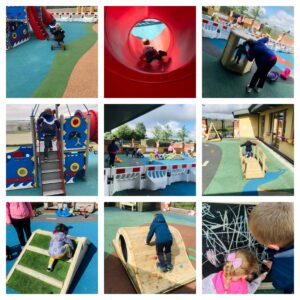 We are following public health advice and will of course update you of any changes as to how we are operating with respect to play pods, social distancing and managing access to our centres.  On review of our first week of operation and in order to minimise queuing at arrival and collection times, we will be extending our opening hours to 8-5.30pm from Monday 13 July until the end of July and we will arrange staggered times with you directly if required in the centre.  We will keep this under review and will advise you of any changes in line with any updates to public health guidance.


We also have further guidance on the Government schemes and support for parents.
There have been some changes to the Government Schemes which require parents to take a number of actions to retain your childcare fee subsidy from 24 August onwards.
With effect from 24 August 2020, all childcare subsidy schemes are being moved onto the National Childcare Scheme (NCS).
If your child started with Giraffe before 20 November 2019, he/she will be registered under other schemes (such as the CCSPU and/or ECCE preschool schemes). In order to continue to avail of fee subsidies you will need to apply for the NCS before 24 August 2020. For most parents the level of funding will not change, the change is only in the way the scheme is administered.

How to apply:
You will need:
A verified MyGovID account*
Your children's information such as date of birth and PPSN
Your employment and income related details
Your partner's PPSN, employment and income related details (if you are a member of a couple)
*  To obtain this you need a basic MyGovID account and a Public Service Card with a verified mobile phone number.  For full instructions, please go to https://www.ncs.gov.ie/en/how-to-apply/
If you cannot apply online, you will need to apply by post. To do so, please contact the Parent Support Centre on 01 906 8530, Monday to Friday from 9am to 5pm. These applications will take longer to process and may affect the start date of the subsidy payment.
When your application has been approved, you will receive an NCS award for each child, containing their unique CHICK key (Childcare Identifier Code Key) and details of rate & number of eligible hours. You will need to share this with us so that we can register your child on the NCS portal (called HIVE) and enter the number of hours that your child attends.
After you receive your CHICK key please send this CHICK code in an email to accounts@giraffe.ie stating your child's name , date of birth and the centre your child attends.
After we register the hours, you will receive a notification asking you to confirm that the details entered are correct. Once you send your confirmation, the Department of Children and Youth Affairs will pay the subsidy to us on your behalf, and we will, in turn, subtract this amount from your monthly fee. If you do not validate our registration on the HIVE Portal we cannot deduct the subsidy from your fees.
If your child started with Giraffe after  20 November 2019, he/she will already be registered under NCS. As you are aware, all NCS Government subsidies were suspended during the COVID-19 closure so childcare providers have to re-activate or "extend" the registrations from  our reopening date of 29 June.  You will receive a message on the HIVE portal requesting that you validate the extension of your child's registration.
Please note that it  is important that you do this – if you do not, we cannot deduct the subsidy from your fees.
Again, we would like to thank you for your continued support as we reopen our centres safely.  We appreciate your patience and understanding as we continue to operate in a  new and different way and we will be in touch again with further updates.
Kind regards
Giraffe Centre Management Team