Easy Ideas for Halloween Costumes
---
Wednesday, October 4th, 2017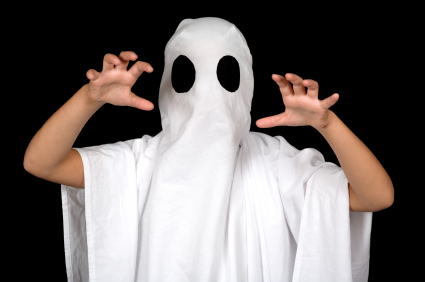 Halloween is just around the corner and it's time to prepare! Whether you're invited to a party, you're planning on going trick or treating, or whether you'll just be hanging out at home, kids just love to dress up for this special occasion. Here are some ideas for easy homemade costumes that won't break the bank:
1. Ghost
It's true, dressing up as a ghost or ghoul really can be as simple as finding an old white or cream bed sheet and cutting out some eyeholes for your little phantom to peak through! Make sure the sheet isn't too long so that there is no risk of tripping over it, and if your child is quite young, then she might appreciate some armholes too. So as to not spoil the effect, wear light coloured clothes underneath, including white trainers or shoes. Finally, paint large black circles around your child's eyes, so when they peep out from the eyeholes, they look extra spooky.
2. Monster
For a cute cut-price monster outfit, you're definitely going to have to break open the face paints. Keep the clothing simple ג€" all black, all green or all red would be particularly effective ג€" then it's time to get creative. A white or green base with black lips and dark eyes is a good start, then why not add bushy eyebrows, drawn in fangs, pointed horns, a third eye and authentically aged face creases? One visually striking method is only to paint half of your child's face, perhaps with a spider web or skeleton design ג€" scour the Internet for inspiration and practice ahead of time for the best results.
3. Witch or wizard
Witches and wizards generally need three things: a long black dress or robe, a pointed hat and a broomstick. If your child doesn't have anything suitable in her dressing up box already, a long dark tunic and stripy leggings is perfect. A hat can easily be fashioned by rolling a sheet of thin black card into a cone and securing it with tape. Next, trim the base so the hat will stand upright. Finally, on another sheet of black card, trace a larger circle by drawing round a bowl. Cut this out, measure it against your child's head and the bottom of the cone, and use it to form the brim of your hat. Finally construct a broomstick from twigs, twine and a wooden pole.
4. Cat
No witch would be complete without a cat, so why not dress your child up like a cat? She needs tight fitting black clothing, a tail, ears and painted on whiskers. To make the tail, roll up a length of black material into a tube and sew up the edge and one end. Then stuff the tube with cotton wool, sew up the opposite end and carefully pin it to the back of your child's costume. For the ears, cut out two diamond shapes of black card, then fold them in half round a plain black Alice band to form triangular ear shapes and glue into position. Your cat is ready to party!
Our handy guide to pumpkin carving! 
---