Wobbler care Seminar – Giraffe Training Academy  
Giraffe Childcare's Training Academy hosted a training day for 80 of our childcare practitioners with a focus on Interactions with 1 to 2 year olds.
Thank you to the workshop facilitators Nicola and Lillian from Early Childhood Ireland and Nicola from CanavanByrne who lead the training for the day. The workshops covered topics such as play-based learning, transitions for children moving rooms, and a wide range of skills demonstrations modules to promote best practice in care for the Wobbler age group (typically 12-24 months). The sessions were both interactive and interesting and the team all had an opportunity to be hands on!
Learning together
It was great day and we all enjoyed refreshing and developing our skills.  We have had some wonderful feedback from our practitioners and Giraffe Training Academy will host further workshops for all of our care groups.
A big thank you to our Centre managers, the central support team and all the practitioners who made the day such a success!
In recognition of their dedication, all of our staff went home with a small token of our appreciation and a treat to say thank you!
Click here to read more about Giraffe Training Academy.
For the past 4 years, team members from our Giraffe centres have taken part in the Dublin VHI Mini Marathon on the June Bank holiday weekend. 81 of our Giraffe team members took part in the race this year.
This year's event was held on Sunday instead of on the Monday – and we were all very grateful for the extra day of recovery! The Mini Marathon is one of Europe's biggest outdoor running events and this year nearly 30,000 participants took part in the run.
Preparations for the big day
Over the last 8 weeks, our teams have trained in the wind and in the rain, but they were so delighted to see the sun shining on Sunday June 3rd!
Supporting LauraLynn
This year our Giraffe team members completed the mini marathon in aid of Laura Lynn Children's Hospice, a very worthy charity and one very close to our hearts here at Giraffe. Each centre has organised a special fundraising event such as bake sale or Super Hero day to help raise vital funds for the children and families who use Lauralynn services.
Whether walking, jogging  or running, the 10KM course is a challenge. The challenge was further increased this year by some very hot weather on the day. It didn't stop our ladies giving it their best, and completing the race for this extremely good cause. The atmosphere at the event is one of camaraderie and good craic. And whether walking, jogging or running in the event, we knew that each step of our 10km run brought us closer to our goal!
Prizes!
As expected, there was some friendly rivalry between the centres, but it was Manuel from Stepaside who was the first person from Giraffe to cross the finish line, completing the 10km run in 49 minutes!!!
Team Stepaside was also the largest team from one centre with 12 participants!
Congratulations to Guiliana from Griffeen who was the fastest jogger from Giraffe, and to Anna from Parkwest who was the fastest walker!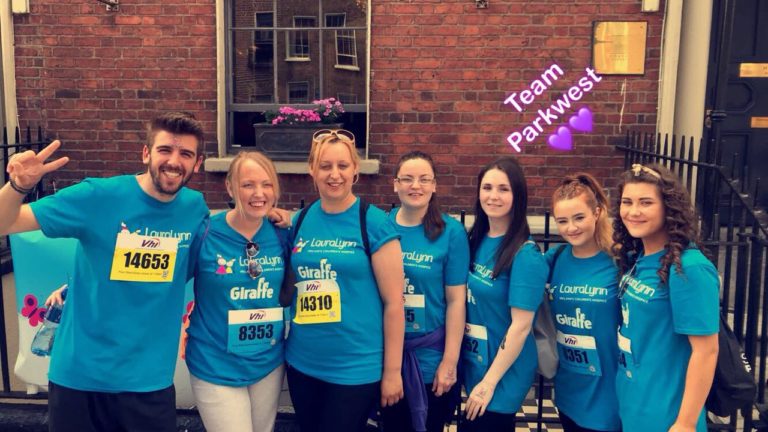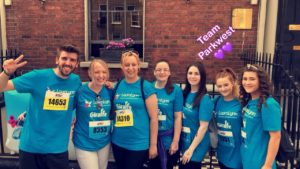 Well done to every one of our staff members who took part on the day.
If you wish to donate, and support this great cause, please click here: Donate to LauraLynn Online.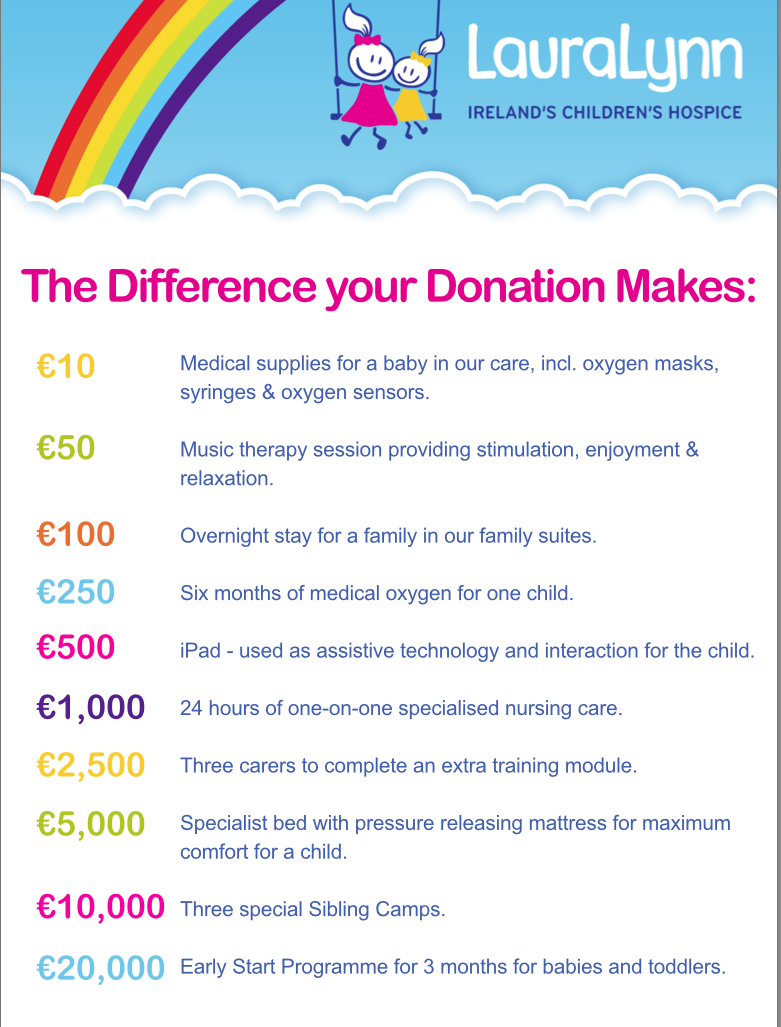 Wellbeing Week  took place at Giraffe centres from April 9th – 13th, 2018.  The aim of Wellbeing week was to encourage the conversation about employee health through promoting better nutrition and physical activity, as well as having fun!
There were activities running across all of our centres throughout the week including fitness, healthy nutrition, and wellbeing initiatives.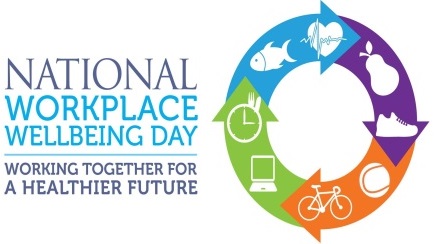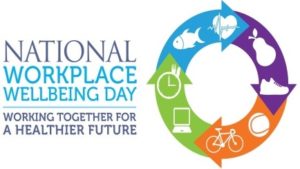 Healthy Eating Initiatives
All of our staff teams received Healthy Fruit baskets this week as part of a Eat Well, Live Well campaign. The team also encouraged fruit tasting and healthy Snack choices for the children, giving them the option to cut up fruit, stir in berries and talk about the goodness of fruit during their snack time.
Cycle to Work Scheme
Giraffe is proud to support the  Bike 2 Work initiative, as well as other travel discounts for our team members.
Practicing Well-being & Mindfulness
To help introduce the idea of mindfulness with our colleagues, our teams encouraged each other to try and practise a bit of mindfulness or meditation for 5 -10 minutes a day. This is a personal practise, and can be helped by taking a walk with no distractions, sitting quietly in a room, or visualising. Top TIP: Switch off all mobiles or electronic devices!
The Lunchtime Mile 
This is an event organised by the National Workplace Wellbeing organisation, that encourages colleagues to get out and excercice for a Lunchtime Mile. This could be completed by walking, cycling or running for 1 Mile ( 2.2 km) – check our our team photos!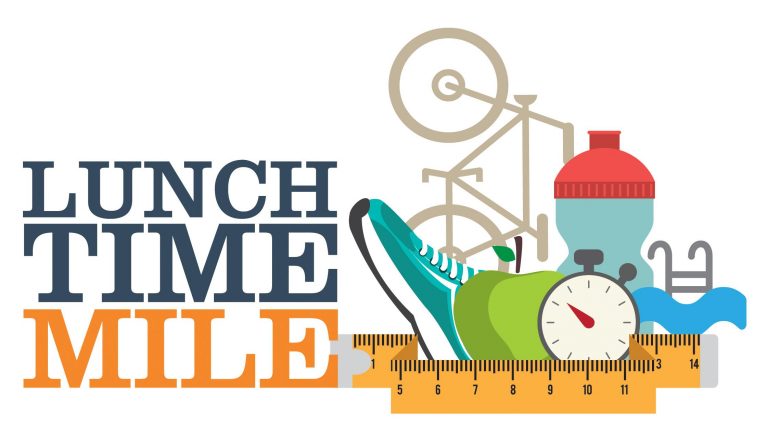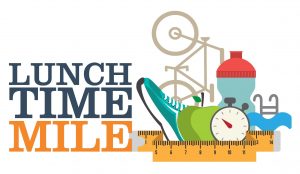 Fitness Friday
Our team members encouraged the children to participate in the fitness and wellbeing activities throughout Wellbeing week, and then on Friday we all wore our Active wear and took part in some fun games and races at the centres!
Mindfulness is a great buzz word but in simple terms for children, it is about awareness – awareness of their thoughts and feelings, what their body feels like, what they see and do and the noises that they hear around them.  In fact, children are probably better than all of us at practicing mindfulness as they live almost completely in the present moment!  Building self-esteem for children is everyone's priority:  there are some very simple techniques to support your child to build their 'happiness skills' from an early age, which can be easily added to your daily routine.
An easy way for children to practice mindfulness is to focus on what is happening around them.  Start with hearing – talk to your child about listening to the sounds in their environment. Let your child know that you are going to make a sound and that they should listen carefully until they can no longer hear the sound.  Ring a bell and listen to the vibration together, usually about 30 seconds.  It will have a calming effect on your child and it's a fun way to teach them to pay attention to what they can hear in their surroundings.
Approaches to mindfulness and kindness  
Build emotional literacy and start by acknowledging your child's emotions. Help them to correctly identify and name the emotion that they are feeling.  This can be extended for older children by asking them if they can identify the source of the emotion and what is making them feel sad or upset.  The aim is not to get rid of negative emotions, but to be able to recognise and name them and then accept the emotions for what they are. Talk about your own emotions with your child – share that you are feeling sad, disappointed, frustrated or happy and explain why you feel that way.  Your child will often recognise how you are feeling simply by innately reading your body language, so sharing and recognising your feelings and emotions provides acceptance and enables your child to be comfortable with their own feelings.  For younger children, there are a number of books that deal with emotional ups and downs which are easily understandable and allow children to engage and identify feelings. This is a fun way of having an open discussion about feelings with your child and to discuss how to respond to challenges that might arise for them in school or pre-school. Recognise that the frustration, anger, or fear they feel is very real, let them know that it is okay feel that way and then focus on what to do with that emotion
Encourage your child to be aware of their breathing
Practice breathing with a 'breathing buddy' by lying on the ground with your child and placing a small cuddly toy on their tummy. They focus their attention on the rise and fall of the stuffed animal as they breathe in and out and begin to increase their awareness of their breath.  Build on this by taking deep breaths with your child and exhaling deeply – this breathing technique can also help to calm your child down or to move them out of an angry feeling by taking 5 deep breaths together.
Create a mindful bedtime routine. Bedtime is a great time to introduce mindfulness to your child as you can introduce the technique of doing a short body-scan before bed – ask your child to close their eyes and then wiggle their toes and then their fingers and to move their hands on to their tummy to feel their breathing.  It is a calming way to return to the body at the end of the day.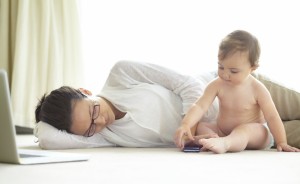 Gratitude and kindness
Cultivating an environment of kindness and being grateful for the simple things that we often take for granted will give your child's well-being a boost. Be aware of your language and make a habit of being grateful and recognising gratitude in your child's world.   Use language like…'Aren't we so lucky that the sun is shining today and we can go to the park' to build gratitude. Talk to your child about saying thank you and what it really means – how do they feel when they get a present?  How does it feel when their friend shares a toy with them?  Recognise and talk about what being kind and feeling grateful is.  Younger children often like to express their gratitude by doing a drawing which builds on their happiness.  Encourage these expressions of being grateful and identify a gratitude wall in your kitchen or on the fridge where you can display their drawings; they can see them daily and can talk about how they felt when they drew them.
The purpose of teaching mindfulness to our children is to give them the skills to develop their awareness of their immediate surroundings, to understand their emotions and feelings and to be confident in expressing them.  It will not eliminate tantrums or suppress their feelings of frustration or anger but will give provide the foundations for building and shaping their approach to their emotional well-being for later life.
Tips for practising Mindfulness together:            
Practice what you preach – role model calmness, take time out of your busy schedule to be present with your child. Turn off the technology, put away your phone and enjoy your time together without distractions.
Share your emotions with your child; let them know that it is okay to have feelings and that they can share them with you too.
Take time every day to talk to your child about their day; read to them and encourage them to express what they feel and what they are thinking about.
Reflect on their kind actions, talk about good deeds and being kind; ask your child to share the ways that they have been kind to their friends and recognise all of the different ways of being kind.
Dearbhala Cox Giffin, Director of Childcare
While the seasons are slowly changing from winter to spring, and the days continue to get a little bit brighter, the children in Giraffe have enjoyed a wide range of spring time activities. Below are just some of the wonderful events that have taken place over the last few weeks in our centres:
Pyjama Day
Every year, Giraffe takes part in National Pyjama Day to support Early Childhood Ireland. All the children and staff are encouraged to come to creche in their pyjamas and help to raise funds for children's charities in Ireland. For 2018, the theme for the fundraiser was Innovative Projects for Children: Indoors and Outdoors.  The proceeds raised on the day go to help a number of Irish children's charities, chosen by Early Childhood Ireland. Thank you to all the families and friends who supported our Pyjama Day fundraiser at Giraffe – together we raised over €1700!
Mother's Day Breakfasts
The children are always so excited to invite their mummies for the special Mother's Day breakfast at Giraffe!  The children help to decorate the centre with beautiful artwork, and they make personalised cards and gifts for their Mums. Just look at their proud faces!
World Book Day
Over the last 22 years, World Book Day has become firmly established as Ireland's biggest annual event promoting the enjoyment of books and reading. This year,  our Giraffe centres celebrated World Book Day during the first week in March. The main aim of the event is to encourage young children to explore the pleasure of books and reading by providing them with an opportunity to read books that capture their imaginations. Here is a list of some of the children's favourite books! 
International Women's Day – 8th March 2018
 Read more about the exciting events happening at Giraffe!
February has been an exciting month in Giraffe! With so many wonderful 'early spring' activities taking place over the past few weeks, we want to share some of the magical photos with you here.
Fun in the Snow!
Some of our centres enjoyed playing outside in the snow on a couple of occasions this month. The staff and children bundled up into their winter warmers, and frolicked in the snow! For some of the children, it was their first experience in a frozen playground, and they had a wonderful time. In one or two centres, we even had snow indoors for our sensory play tables!
Pancake Tuesday
Here are the children's instructions for pancakes: Pour, Stir, Mix, Mix, Mix, Pour, Cook, Flip, Fold ….and Enjoy!
Love & Friendship on Valentine's Day
On February 14th, many of the older children created beautiful Valentine's Day cards and artwork to share with their friends and families. They also spoke about friendship and kindness, what it means to care about their families and how we can share with our younger siblings too!
Sensory play
Everyday, the children are using their senses to explore real-life objects made from different materials that come from nature and also from around the house. Through this sensory play, young children begin to make their own choices and decisions and start to gain an understanding of the world around them. This is such an important part of the children's holistic development. The baby group in Elm Park are exploring the different textures of these sensorial materials, and the sounds they can make with wooden spoons and baking trays!
Chinese New Year Celebrations
Chinese New Year (or the Spring Festival) began  this year on Friday the 16th of February, and will be celebrated until the 2nd of March. In the Chinese Zodiac calendar, 2018 is the year of the dog. Thank you so much to Emma's Daddy, Richard in Navan who came in to teach the preschool class all about the traditions and celebrations that happen during Chinese New Year.
Read more about the daily and weekly activities in Giraffe.
Last Saturday, Giraffe Childcare's Training Academy hosted a training day for 60 preschool carers, with Trish and Nicola from Canavan Byrne  delivering workshops on speech and language development, music and movement and storytelling. Our senior crèche managers acted as our in-House workshop facilitators on the day, and covered a wide range of topics on preparing the preschool learning environment and best practice in care for the Preschool age group (typically 3-5 years of age).
The afternoon workshops included looking at ways to include age-appropriate activities for the children alongside the Aistear curriculum and Siolta guidelines. Some of our senior centre managers delivered skills demonstrations in small focus groups, covering topics like the Preschool learning environment and curriculum (led by Racheal and Marta), Speech & language development presented by Trish, Parent partnerships ( led by Ivonne), Managing challenging behaviours (presented by Susan) and Music, movement and story telling, presented by Nicola. The sessions were both interactive and interesting and the team all had an opportunity to be hands on!
A big thank you to our Centre managers, the central support team and all the practitioners who made the day such a success! Special thanks as well to Trisha and Nicola as well for their informative workshops on the Preschool curriculum.
Read more about an exciting career with Giraffe Childcare.
Being one step ahead of our children's behaviours can often be a task in itself! No matter what age, stage or phase our children are at, there will be moments when they struggle to manage the big feelings or to keep calm when those overwhelming emotions spill over.  We also know, as a parent, it's not just the children that need that extra support – the majority of parents will admit that they too find it a challenge to 'keep their cool' or to stay patient, particularly when we feel like our buttons are being pushed.  Often it helps to think about what triggers these behaviours, as well as how to approach and support our children when they do appear to lose control.
Our approach can often influence how a situation escalate or calms,  although tantrums and testing the boundaries are just part of growing up and are tough on everyone, I will take you through some ideas of what we can do to keep the calm or at least try to stay in control when it all goes belly up!
Where does it all come from?
Although it can be difficult, it is important to see the world from our child's point of view; understanding and empathising with our children can help us to cope better with challenging situations.  Remember that most young children do not intentionally set out to act up and upset the adults (although some of you may strongly disagree with that point!). They really are just thinking only about their own needs and sometimes needs to test how far they can go before trouble strikes.
As every parent knows their own child best, you can probably see that much of your children's behaviour is determined by their level of development. When they get frustrated or don't get their own way, children act on their impulses and are not able to rationalise and self-regulate the way adults can; we can then see their emotions spill over and our children may lose control as they struggle to remain calm.  As adults, we generally know what we need to do when we get really upset or stressed, many parents say that they find going for a walk, stepping away from the situation and taking deep breaths can help to relieve stressful situations. Our children do not have the same awareness so we need to help our children find ways to calm themselves because this is something that will stand to them in a very positive way as they grow up.
Naming the feelings
When you see a situation begin to simmer or feel like it's gone beyond recovery, resist the natural instinct to ask your child "what's wrong" or "how are you feeling" (the likelihood is they won't know what to say). You might try instead to identify and name the feelings for them; for example "I know that you are really cross that you can't go outside but it's time to get ready for bed" or "I can see you are really angry because you can't have the toy in the shop". Naming their emotions is not going to stop things instantaneously but it can often diffuse a situation while also helping the child identify their feelings in the moment and manage the big emotions.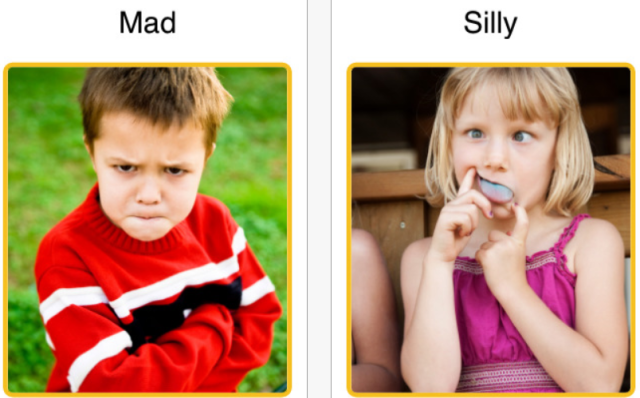 Encourage a quiet space versus timeout
Both children and adults sometimes need to find a quiet space, away from an argument or emotional-charged situation, no matter what age we are. Try to give your child the option to 'cool down' or take a break and come back to the discussion when they have had some time to think alone. The more your child can identify that this quiet space is a positive option, the more beneficial it can be for the family, for example a pop up tent or a large beanbag can work as a physical representation of their quiet space. Very often adults are quick to send children out to the 'naughty step' as a means to calm down but I never recommend this as I don't believe it works.  Offering your child this quiet space when it's getting all too much can be a gentle alternative, again it may not 'work' on the first suggestion but continue to offer your child this space and it may just click with them.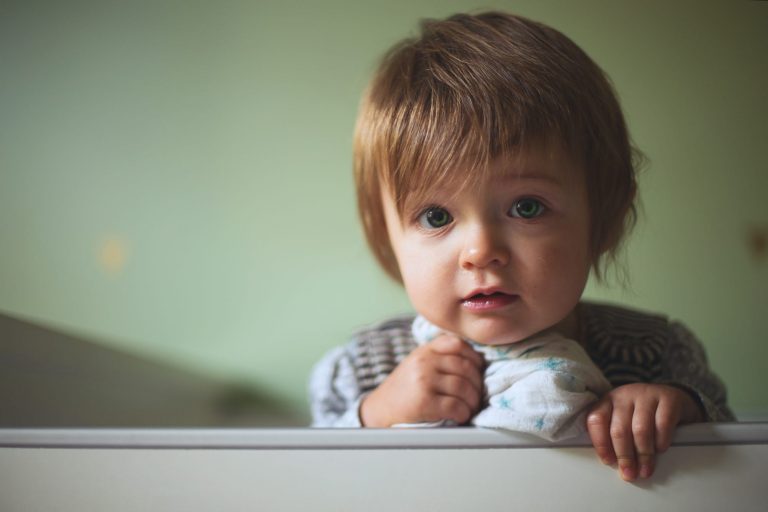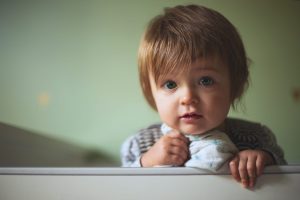 And breathe…
I know this is talked about a lot but if our children learn to recognise that breathing will help their growing bodies relax at times of stress this provides them with a way of coping when their emotions spill over.   Help your child while sitting with them face to face, show them how to breathe in through their nose and out through their mouth – breath with them, slowly and calmly. Try to show that they can regain control. The more you practice this together the more they can identify with breathing as a helpful cool-down method, and they might begin to use it in their own time without any grown-ups taking over.
Our children need us to guide them through the tough times, helping them to keep as calm as possible, they rely on us to be in control – this is OK.  Like anything it takes time, effort and a lot of perseverance!
Aoife Lee is Parent Coach to Giraffe Childcare. She is a mother of two children under the age of seven, she is an accredited parent and life coach and is founder of Parent Support.  She facilitates parenting groups & talks in child care settings as well as providing staff training and private consultations with professionals in the child care field and for parents in their own home. 
Festival time in Giraffe means that our centres are transformed into Castles, Jungles, Under-sea kingdoms and Pirate Ships! The children's imagination and creativity help us to choose what themed activities take place each week.
We were so lucky with the weather this summer, as we try to host as many fun outdoor activities as possible to make the most of the fresh air and sunshine.
Here are the highlights from our Summer Festivals in 2017!
Sports Day
Sports Day is a great opportunity for children to get active and experience new games and sports with their friends. In Park West, the tyres made an excellent obstacle course and in Navan the egg and spoon race was the most popular activity for the little ones.
Fairytale Day – Navan
Prince and princess Day was a big hit in Navan with all the children and staff getting in the spirit of it!
Circus Day in Griffeen
The children in Griffeen had a splendid Circus Day, selling and buying tickets, walking the tightrope and jumping through hoops.
Jungle Days
Jungle Days were one of the most popular days in the centres this summer, with David Griffin, Jungle Dave visiting centres with his amazing collection of pets. The children had lots of questions and were very brave holding the spiders and the snakes!
Beach Party (indoors and outdoors!)
 Teddy Bears' Picnic Harcourt Road
Camping
Lots of the children had camping trips this summer – learning how to put up tents, create their own pretend camp fires and even toasting marshmallows!
 Family BBQ Fun!
Every centre hosts an annual summer BBQ, inviting parents and families to come together and celebrate. These get-togethers are a fantastic way to meet other parents, catch up with your child's edu-carers and enjoy some summer foods. Thank you to our talented and creative Centre chefs who take time out of their busy week to prepare the delicious BBQ treats and Feasts for the children and all the adults as well!
Fun at the IFSC BBQ
Save
Save
Save
Save
Save
Save
Every year during the summer months, the preschool children in Giraffe prepare for graduation parties and set their sights on Primary school. It is a wonderful time to spend together as parents and carers reminisce about their time with Giraffe, reflect on the friendships they have made, and celebrate their individual achievements.
Congrats!
Here are some photos that capture the excitement of the most recent Graduates
 There are more centres photos to come in the next few weeks…. 
Parkwest
Our Preschoolers at ParkWest had a lovely day for their graduation! The children sang their favorite songs for their parents, had a special balloon release, and enjoyed a party with their friends!
Liffey Valley
Congrats to the preschool graduates at Liffey Valley – the children all sang their songs beautifully! Our team who looked after them last year couldn't be more proud. Wishing all of them the best in big school!
Lucan
Hip Hip Horray! The preschool children in Lucan had a very special graduation day with friends and family celebrating their time with us in Giraffe. We wish them all the very best for Big School in September!
Cherrywood
Congratulations to the recent graduates –  The children made their own Giraffe paintings as a keepsake, and talked about what they want to be when they grow up. We were so lucky to have our graduation party outside in the garden, and enjoy the celebrations
NCI
Here are the Preschool graduates from NCI! Thank you to Priscila for preparing our amazing cake! The children sang all their songs so beautifully, and the parents and families shared memories about their time in Giraffe.
Adamstown
The children sang so proudly at their special Outdoor Graduation Ceremony. All of us at Adamstown are looking forward to hearing all about big school when the children visit us again in September!
 Celbridge
Our preschool graduation in Celbridge was really special! We had a great turn out of parents. The children looked lovely in their t-shirts with their self portraits on them and their superhero capes with their initials! Magic Mal's Dotty Magic Shows provided great entertainment and the photo booth proved really popular! What a great day!
Blanchardstown
A huge congratulations to our Preschool Kenya class in Blanchardstown who graduated this week! We had a lovely day of celebrations! Wishing the children all the best for Big School!
Navan
Congratulations to the Navan preschool graduates and their families celebrating their time in Giraffe.
The staff team wish everyone the best of luck in their new adventure!
Central Park
The team in Central Park used the preschoolers Baby photos and their Graduation photos to make a wonderful display that the children could show to their parents and families! Congratulations to all the graduates and best wishes for your next adventure in Primary school.
Elm Park
The Preschool children performed a special "Rainbow play" for their parents and family at their graduation in ElmPark. The play was about all the different colours of the rainbow and how they are all equal and the same inside. Everyone did a great job at remembering their lines!
Griffeen
Congratulations to all the Preschool children as they prepare for Junior Infants in September! The graduates at Griffeen suggested an 'Under The Sea' theme for their ceremony, and the staff designed all sorts of wonderful games and activities for them on the day. Thank you to all the parents and families who joined us for the celebrations.
 Giraffe IFSC
Here are the IFSC Preschool graduates and their families celebrating their time in Giraffe. The children loved meeting the special guest from Paw Patrol!  The staff team in IFSC wish everyone the best of luck in their new adventure and are looking forward to hearing all about big school when the children visit us again in September!
Rathfarnham
What fun we had at our preschool graduation – thank you to Chef Jenny for preparing our amazing cupcakes! The children created self-portraits as a special keepsake for their families, and all the families shared memories about their time in Giraffe.
Northern Cross
Happy faces all around at the Preschool Graduation in Northern Cross! The children had a lovely day celebrating with friends and families. The children put on a Gruffalo play, the Mad Professor magician arrived and did lots of tricks and we also had our family BBQ which made for a very memorable day.
Leopardstown
The children chose a Dr. Seuss themed Graduation in Leopardstown! The preschool groups were very happy to be celebrating with their parents and friends. We wish them all the very best for their new adventures in Big School!
Clonsilla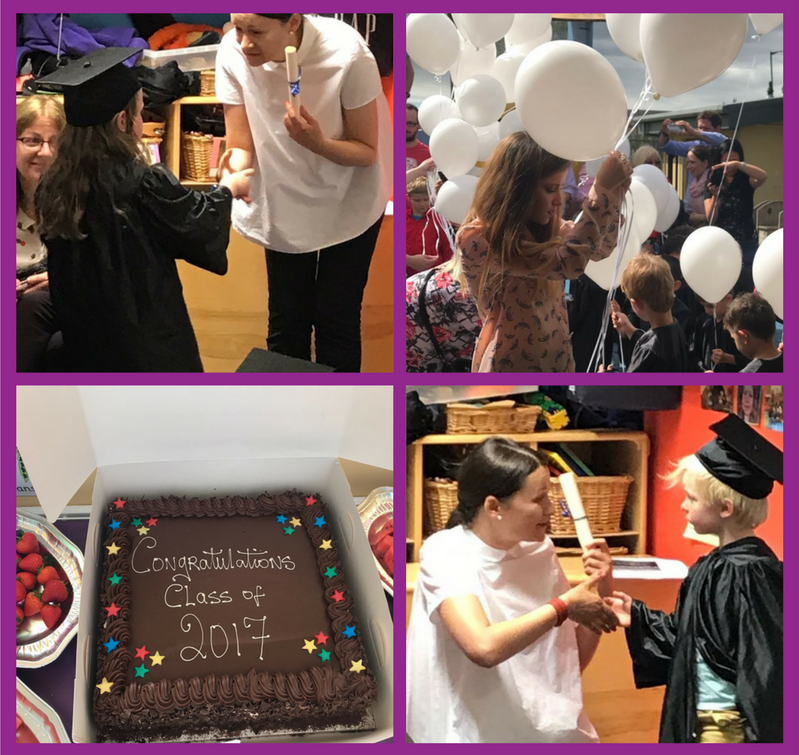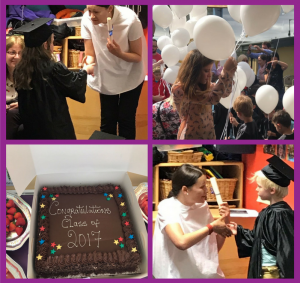 Congratulations to all our Preschoolers in Clonsilla, we had a wonderful time celebrating with their families and friends on their Graduation day.
Oh the places you'll go!
We wish all of the 2017 graduates the very best as they start the next chapter of their adventures!
In our quest to give our children the richest academic experiences, at the earliest possible ages, with endless after-school activities, play dates and organised schedules, we have taken the time to play on their own out of the equation. The increasing number of children stuck indoors in front of screens, on tablets, computers and game consoles, leading ever more sedentary lives, greatly reduces the time that children have to play away from direct adult supervision and parental control.
Children need time to enjoy free play, a childhood that includes puddles, splashing, jumping, rolling, climbing, sticks and mud where they can learn how to manage and take risks in their lives. We are becoming an increasingly risk averse society, bubble wrapping our children and not allowing them to learn about risk safely and their own ability to handle and respond to it.
WHAT IS RISKY PLAY?
Risky play is defined as a thrilling and exciting activity that provides opportunities for children to learn about challenge, test limits, explore boundaries and learn about risk of possible in­jury: What happens if I do this? All play involves an element of risk, such as sliding, climbing trees, rough and tumble and by feeding children's nat­ural curiosity and innate need to explore with reasonable risks prevents them from finding greater unmanaged risks for themselves.
As adults, we can help children learn to man­age risks for themselves and understand safety and don't forget that children will fall down, scratch themselves and get bumps and bruises — this is not always a bad thing but part of an active and fun childhood.
Obviously a balance needs to be struck and no one is advocating putting children in overtly dangerous situations, but there are so many opportunities for children to learn about risk safely. It's more about allowing them to have a bit of excitement and adventure in a controlled way. The restrictions put on children's play are often based on the adult's perception of what is dangerous rather than giving the children the freedom to judge situations and test themselves and to understand cause and effect.
Start outside
A good start is by limiting screen time, try­ing to be less over protective and introducing boundless opportunities for children to learn about risk through play. Go back to basics and use the natural resources of the great outdoors. Set up an adventure course in the back gar­den with platforms, tunnels, jumps, balancing benches and beams, tyres and swings.
Let your child climb trees: choose trees that are an appropriate height for your child's abil­ity and see how high they can go. Learning to navigate the branches gives a real sense of adrenaline and then achievement. Your child's inner instinct will let them know when they have climbed high enough and they will want to get back down.
Encourage your children to build dens and use sticks to write in the mud – your child's imagination will flow as their hut will become a castle or a dungeon, their hideout away from adults.
Learning to ride a bike and negotiating the world on skates (especially going downhill!), are both great for building your child's physical confidence in their own abilities. Also, simply climbing a wall and jumping off it will increase their awareness of balance, height, distance and they can make judgement calls and test their own boundaries at the same time.
Play time
For younger children, create a digging area in the garden and allow them to explore the earth, to dig for worms and bugs, and plant herbs creating smelling pots and then make perfume by grind­ing them together. They will also love puddles, watering plants and collecting rain water from the water butt to make mud pies.
Go to the mountains and just walk and run — let your children roll down hills and it's even more fun in the snow in winter on the back of a toboggan. Remember, there is no such thing as bad weather, just the wrong clothes, so in­vest in a raincoat or wet gear, wellingtons, hats and gloves and get your children outdoors to play and learn about cause and effect and risk safely.
THINGS TO THINK ABOUT WHEN YOU'RE ENCOURAGING RISKY PLAY
Have a separate area in your own back garden so that babies and toddlers can crawl and explore safely in their own space.
Define areas for playing chase, ball games, swings etc for older children.
When in the park, quickly scan and check the immediate area for any potential risks, like broken glass or nails and remove them.
Language is important. Don't create a fear in your child or pass on yours. Talk to them about risk and injury — ask open questions like, what do you think might happen if you jump off a wall that is very high?
Encourage them to make their own risk assessments and to think about the possible consequences of their actions.
Help your child to understand risk, danger and injury and give appropriate examples, like using sticks as swords could hurt others.
Introduce the environment and discuss the possible consequences of misusing it and let the child determine the risk.
When tree-climbing, if your child is too anxious to balance on a high branch, suggest starting on a lower branch to develop their confidence.
The children are waiting patiently at the lunch table, while Chef Natalia presents them with one of their favourite dishes…. Pork & Apple Casserole! Natalia has been our chef at Giraffe Blanchardstown for 4 years, and creates exciting seasonal menu options for the children.
Pork and Apple Casserole from our Spring Menu
The ingredients in this dish are simple and nutritious. Natalia explains that " the natural sweetness of the apples compliments the pork so nicely. The children never leave any trace of the dinner on their plates, and always ask for second helpings!" . All our centre chefs use fresh pork mince to prepare this dish.
Ingredients:
– Onions
– Mixed Peppers
– Courgettes
– Carrots
– Fresh Tomatoes
– Red Apples
– Olive Oil
– Mild Curry Powder
– Red Paprika
– Tomato puree
– Cornflour
– Pork Mince
Instructions:
Heat the olive oil in a large, heavy-based pot. Add the chopped onions and peppers. Cook gently for 5 mins until softened and golden.
Add the sliced carrots, sliced courgettes, diced apples and cook for another 5 minutes mixing from time to time.
Add the chopped fresh tomatoes, tomato puree, mild curry powder and red paprika. Pour in enough boiled water to cover all the vegetables completely. Mix well and cook for around 10 minutes.
4. Take off the heat, blend the sauce using a hand blender, add pork mince and bring back to a simmer. Cook on a low heat for around 20 minutes. Thicken with a bit of cornflour.
5.  Serve with long grain white rice and enjoy!
Smiling faces look forward to Natalia's wonderful casserole!  
The children's menu has been carefully created with guidance from Cow & Gate and our kitchens use only the freshest meat and seasonable vegetables. Our centres have fresh fruit and vegetables delivered each week from Get Fresh and all of our fresh meat comes from Frank Doyle Butchers.
We're happy to cater for vegetarian diets and any other dietary requirements your child may have. In keeping with recent legislation, we don't add any salt, artificial flavourings or colouring and any potential allergens are carefully detailed in all of our menus.
Staff from each of our centres get together once a year to do a 10km mini marathon. Over 80 staff members signed up to take part in the 35th annual VHI Dublin Women's Mini Marathon, one of the biggest all-women charity events in the world.
Team Work!
The rain on Monday June 5th certainly tested our spirits!  But after training together for the Mini marathon for the last few weeks, our Giraffe team was ready to face the challenge.
Spotted along the Race route : "No matter how slow you go, you're still lapping everyone on the couch! 
Supporting Laura Lynn
Our chosen charity in 2017 & 2018 is Laura Lynn Children's Hospice. Laura Lynn is a hospice for children with life-limiting conditions and residential care for young adults with disabilities. They provide respite, home support, crisis and end of life care for sick children. It is a charity close to our hearts here in Giraffe. Each step of our 10km run brought us closer to our goal!
If you wish to donate, and support this great cause, please click here: Donate to LauraLynn Online.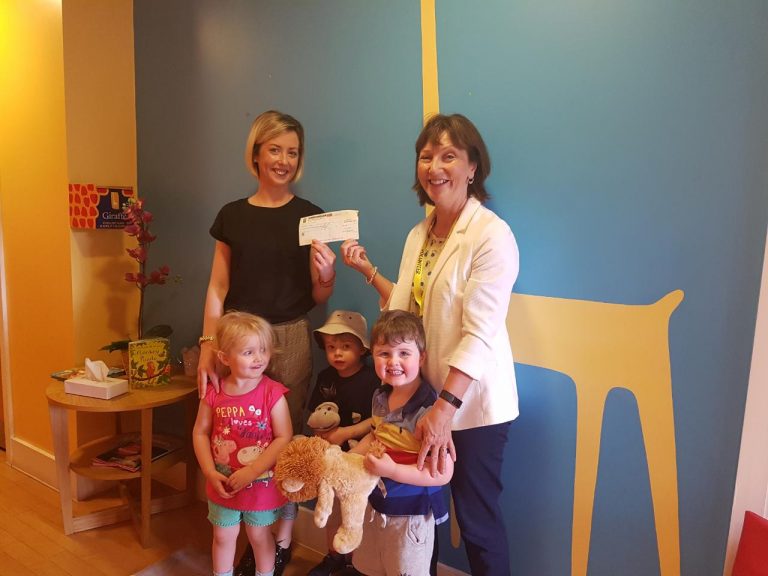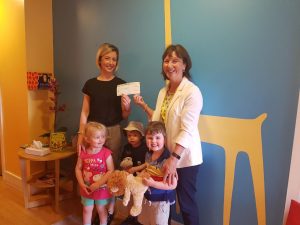 Here is Mary from LauraLynn – Ireland's Children's Hospice collecting the cheque for €1000 from our Milltown Bake sale. A HUGE thank you to Lyndsey for organizing the event, and to all the parents and families who generously doanted, allowing LauraLynn to continue their work helping children with life limiting diseases.
Spotted along the Race route : "If you feeling like quitting, remember why you started running". 
Within our staff group, there were special prizes for the following awards:
Giraffe centre with the Most Participants:  Giraffe Childcare Rathborne
1st Giraffe Runner across the line: Cinthia Conboy from Rathborne
1st Giraffe Joggers to finish the race:  Sandra Hruskar from Leopardstown & Sara Rochford from Rathborne
1st Giraffe Walkers to finish the race: Sarah Callanan from Adamstown & Elena Grigorescu from Northern Cross
We are very proud of team Giraffe for their hard work and for the money they all raised for Laura Lynn!
Tuesdays with Peter
Lily in Pre- School Madagascar is proud to introduce her Grandpa Peter! Peter comes in every Tuesday to our Leopardstown centre for story time with the Pre-School group. The children look forward to his visits every week as Grandpa Peter always brings a new story book with him!  Special thanks to The Book Haven Blanchardstown, who kindly donate books to Peter for story time.
This tradition started after the centre held their annual Grandparents Day in September and invited the children's grannies and granddads to join them for games and activities. Grannies, Grandads, Nanas, Poppas, Grandma and Grandpas were all welcomed with freshly made scones, muffins with tea and coffee.The children also treated them to plenty of imaginary cups of tea! They enjoyed reading stories, playing games and puzzles and running around in the garden with their grandparents! The children were so proud to introduce their grandparents to their friends and teachers, and to spend the day sharing their stories with loved ones.
As well as making wonderful memories together, the team at Leopardstown could see what a truly special bond develops between young children and their older family members. Peter asked our team if he could return for story time another day, as he had really enjoyed Grandparents day, and so his weekly visits to our centre began.
Story-time
Our staff team have presented Peter with a special storytelling Fleece!
A special Easter visitor….
The children were very egg-cited when a special Easter visitor hopped into our crèche centres last week!
Even the "biggest children" in our centres were delighted to see the Easter Bunny, and the staff team loved their special treats.
Easter Egg Hunts
The Easter Bunny was nearly caught by the children in Adamstown, as they eagerly awaited their eggs!
The children in Leopardstown loved hunting for the eggs in the garden and all around the centre, and our staff were left some clues from the Easter bunny to find their own Easter treats!
The children in Rathborne started hunting with one half of an egg and they searched for the other half of the egg that was hiding somewhere in the crèche. This activity encourages advanced social skills, as they asked for clues and helped each other throughout the egg hunt! We focused on the Aistear theme of Exploring and Thinking in developing this activity, and the children loved working together to match the 2 parts of their paper Easter eggs.
In Griffeen, our little bunnies loved chomping on some fresh carrots!
Easter Arts & Crafts
Here are some of the gorgeous Easter arts and crafts made by the children in our centres.  Such creativity!
Charity Events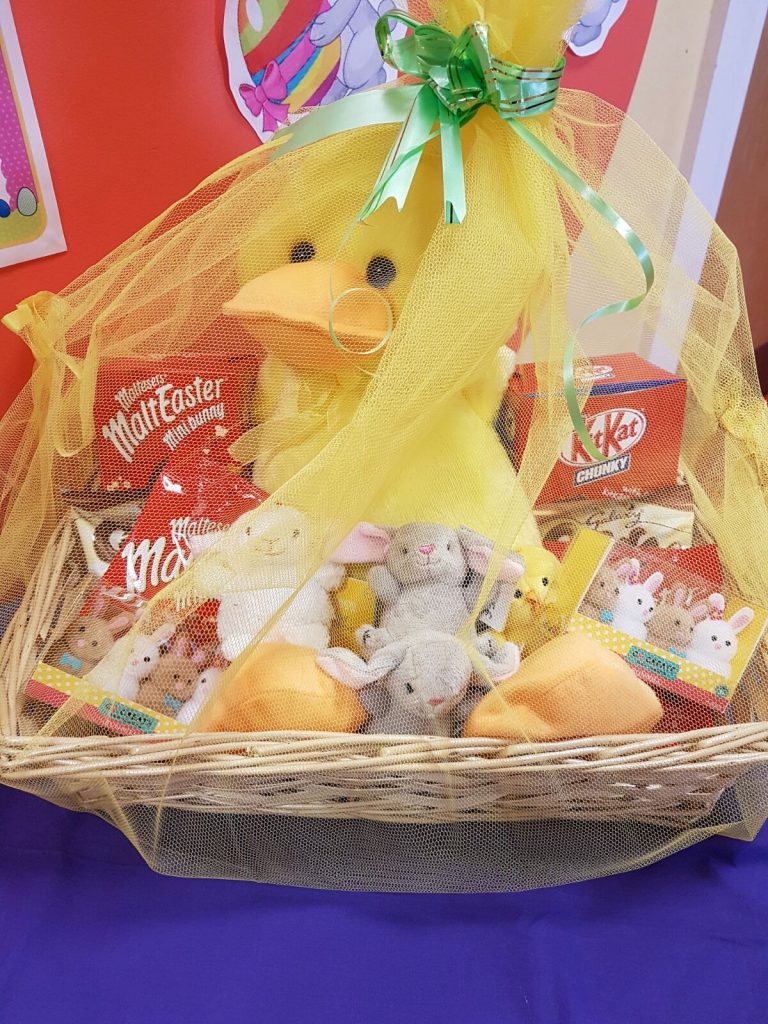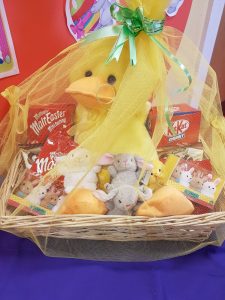 Our Northern Cross centre held a special Easter hamper raffle with proceeds going to LauraLynn – Ireland's Children's Hospice.
Here is Max with his parents and the winning hamper.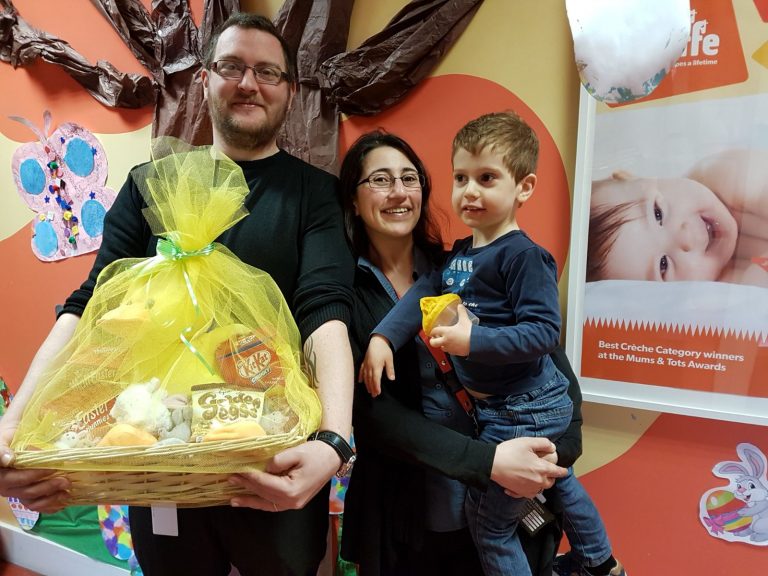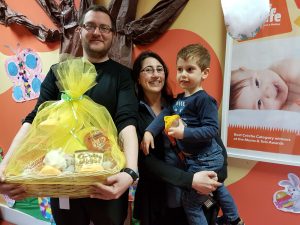 The team at our Rathfarnham centre held a special Charity bake sale on Friday, to raise funds for Wendy's Hope to Halt MS. This is a special charity for our team members that's very close to our hearts. LuLu (our Giraffe mascot) helped out with the Raffle tickets!
Together we raised nearly €200 from the Bake sale donations and raffle tickets. Thank you all our families and friends who generously donated for this worthy cause!
We held a raffle in our Rathborne centre to raise funds for LauraLynn Hospice. Here is our staff member Victor with our giant Easter basket. The lucky ticket was drawn on Monday…. and a Huge congratulations goes to Isaac's mum, Orfhlaith who was the winner of the raffle!
Easter Bonnet Competition
This year, the staff and children in each of our centres created beautiful Easter bonnets, and then held a friendly competition. Each centre planned and designed their own special creations, and it was decided that the Bonnet with the most votes would win a team Night out for the Centre staff! Congratulations to all of the finalists:
……and the winner with the most votes from our families and friends on Facebook is……. GIRAFFE PARK WEST!
Congratulations!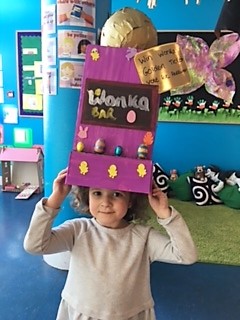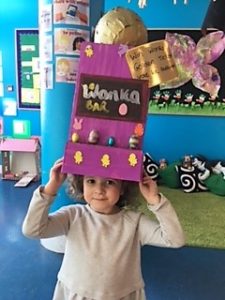 Planes, Trains & Automobiles!
Many people have the summer holidays booked, but travelling with younger children always require planning and a whole lot of distraction! As the aim is to get to our holiday destination sane and happy and ready to enjoy the break as a family, it's important that the journey and adventure is well-planned so it can go as smoothly as possible, making a huge difference for everyone.
Based on feedback and questions from our parents, we asked our parent coach, Aoife Lee, to share her pointers on how best to plan ahead when travelling with tots.
Travelling by plane – some helpful tips
Aisle Seats – Although most airlines allow families to board first, it's a good idea to pre-book aisle seats, mostly for easy access to allow small children move around during the flight and take trips to the toilet.  Be prepared to do a certain amount of walking up and down the aisles!
Children's Luggage – Some parents find that the wheelie school bags are great for children to wheel themselves. The bags are not too big for the younger ones to pull along in the airport but a good size to pack enough to entertain them and a change of clothes in case of accidents, spilt drinks or warm weather at the other end! The idea of having their own bag is excitement in itself for children who are old enough to pull them!   We all know the discomfort of a fully packed nappy-changing bag over our shoulder, and the frustration of trying to keep it from slipping while pushing the buggy.  Many parents find packing the toys, snacks, nappies & wipes into an adult rucksack a great help. It's also easier to store this bag (instead of the usual roller carry-on suitcase) under the airplane seat in front of you so that you've got easy access to grab the essentials when you need them during the flight.  Make sure to bring your child's nap time essentials – comforter, soother and blanket, making it as easy and familiar as possible, to doze off comfortably.
A Bag of Tricks – Before travelling, take a trip to your local Euro shop to pick up 'never seen before'  bits and pieces –  you will find a great assortment of sticker books, crayons, toy cars, miniature dolls, pocket size books and fun flash cards. Spending a little bit on these treats before the journey will save you from buying overpriced items in the airport of stations, the more of a novelty the better, as children are always excited to have a new present to open and play with.  They also come in handy as a distraction during long delays and waiting times.  My top tip is to avoid the noisy toys – I once made the mistake of packing a very noisy set of kiddie's car keys, they swiftly went back into the bag for the sanity of other passengers until our arrival!
 Feeding during take-off and landing – Whether you bottle or breastfeed, allowing your child to feed on taking off and landing is a very comforting way to help their ears pop or adjust to the change in air pressure. For older children, you might like to have a supply of chewing sweets or a lollipop which will also help relieve any discomfort for their ears, and is of course an extra sweet bonus.  For the toilet trained toddler, try to bring them to the toilet about 30 minutes before landing, as you don't want to be caught in a long queue at passport control to "I need to do a wee"!
Slings and Buggy's – A lightweight carry on buggy which can be taken on the plane free of charge is a must have item of luggage to bring with you, especially when there is a lot of walking to do at the airport.  You will most likely need it as soon as you arrive at your destination as well.   Some airports now provide complimentary buggies to help parents move their family throughout the terminals, so check online to see if you can avail of this service at your departure or destination airport.
Snacks & drinks – Again, preparation of food ahead of time is key to saving time and money, more so for the plane and train so you can supervise.  Prepare some pots of fresh and dried fruit, crackers, batons of cheese and veg, pouches of fruit.  Pre-cooked meals that can be enjoyed cold, like pasta, vegetables and sandwiches are always a winner while en-route.  Sports cap bottles are one of the best travel companions as they not only quench the thirst but most are spill proof – so no mess!
Click here to see what's on our Spring Seasonal Menu for all of our centres.
Travelling by Car or Train
Plan around naptimes – If your baby or toddler has a routine nap time; try to take advantage by ideally scheduling your trip when they are likely to sleep.  This can make the travel time easier and more comfortable for everyone.  When you are travelling by car occasional stopping to stretch the legs, for trips to the toilet and some fresh air can help break up the journey for both parents & children.
Audio Books for the car – There are some really great classic stories that the children love to listen to on a journey, maybe even their own favourite bedtime story with sound effects & music, one of our family favourites is The Gruffalo and at this stage we all know this one off by heart!  But have you thought of mixing up the stories and music with some of the parents' requests?  It's amazing how much our children enjoy the grown up tracks too as well as learning to share the entertainment along the journey!
Toy storage – create a space like travel pouches that you can hang on the back of the front seats to store all the children's travel friendly toys; these are handy not only for distraction but also for ease of access.  Remember that the bag of tricks works well here too, anything new and different is a novelty that will most likely hold their interest!
Remember, whatever the journey, a little planning and preparation goes a long way and will ease those unexpected stresses!
Aoife Lee from Parent Support is parent Coach for Giraffe Childcare.
Love, Kindness and Friendship
On Tuesday 14th February, our centre in Liffey Valley turned Pink! The carers and children held a special charity day in aid of A Princess called Emily.
Emily Duffy, from Celbridge, is 3 years old and battling stage 4 Neuroblastoma with a tough road ahead of her. Her treatments include chemotherapy and specialised radiation therapies, both which will effect a young child's immune system.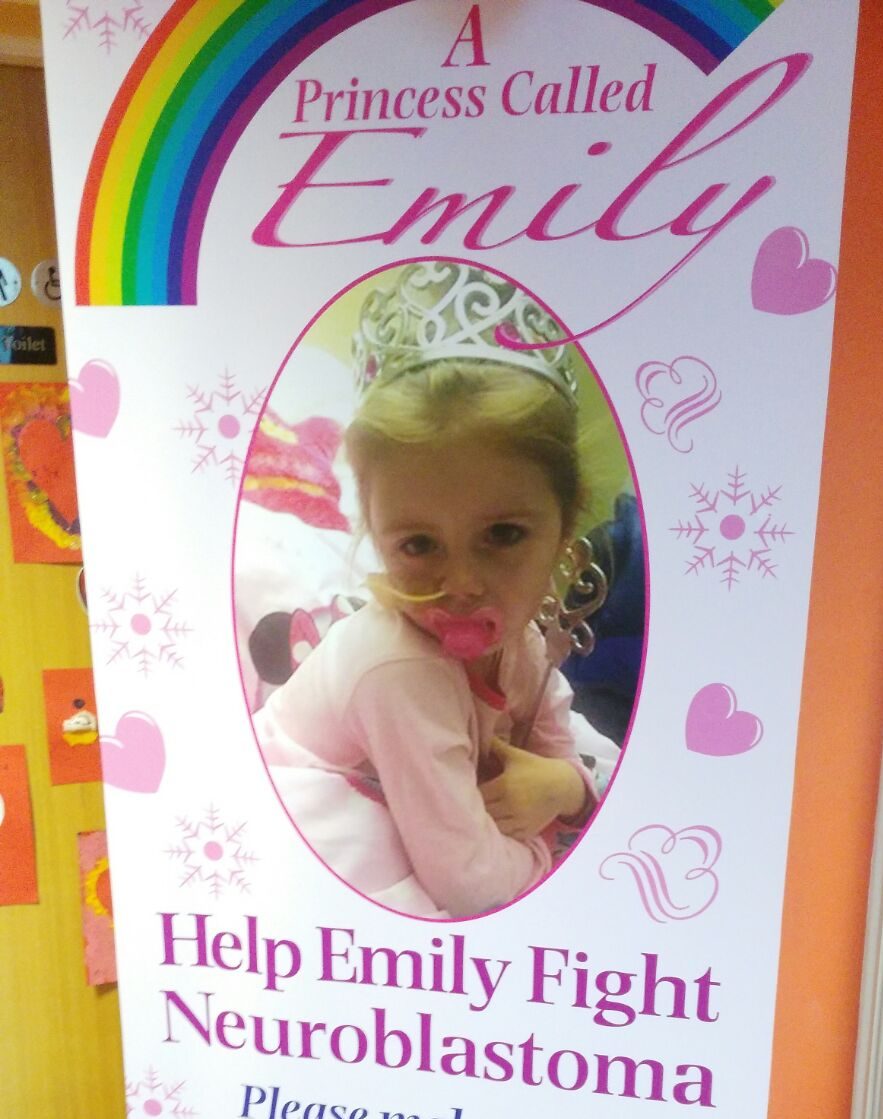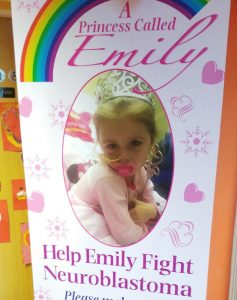 Pink Bake sale
Together with their carers, the children helped to make cupcakes and treats that the parents could enjoy on their morning commute. Special pink bracelets were available for a donation of €2. At the end of the day, the centre raised €425 for A Princess called Emily!.
One of the children in the preschool room told her family about the special charity day. Her mum, Hrsitina was so touched by the Princess Emily story, that with the help of her daughter they decided to host their own bake sale. Hrsitina brought her cakes into her workplace and raised over €475! Thank you Hristina for your incredible kindness and generosity.
All the children were invited to dress up and wear pink, or their favourite costume. There were Superheroes and Princesses and some wonderfully creative costumes on the day! Just look at some of these amazing face-paintings:
The day after Pink Day, when the children were busy choosing activities in the centre, many of them expressed an interest in making Get Well cards for Emily, and got down to making these beautiful creations
Thank you to all the families and friends for your help and generosity on our Pink Day fundraiser. In total we raised €900 for the Princess Emily fund. Well done Kamila (Centre Manager) and the entire team at Liffey Valley for your incredible efforts to make it such a special day for the children and their families!
It can be so difficult to fit in exercise in our busy lives.
It's hard enough just to fit all your work and family life commitments into the day and exercise can sometimes feel like a challenge so why not look at it differently and exercise with your child by scheduling lots of playtime?
It helps to think of exercise as leading an active lifestyle with your children and you will probably fit in more than you think.  If you keep exercise fun and varied, you're more likely to keep at it and you will all enjoy it. There's a double bonus to staying fit as a family: not only does playing and being physically active develop stronger muscles and bones, improve emotional wellbeing, and promote better sleep patterns for children – but you get fit at the same time!
All together now
The key is to choose an activity that will work for everyone in your family group.There are great health benefits for both adults and children by being active and the current recommendation for young children is to have at least 60 minutes of active play every day but this can be a challenge for some parents to fit in to the working week.  If you can't take a full hour activity break each day, try to provide at least two half-hour periods or four 15-minute periods in which your child can engage in vigorous and fun activities to get their heart rate up and blood circulating.
Here are some tips to staying fit as a family!
Get outdoors – It's great for all the family and it's free! The simplest option is to and take a family walk, jog, or bike ride and use a jogging buggy or child seat on the bicycle for younger children or they could ride their tricycles or bikes around the park while you walk or jog.
Start family exercise while their young – Make active play time with  your baby a daily activity so that it becomes an accepted part of your family life and is not a chore
Play Ball! Ball games are another great family activity and you can add variety by using hoops, making your own goal posts, have dribbling or ball bouncing races.
Get wet with your child and go swimming together. – young children love playing in the water and there are so many ways to exercise whilst having fun!
Dance the night away – dancing is another great exercise option and it's always great fun – turn the music up and show your child your moves.
Hit the floor: Babies and toddlers often spend a lot of time strapped into car seats or buggies so add some exercise to their day by putting colourful objects such as rattles just out of their reach so that they stretch or rollover to reach the it.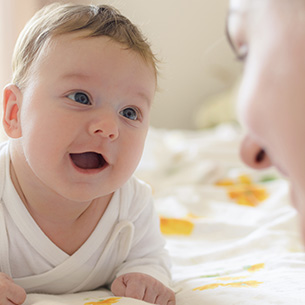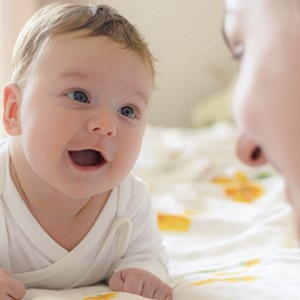 Keeping fit with your child brings you together and provides a sense of achievement and a greater focus on life and motivation.  You will find that when you make fitness a part of family time, it will become as natural as eating dinner together.  It doesn't have to be hard work. It can be great fun and one of the best parts is, the fitter you get, the more energy you will have to enjoy life.
– Dearbhala Cox-Giffin, Director of Childcare
Congratulations!
We are thrilled to announce that three of our Giraffe centres have recently been awarded the status of Healthy Ireland Smart Start centres! Congratulations to Giraffe Cherrywood, Giraffe Navan and Giraffe Liffey Valley on completing this initiative. All Giraffe centres are currently enrolled in the programme and expect to receive their awards over the coming few months.
What is Smart Start?
This Pre-school Health Promotion training programme is the result of over a decade of collaborative working led by the HSE Department of Health Promotion and Improvement in partnership with National Childhood Network, to ensure children in the pre-school settings are supported to adopt healthy lifestyle behaviours in early childhood. The aim is to bring all people together into a national movement with a single aim to ensure the best possible health and well-being of our nation.
What does it mean?
The programme is broken down into 6 topics:
Health promotion
Emotional well-being
Physical activity
Nutrition
Oral health
Health and safety
Each centre held a staff meeting to discuss way that they could introduce the Healthy Ireland programme into their curriculum and involve the parents at every step of the way.
Activities for the Oral Health topic included:
a visit from a local dentist to speak to the children about the importance of brushing
a brand new toothbrush for every child
a tooth brushing chart to bring home
a parent's information pack
Laura, Deputy Manager in Navan explains how her team worked together with the children and their parents to roll out the Healthy Smart Start Initiatives in their centre:
The emotional well-being topic was a lot of fun to promote within the centre.  This got a lot of positive reactions from carers and parents as it can be tricky to deal with at times as the children are learning about their emotions and how to express themselves. For this unit, we shared stories that talked about emotions and feeling, such as the When I'm feeling… books by Tracey Moroney.  There are 8 books in total, each discussing and exploring a different feeling: lonely, scared, happy, sad, jealous, angry, loved and kind.  There was also a CD which played songs to represent the emotions too and we saw the children really connect with the music element of the stories.
If the CD was playing when you entered the room they would run up to you and tell you what emotion was playing.  The angry song was quite popular cause it made you feel like stomping around! 
Before we introduced the books to the children, we set up a library for the parents so they could read the books and bring them home to show the children to see how they felt about them and if they had any questions about the books as there were some emotions that children might not have understood yet.  This helps to reinforce new ideas to the children, when they are talked about at home as well as in crèche.  
All of our centres will roll out the Healthy Ireland programme in the coming months
With special thanks to:
Giraffe Training Academy  – Toddler Staff Workshop
Last Saturday, Giraffe Childcare's Training Academy hosted a training day for 63 practitioners with Lillian and Carol from Early Childhood Ireland, delivering workshops on Facilitating Play Based Learning. Our senior crèche managers acted as our In-House workshop facilitators on the day, and covered a wide range of topics on Managing Children's behaviour and best practice in care for the Toddler age group (typically 2-3 years of age).
The afternoon workshops focused on supporting communication and managing change; as children grow up and transition to new social groups ( from baby groups to Toddler age, from toddler to Preschool and on to big School) it is our role as carers to support them and their families through this change.
Some of our senior centre managers delivered skills demonstrations in small focus groups, covering topics like Children's Health (presented by Elena, Sharon and Susan), Managing Transitions (presented by Leona & Jennifer) , Communication (presented by Caroline & Ciara), Key Carer Groups (presented by Rachel) as well as Winter Garden Activity Ideas (presented by Toma). The sessions were both interactive and interesting and the team all had an opportunity to be hands on!
It was great day and we all enjoyed refreshing and developing our skills.  We have had some wonderful feedback from our practitioners and Giraffe Training Academy will host further workshops for all of our care groups.
A big thank you to our Centre managers, the central support team and all the practitioners who made the day such a success! and a particularly special Thank you to Chef Val from our Liffey Valley centre who kindly made wraps and sandwiches for our team lunch!
In recognition of their dedication, all of participants went home with a goodie bag of treats as a thank you for all their hard work.